Trolling rod holders are a must-have for anyone who does a lot of boat fishing.
Because they keep you from having to hold your fishing rods the entire time, they free you up to paddle or control the boat's motors, take a break without reeling in your line, or enjoy doing other things on the boat while you wait for the fish to start biting.
When it comes to bass boats, rod holders can allow you to fish several lines at once without lifting a finger (except to reel in the bass you'll undoubtedly be catching). They will allow you to move the boat around with the lines in the water so as to cover the greatest area.
Sounds great, right?
So where on a bass boat should you mount a trolling rod holder?
What are the steps involved in mounting it?
And what are some of the best trolling rod holders available?
Keep reading! In this article, we'll take an in-depth look at each of these questions.
Where Do You Mount A Trolling Rod Holder?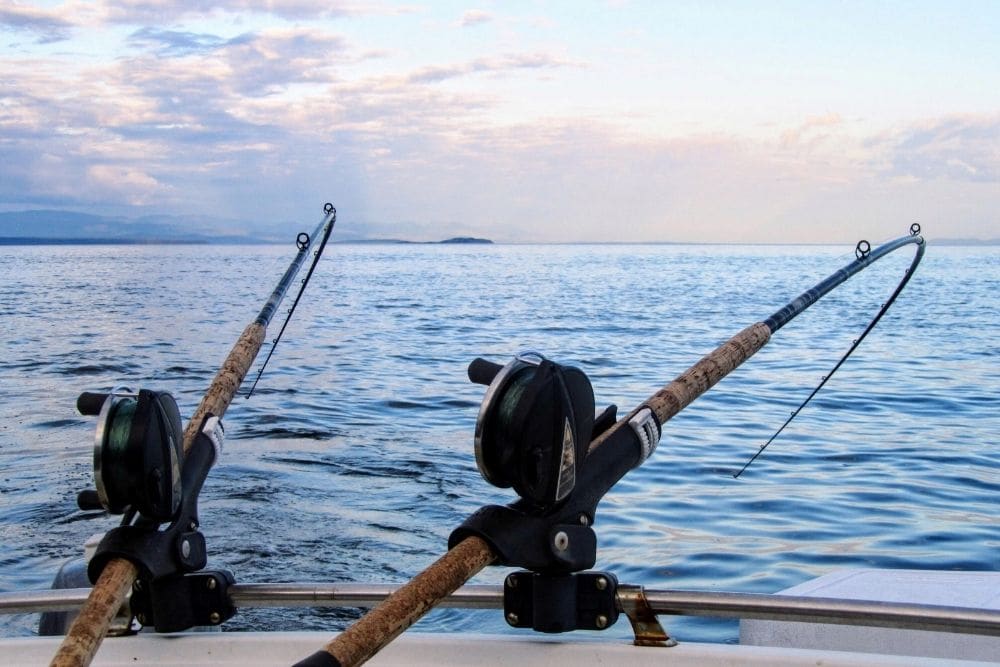 As with most boats, you can mount a trolling rod holder just about anywhere on a bass boat, as long as it's near enough to the edge so that it holds your fishing rod out over the water.
That's obvious, right?
There are, however, a few things to keep in mind when deciding where to install your rod holders.
First, does your boat have a trolling motor? If so, you'll want to mount your rod holder in a spot where your fishing line won't get tangled up in the trolling motor's propellers.
If you have a bow-mounted trolling motor, place the rod holder far enough back that your line won't get sucked in by the propellers.
Generally, as the boat picks up speed, the line being dragged through the water will travel toward the back of the boat, putting it out of danger from bow-mounted trolling motors.
On the other hand, if you have a transom-mounted motor, you'll want to mount your rod holders toward the front of the boat. If the trolling motor is slightly off-center, place your rod holders toward the front on the opposite side.
For example, if your transom motor is mounted slightly to the left of center, mount your rod holder toward the front on the right side of the boat.
Second, where do you normally fish from? Do you have a particular spot or seat in the boat that you use the most when fishing?
It should be easily accessible; if you normally sit in one spot to control the motor, you'll want the rod holder mounted out of the way of the motor, but still within easy reaching distance so you can get to it quickly if you catch a fish.
Third, if you're not sure at first where you want to put your rod holder, don't screw it down at first. Screwing a holder into place means you're either mounting it permanently, or that you'll have ugly-looking screw holes in your boat if you decide to move the holder.
Wherever you decide to mount it, clamp it into place at first. Some rod holders have built-in C-clamps. If yours is meant to be mounted in place permanently, you can still use a C-clamp to clamp it into place until you're certain of where you want to mount it.
With the holder clamped down, take your boat out on the water and give it a try. If you want, you can experiment with clamping it onto different spots to see what works best for you.
Once you've decided exactly where you want your rod holder to go, you're ready to mount it permanently.
Which leads us into the next section:
How Do You Mount A Trolling Rod Holder?
The general shape and style of many bass boats may make mounting rod holders a slightly more challenging and involved process. Also, many bass boats are made of fiberglass, and some boaters may be concerned about drilling holes in the fiberglass to mount the rod holder.
That said, there are certainly perks to mounting rod holders on your bass boat, as mentioned in the introduction. The trick is doing it in the most efficient way possible.
So how do you do that?
If you're worried about drilling into your boat, or you don't have a good spot for mounting it directly, you may be able to build a mount for your rod holder as demonstrated in this video.
DIY Rod Holder Mounts for Bass Boat - Crappie and Catfishing Rod Holders
That said, even using a mount will likely require some drilling in order to secure the mount. If you don't want to drill into your boat, it would be best to go with a clamp-style rod holder.
If you're okay with drilling holes and mounting a rod holder directly to your boat, you'll simply follow the instructions included with the specific type of rod holder you purchase.
The steps will likely involve marking the necessary drill holes on your boat, drilling the holes, and securing the rod holder with screws or bolts, washers, and nuts.
With some bass boats, you may not be able to reach underneath to secure the bolts with nuts. In these cases, it would be best to build or buy a mount that will allow you to secure the rod holders properly.
If they are not sufficiently secured, the first aggressive fish you snag is liable to pull the whole setup loose and take off with your rod and reel.
The best thing you can do is to have a plan going into the installation. Make absolutely certain you know where you want to mount the rod holder, then explore that part of the boat and read the installation instructions thoroughly.
If you anticipate any problems, it would be best to attach the rod holder to a mount rather than to the boat directly.
What are the Best Trolling Rod Holders?
There are plenty of trolling rod holders on the market, but what are some of the best ones you can use with your bass boat?
Let's take a look!
1. PLUSINNO Clamp Fishing Rod Holder
This rod holder comes in one- and two-pack options and is one of the best budget-friendly options on the market. It is secured via clamp rather than screwed into place, which is great if you don't want to drill holes in your boat.
That said, the maximum clamp opening is a little under 5 inches, so it may not be wide enough for mounting directly to some bass boats. In such cases, you may want to secure it to a mount in or on the boat.
What we like:
It's made of durable, anti-corrosive, and eco-friendly materials
It works for spincast, spinning, and casting rods
The clamp-on design prevents drilling into your boat
It's affordable
It comes in both one- and two-packs
What we don't like:
Vibrations from the boat engine may loosen the clamp
Overall, this is a good choice for anyone worried about damaging their boat from screwing other types of rod holders in place.
2. Scotty Powerlock Rod Holder
This rod holder is highly versatile, a great choice for nearly any kind of boat or fish. The open-style holder is universal, meaning it will hold just about any type of fishing rod. It is meant to be mounted permanently on either the top or side of the boat.
Another great value option, this holder allows for up and down adjustments as well as 360-degree rotation. It will meet and exceed most of your fishing needs without breaking the bank.
What we like:
It's highly versatile
It's made of high-quality materials
It's easily adjustable
It provides great value for the price
It's sturdy
What we don't like:
The universal rod holder may be too large for some rods
This is an excellent all-around rod holder that gives you lots of different options for where to mount it, what type of rod to use, and what type of fish to catch.
3. Millennium Marine Spyderlok 4-in-1 Rod Holder
This rod holder is unique in that it allows you to cast four rods from the same holder. You can adjust the angle of each individual holder so that the lines don't tangle with each other.
This holder is meant for mounting on the floor of the boat. The crossbar, which houses the individual holders, is adjustable so you can raise or lower it to different heights. It is highly versatile, great for different trolling speeds and rod types.
What we like:
The 4-in-1 design is great if you want to have multiple lines out at once
It's height-adjustable
It's made of durable and corrosion-resistant materials
It's lightweight
It comes with a 1-year warranty
What we don't like:
Removing a rod from the base causes the other rods to vibrate
If you frequently fish with a group, or you like having several lines out at once, this is a great rod holder that should serve your needs well.
Conclusion
And there you have it!
Attaching rod holders to your bass boat makes it easy to enjoy a day of fishing without having your hands on the rod at all times.
If you get yourself a good rod holder, and follow the tips in this guide, you'll have it mounted in no time and ready for a day on the water.
Happy fishing!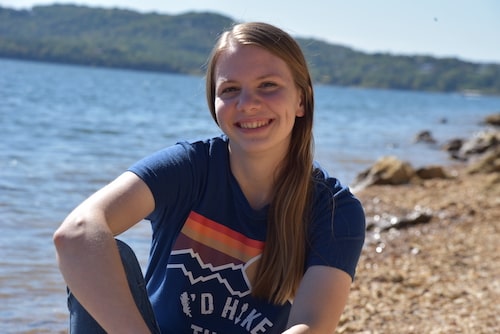 Sarah Hood has been writing for Anchor Travel since 2021. When she's not writing, she enjoys cooking, singing, and spending time in the great outdoors.