Outdoor Master's Whale SUP air pump is a small, portable pump that can be used for everything from SUPs to inflatable boats to air mattresses.
The pump can be set to automatically fill your inflatable to the desired PSI and will turn off when it reaches that level of inflation. It is simple to use and comes with various attachments so you can use it for a variety of valve types.
Does this sound intriguing? We hope so! Read on to learn more as we dive into a review of this rechargeable air pump!
Who is This Product For?
The Whale air pump is intended specifically for use with inflatable SUPs, but it can be used with nearly any inflatable product. From boats to household objects, this pump is not limited to marine uses but has many different applications.
That said, it does not work as quickly as some electric pumps, especially if you're using it for larger products such as multi-passenger inflatable boats or double-thickness air mattresses. Its inflation rate is designed for the smaller volume of inflatable SUPs.
If you have a SUP or another small inflatable, this pump was made for you. It works well with many different valve types, is easy to use, and is lightweight enough to take with you wherever you go.
The pump works well for both indoor and outdoor use, though it is not waterproof and you should be careful not to get any debris inside the input and output openings or air vents.
You can take it with you to the dock or the beach because the pump is rechargeable; you don't need to have it plugged in to use it. If you prefer to use it plugged in, however, the pump comes with a DC 12V plug so you can use it in your car or an AC adapter you can plug into any regular outlet.
It is worth noting that this is a fairly expensive air pump, so if you're on a budget, you may want to look elsewhere for a pump that will meet your needs without breaking the bank.
What's In the Box
When you first unpack the Whale air pump, you will notice four main components included in the box:
The pump
The hose
The accessories
The instruction booklet
The pump itself is just over a foot long and weighs about 3 pounds, making it an ideal size for a variety of uses.
The hose has a connector on one end that makes it easy to screw into the inflation and deflation openings. On the other end, you can screw in any of the five included air taps.
The accessories include the five air taps and 3 rubber gaskets. Depending on the type of air tap you use for your specific inflatable, you may need to also use one of the gaskets to create an airtight seal.
The instruction booklet contains basic information about the parts included, how to set up and use the pump, and safety and warranty information.
The pump comes with a 1-year limited warranty.
Overview of Features
The Whale air pump contains a variety of features to make your pumping job easier, though there are a few factors of using it that are a little more challenging to figure out.
First, let's talk about the positives: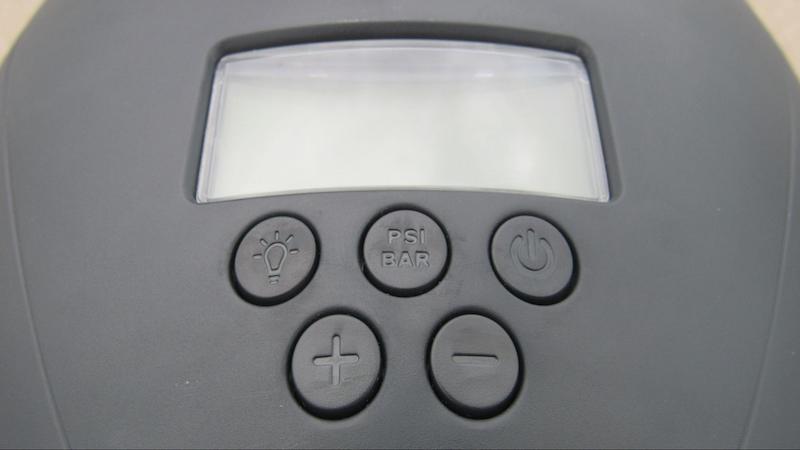 The pump has a light-up LCD screen that displays PSI and BAR settings. You can adjust these settings with the press of a button, customizing the pressure output for your inflatable's specific needs. You can adjust the PSI from 0.5 all the way up to 16.
Once you've selected the PSI you want, just hit the power button and the pump will begin airing up your inflatable. Its automatic shutoff function will turn the pump off once it has reached the appropriate PSI.
The pump has two different openings that you can attach the hose to: one for inflation and one for deflation. When you're ready to put away your inflatable, you can move the hose to the deflation side and power up the pump to automatically deflate your item.
As noted, the pump's hose comes with a convenient connector that makes it extremely easy to screw on and off of the inflation and deflation openings. This saves you time and hassle and makes setting up the pump a breeze.
The five different air taps are great because they make it possible to use this pump with many different air valves. Not all SUPs and inflatables use the same type of valve, so being able to easily change between air taps allows you to use the pump for multiple applications.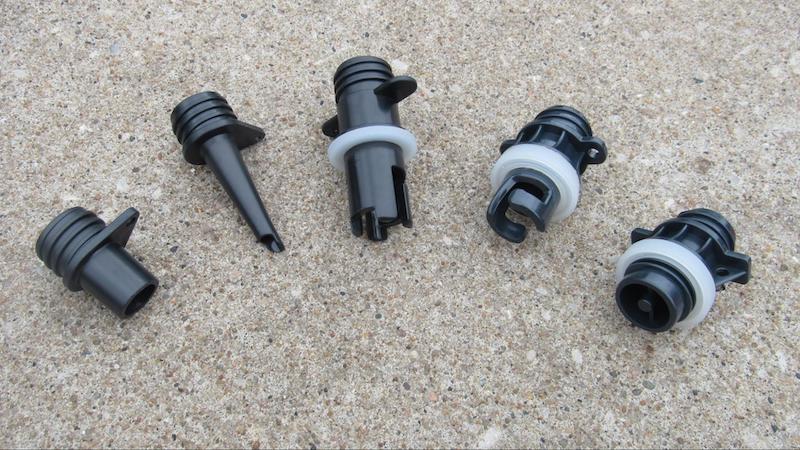 The pump also comes with different charging options: you can plug in the DC 12V connector into your car or boat and charge or power the pump that way; or you can connect the AC adapter and plug it into a normal outlet or extension cord.
This allows you to both charge and power your pump from different locations and power sources, giving you the greatest amount of flexibility when choosing where to use it.
Speaking of charging, the pump also has two USB ports so you can charge other devices using the pump.
One quirk of this pump seems to be that it will not power on, even when the battery is charged, unless it has first been plugged into a power source. Once the LCD screen has lit up, you can unplug the pump and it will run on battery power.
What We Like
This pump is lightweight, portable, and easy to set up.
You can adjust the PSI to your specific needs and the pump will shut off automatically once it reaches that PSI.
The pump comes with connectors for both AC and DC power sources and five different air tap attachments, so you have a variety of options to choose from.
What We Don't Like
The pump has to be powered up while plugged in before it will run off of battery power.
| | | | |
| --- | --- | --- | --- |
| Design | Ease of Use | Features | Customer Service |
| ⭐⭐⭐⭐⭐ | ⭐⭐⭐⭐ | ⭐⭐⭐⭐ | ⭐⭐⭐⭐ |
| Sleek, lightweight design makes it easy to transport and use | Push-button settings and hassle-free attachments add to overall user experience | Plenty of features including multiple hose attachments, power source options, and PSI settings | Helpful customer service |
How to Use the Whale SUP Pump
The Whale pump is very easy to use. All you have to do is follow a few basic instructions:
Attach the hose and select the appropriate air tap. Screw on the hose attachment over the opening marked "inflate." Decide which air tap will work best with the valves on your inflatable. You may have to experiment with different air taps.
Plug in the pump. Once your pump is assembled, plug in the 12V DC cable to your car's 12V DC socket. Alternatively, you could attach the AC adaptor and plug it into the nearest outlet. Once it is plugged in, the LCD screen will light up.
Select the desired PSI or BAR settings. Press the button that says PSI/BAR. It will alternate between PSI and BAR settings each time you push it. Use the plus and minus buttons to adjust the PSI or BAR settings displayed on the screen.
Press the power button. Once you have the appropriate settings selected, attach the air tap to your inflatable's intake valve and press the power button to begin airing it up.
You can change the PSI and BAR settings while pumping if needed. If you want to experiment with different settings or need to change something mid-inflation, there's no need to turn off the pump. Simply use the plus and minus buttons to make the necessary adjustments. The pump will turn off automatically once the desired PSI is reached.
To deflate, move the hose to the deflation opening. Unscrew the hose from the inflation opening and screw it onto the opening marked "deflate." Reattach the air tap to the inflatable's intake valve.
Press the power button to start and stop deflation. Press the power button to turn on the pump and begin deflating the inflatable. Press the power button again when the deflation is complete.
Alternatives
If you're looking for more of a budget option than the Whale, check out the Sevylor SUP pump or the Swonder electric pump below:
Sale
Last update on 2023-12-05 at 14:04 / Affiliate links / Images from Amazon Product Advertising API
Sale
Last update on 2023-12-05 at 14:04 / Affiliate links / Images from Amazon Product Advertising API
Both of these products offer a variety of PSI settings, various air tap attachments, and automatic shutoff options, but at a lower price than the Whale.
Conclusion
The Whale SUP air pump from Outdoor Master is a handy little pump for a variety of inflatable products. It is portable, lightweight, and easy to use.
That said, it is a bit on the pricey side and, though it will run off of battery power, it must be plugged into a power source first.
If you're looking for a good alternative to the Whale, check out similar pumps produced by Sevylor and Swonder.
Thanks for reading and good luck out there!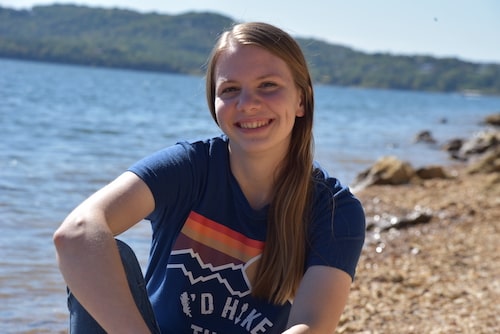 Sarah Hood has been writing for Anchor Travel since 2021. When she's not writing, she enjoys cooking, singing, and spending time in the great outdoors.