If you know anything about how motors work, you may be wondering whether trolling motors are brushed or brushless.
The truth is, it depends on the trolling motor. Most trolling motors are still brushed, but some are beginning to make use of the newer brushless technology.
So which type of trolling motor is better?
What are the pros and cons of each?
And what are some of the best brushed and brushless trolling motors on the market?
Great questions!
How about we dive right in and explore the answers?
What are Brushed Trolling Motors?
Simply put, brushed trolling motors utilize carbon brushes in their function. These brushes come in pairs, on opposite sides of the motor's commutator. As the motor rotates, the brushes act as transmitters, conducting power to the rotor and ensuring the power flow is maintained.
Most older, cheaper, and simpler motors make use of brushes. In fact, most trolling motors on the market today are brushed. The technology has been around much longer than brushless technology, so it is more well-known and cheaper to produce.
But brushed trolling motors aren't ideal for every boater. Let's check out some of the pros and cons of these types of motors.
Pros and Cons of Brushed Trolling Motors
The Pros
Reliable. As mentioned, brushed motors have been around for a long time. They get the job done consistently and will serve you well as long as you take care of them.
Brushed motors are easy to use and relatively easy to maintain. Many brushed trolling motors will produce sufficient power for the average boater who enjoys the occasional (or frequent) day on the lake.
Inexpensive. The biggest perk of brushed trolling motors is that they are much more inexpensive than brushless trolling motors. This is mostly due to the fact that they are cheaper to produce than brushless motors.
That said, the cost of maintaining your brushed motor can add up over the lifetime of the motor. The brushes may need replacing or cleaning from time to time. But the overall cost is still likely to be less than the up-front cost of buying a brushless motor.
High torque. Brushed motors produce a respectable amount of power and have an impressive inertia ratio. This means that not only do they have strong torque, but they resist the actions of opposite forces quite well.
In practical terms, greater torque gives you a trolling motor that can get around in the water. A good brushed trolling motor will be able to handle small waves and cut through underwater vegetation sufficiently without becoming tangled.
The Cons
Prone to overheating. Brushed motors have a low heat dissipation capacity, which means that heat can easily build up inside the motor. Too much heat buildup, such as when the motor is under a lot of stress for long periods, may cause overheating.
Wear and tear. As mentioned above, brushed motors require regular maintenance. The friction and heat produced will eventually cause the brushes to wear out, so they will need to be replaced.
Brushed motors also need frequent cleaning so you can get the most out of your brushes while they last. Dust may build up during periods of inaction, and grime or plant materials can accumulate when your trolling motor is in the water.
What are Brushless Trolling Motors?
Brushless trolling motors, as you might imagine, don't have brushes. Instead, they work electronically using magnets and a device known as a controller, which converts DC currents into another type of current known as three-phase variable frequency.
The result?
You have a motor that is more efficient, produces greater power, and lasts longer.
So, brushless motors must be better than brushed motors, right? Not necessarily. Let's take a closer look at the pros and cons of brushless trolling motors.
Pros and Cons of Brushless Trolling Motors
The Pros
Improved power. Brushless motors produce much less heat and no friction. As a result, much more of the power output is channeled to actually run the trolling motor, not lost in the motor's function.
This increased efficiency has a number of benefits. It leads to a quieter trolling motor, which is essential if you don't want to scare the fish away. The motor is highly accurate, so you can make it go exactly where you want to go.
It also makes the motor more lightweight, smooth-running, and powerful than standard brushed motors.
Longer life. The lack of friction and heat production in brushless motors works wonders for their lifespans.
Without having to replace damaged or overheated components, you have fewer things that can go wrong with your brushless trolling motor, which means more time spent out on the lake.
Not only do brushless motors last longer than brushed motors, but they also help the batteries last longer. Their efficiency puts less of a strain on the batteries, thus lowering the risk of damage.
Lower maintenance. Because brushless motors have no brushes to replace, they are much simpler to maintain than brushed motors.
They will still need the occasional cleaning, but they generally stay cleaner than brushless motors because they aren't producing a lot of friction or heat. The lack of wear and tear eliminates the need to replace parts and generally reduces the need to clean.
The Cons
Higher cost. Brushless motors are designed with more complex and expensive parts. Naturally, these extra expenses are passed on to you, the consumer.
You can expect to pay significantly more for brushless trolling motors than you would for brushed motors.
Unless you do a significant amount of boating or fishing and need the added silence and efficiency, you may find that a brushless motor isn't worth the extra cost to you.
More complex wiring. As mentioned, brushless motors have a more complex design. This means that, if the motor needs to be repaired, you may or may not be able to perform the repair yourself. Taking it to a repair shop will lead to extra costs.
Which Type of Trolling Motor is Better?
Brushed and brushless motors perform similar functions but work in completely different ways. As we've seen, each type of motor has its associated benefits and drawbacks.
So which one is best?
Perhaps the better question is, which type of trolling motor is right for you?
Of course, you're the only one who can ultimately decide whether having a brushless motor is worth the extra money you'll spend. But to make that determination, it's important to consider how often you'll use the motor and what you plan to use it for.
Are you out on the water every weekend? Does your livelihood depend on catching a lot of fish? Do you spend long hours trolling around your favorite lake or exploring rougher waters?
If you answered yes to any or all of those questions, you may want to seriously consider investing in a brushless trolling motor. These motors are some of the quietest, longest-lasting, and efficient motors you can buy, so they will likely suit the needs of a dedicated angler.
On the other hand, if you consider yourself more of a casual boater or fisher, sticking to calm waters and only going out every now and then, you may not need to spend top dollar on a brushless motor.
The choice, of course, is completely up to you.
Best Brushed Trolling Motors
Minn Kota Endura. The Minn Kota Endura is a popular, well-known trolling motor from a top brand. It's a transom mount motor that comes in various shaft lengths and thrust capacities, so you can pick the size best suited to your boat.
Last update on 2023-09-26 at 18:06 / Affiliate links / Images from Amazon Product Advertising API
This trolling motor is strong, well built, and capable, comes with 8 total speed settings, and is easy to operate using an adjustable hand tiller. It's a great, versatile choice for boaters and anglers of all skill levels.
Newport Vessels NV-Series. The Newport Vessels NV-Series also comes in a range of thrust capacities and shaft sizes. This transom mount trolling motor is similar to the Minn Kota Endura in many ways, including speed settings and adjustable tiller.
Newport Vessels NV-Series 86lb Thrust Transom Mounted Saltwater Electric Trolling Motor w/LED...
Efficient Power: 86Lb Thrust - This 24V Electric Trolling Motor Provides Excellent Power And Efficiency For Any Boater. The High Quality Build Allows The Motor To Run All Day Long Without Overheating,...
Features: This Motor Features A 36 Inch Shaft, A 5 Led Battery Meter, A 6 Inch Telescoping Tiller Handle, And 3 Blade Propeller. The Mount Angle, Height, And Direction Can All Be Adjusted And Locked...
Last update on 2023-09-27 at 00:17 / Affiliate links / Images from Amazon Product Advertising API
This motor also comes with an LED battery meter, 3-blade propeller, and saltwater-compatible hardware. It's another great option for the casual fisher who needs a motor that's both functional and inexpensive.
Best Brushless Trolling Motors
Lowrance Ghost. The Lowrance Ghost is the premier brushless trolling motor currently on the market. Its brushless motor runs so quietly you will barely notice it, and it produces no electromagnetic interference so the built-in sonar will have a clear view.
Last update on 2023-09-27 at 03:57 / Affiliate links / Images from Amazon Product Advertising API
Some of the motor's features include anchor mode, a configurable pedal, and highly efficient power output. If you are looking for the best brushless trolling motor on the market, the Ghost is a worthy investment.
Seamax PowerMax. The Seamax PowerMax is a simple and relatively inexpensive brushless trolling motor. It comes with a 35-inch shaft and a 65 pounds of thrust, so it's great for small and medium-sized boats.
Last update on 2023-09-27 at 03:57 / Affiliate links / Images from Amazon Product Advertising API
This trolling motor is powerful yet lightweight, and noticeably quiet. It is rated for both fresh and saltwater use. This is a great trolling motor for anyone wanting to try brushless, but unwilling to pay the big bucks.
Conclusion
You can find both brushed and brushless trolling motors. Brushless trolling motors are more powerful, efficient, and lower-maintenance than brushed trolling motors, but they are also more expensive and complex in their design.
After reading this guide, you should hopefully have a better understanding of the difference between these two types of trolling motors so you can decide which one is right for you.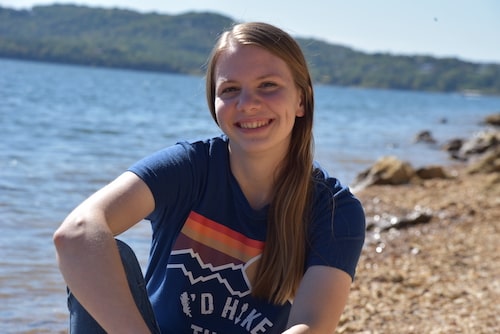 Sarah Hood has been writing for Anchor Travel since 2021. When she's not writing, she enjoys cooking, singing, and spending time in the great outdoors.