Marine or batteries are just as important to maintain as your car battery.
Whether you're fishing or going on a nice boating trip, keeping your batteries fully charged is essential.
You never want to prepare for your trip only to find that the engine won't start.
Proper marine battery maintenance starts from the time you receive your new battery.
In this article, we'll give you insight as to whether a new marine battery needs to be charged and, if so, what you should expect.
Let's begin!
Does a New Marine Battery Come Fully Charged?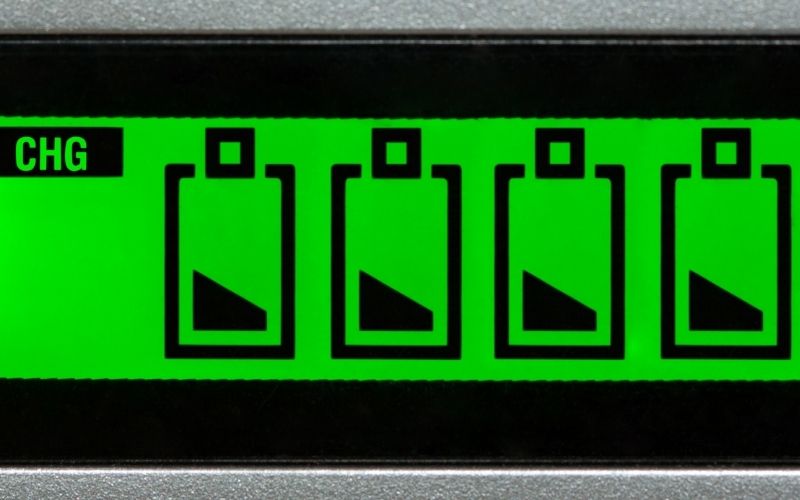 New marine batteries typically do not come fully charged when received.
Self-discharge during transit and storage will occur. The amount of discharge will vary based on the ambient temperature and storage time.
Although your new marine battery should have enough power to start your boat's engine, we strongly recommend you charge it first to ensure that it's fully charged before leaving the dock.
We recommend a refresher charge during installation.
When receiving the battery, make sure to store the battery in a cool place. However, don't store it in a location below 32 degrees.
Does a New Marine Battery Need to be Charged?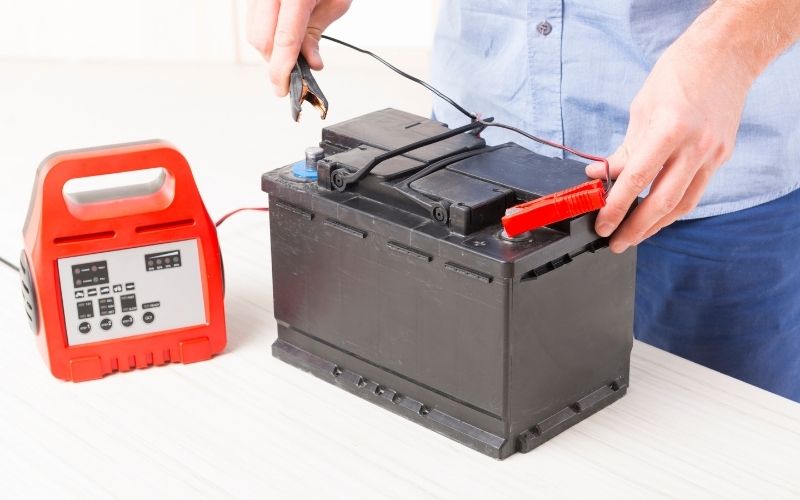 Yes, because new marine batteries do not come fully charged. Furthermore, it depends on how long you've been letting the battery sit without use and the temperature you store it at.
Batteries are a chemical reaction, meaning that hotter temperature increases the rate of self-discharge. Typically at 80 degrees Fahrenheit, your marine battery will self-discharge at about 4% per week.
Ideally, you'll want to use a smart charger with a max output of between 5 and 15 amps. New boat batteries should be charged fully before use.
Whether you're installing flooded, AGM, or lithium batteries, the marine battery should be charged using manufacturer-recommended charging parameters before cycling.
This ensures the battery will cycle in balance with the rest of the bank and is fully charged.
The charging parameters will differ depending on the battery type and brand.
Always check the manufacturer's voltage settings and make adjustments as required.
How to Monitor Your New Marine Battery for Charging?
How to Use a Boat Battery Monitor
A new marine battery's charge level may vary depending on the battery type, model, and brand.
Before charging your battery, you'll want to first check how much charge it has.
You can accurately check the charge using a battery monitor .
Some battery monitors can tell you important information about your marine battery, such as the charge level, cranking power, health, voltage, and more.
In addition, some battery monitors have Bluetooth capability. This allows you to plug the monitor into your battery and then use an app on your phone to check the charge level.
When Do You Need to Charge Your Marine Battery?
It's important that you charge your marine battery right away, especially before your boating trip.
Standard deep cycle batteries can handle being discharged to 50%.
However, to maximize the durability and longevity of your new battery, it's important to charge your battery before it reaches below 50%.
When repeatedly charging your marine battery after draining 80%, you can expect about 220 complete cycles.
Conversely, if you recharge the battery after 50% discharge, the battery will have about 750 complete cycles.
How Long Does it Take to Charge a New Marine Battery?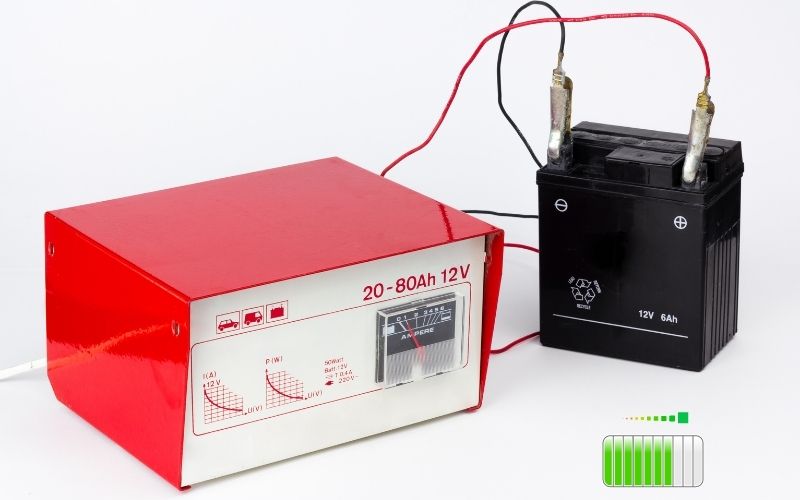 The length of time it'll take to charge a new marine battery depends on the battery size. By battery size, we don't mean the physical size but rather the battery's capacity.
For instance, a new marine battery with a 50 Ah capacity will require a 10-amp charger, which takes about 6 hours to charge fully.
In comparison, a larger marine battery with a 100 Ah capacity will take up to 11 or 12 hours to charge.
The charging also depends on the charger. The more power the charger has, the faster it will charge.
There are two types of battery chargers to consider:
Automatic chargers will switch off automatically when the battery is fully charged. These chargers can sense the internal current and voltage.
Manual chargers must be shut down manually. In addition, the current and voltage are required to be adjusted.
Although you can charge the marine battery faster, it doesn't mean you should. Marine batteries are designed to withstand the extra heat and rapid charging.
A slow charge is ideal for marine deep cycle batteries because it ensures that the battery's full capacity is reached and prevents heat from building up.
Slow charging overnight is much less damaging to your battery's internal components than using a rapid charger for a couple of hours.
That's because rapid charging significantly increases the internal temperature of the marine battery.
So what's considered a slow charge?
Generally, an automatic battery with 10 amps or less is considered a slow charge. Conversely, any charger rated at 20 amps or above can be considered a fast charge.
How Much Time Does It Take to Charge Your Entire Battery System?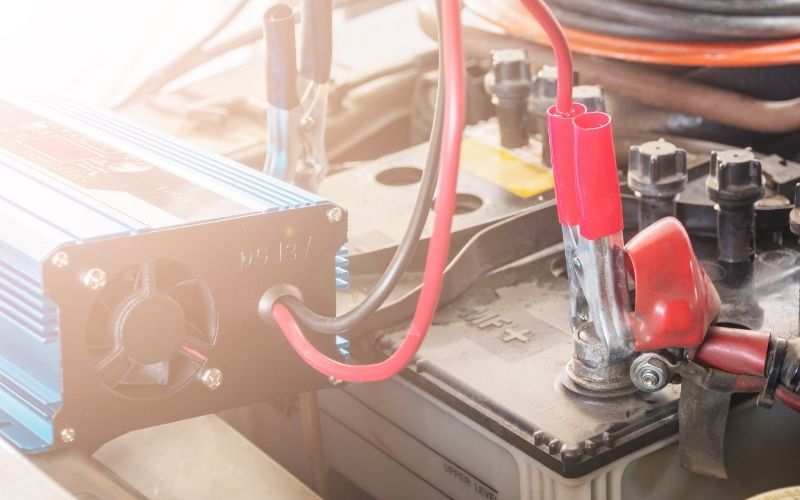 When charging your entire marine deep cycle battery system, the time it takes to charge varies on the amps-per-bank of your charger and the number of banks (batteries) that need to be charged.
For example, if you have a smaller boat with a single deep cycle battery and a cranking battery, you'll likely be using a 12V trolling motor. In this case, you'll need two batteries in your boat; therefore, you'll need a two-bank battery charger.
Here's the recharge time you can expect based on the amps-per-bank of the charger:
Depending on the number of batteries you need for your boat, you'll want to account for each battery's charging time.
For example, if your boat requires 4 battery banks, and you have a charger of 10 amps per bank, that means it can take about 16 total hours to charge 4 batteries.
Conclusion
Nobody likes running into engine troubles while in open water.
Knowing what to expect when receiving your new boat battery and how to charge it properly will increase the odds of maximizing the lifespan of your batteries.
Now you're ready to take charge and install your boat batteries for your next boating trip!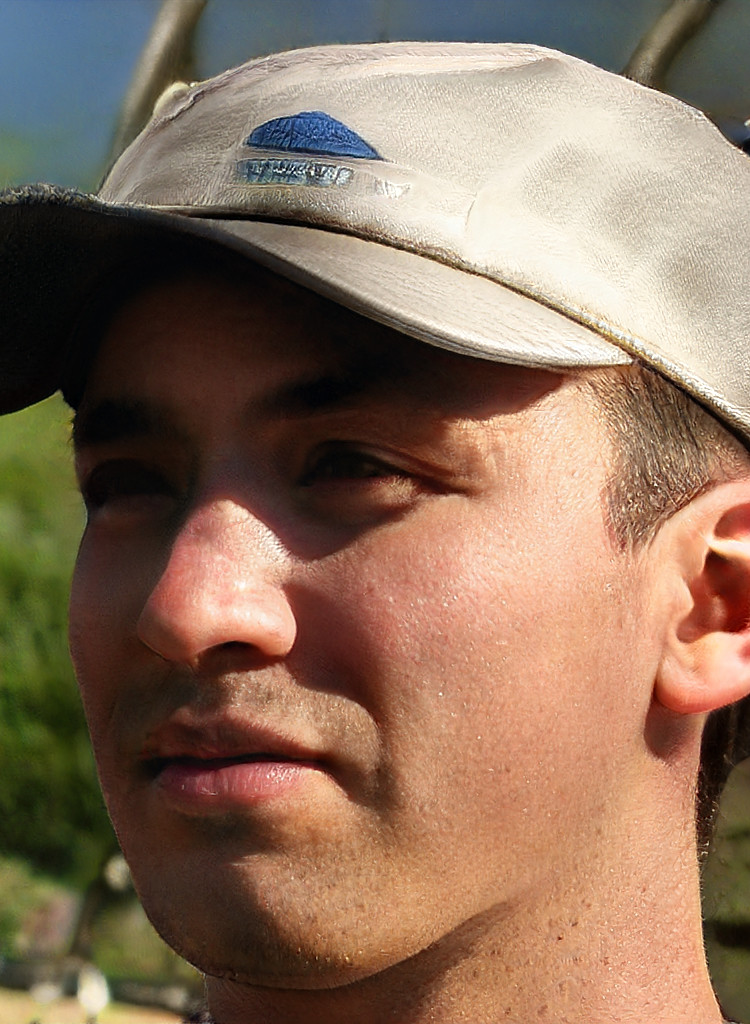 I created this site to help people – to help you – with your boat problems. Instead of helping one person at a time, I want this website to be the "one-stop-shop" for everyone's boating concerns. Read more.