Have you ever wondered just how much power is sitting inside a fully charged deep cycle battery?
Maybe you're wondering if it's powerful enough to run all of your boat's electronics, a TV, or even an electric scooter. Or maybe you're just curious about how to determine the battery's energy density.
Either way, keep reading!
In this article, we'll answer all of your questions related to deep cycle battery power and how to determine just how powerful your battery is.
Ready to dive in?
How Much Power Does a Deep Cycle Battery Hold?
Deep cycle batteries are known for being pretty powerful, but just how much power can they hold?
The answer, of course, depends on each individual battery.
Not all deep cycle batteries are created equally. They come in many different sizes, strengths, and qualities, and even those that look similar may be made with different power capacities for different needs.
Generally, larger batteries for larger boats have more power than small batteries. Batteries are divided into groups based on their size, and as we'll see below, larger group sizes usually (though not always) mean more power.
How much power a battery holds may also depend on its age, how it has been used and cared for, and even the quality of materials used to make it.
So, how do you determine how powerful a specific battery is?
According to this helpful article from Omni Calculator, there are two numbers that determine a battery's capacity to hold power:
Voltage: Voltage describes the battery's potential to produce an electric current. Most marine deep cycle batteries are 12V, though some larger batteries used for powering larger devices are 24V.
Amp hour rating: The amp hour rating (Ah) is the maximum number of amps a battery is able to produce in an hour. Amp hour ratings on deep cycle batteries can range from 20 Ah up to 125 Ah or more.
The energy density of the battery, or its power capacity, is calculated by multiplying voltage and amp hours. It is expressed using watt-hours.
Power By Battery Group Size
Battery BCI group sizes explained (batteries - part 5)
Group size refers to the basic dimensions of batteries in a specific class. The power capacity of each battery within a group size will vary, but in most cases, the batteries with larger group size numbers will be more powerful.
Let's take a look at some common marine battery group sizes and their typical power capacities:
24M

Voltage: 12V
Amp hours: 70 to 85
Energy density: 840 to 1,020 Wh

25

Voltage: 12V
Amp hours: 40 to 55
Energy density: 480 to 660 Wh

27M

Voltage: 12V
Amp hours: 85 to 100
Energy density: 1,020 to 1,200 Wh

31M

Voltage: 12V
Amp hours: 100 to 125
Energy density: 1,200 to 1,500 Wh

34M

Voltage: 12V
Amp hours: 50 to 70
Energy density: 600 to 840 Wh

35

Voltage: 12V
Amp hours: 44 to 60
Energy density: 528 to 720
Deep Cycle Battery Vs. Car Battery: Which One Holds More Power?
Comparing marine deep cycle batteries to car batteries is like comparing apples to oranges. They are two different types of batteries made for very different uses, so there is not much reason to compare them against each other.
Car batteries and deep cycle batteries may have similar voltage and amp hour ratings, but they cannot be used interchangeably.
Deep cycle batteries, particularly those made for marine use, are thicker and tougher than car batteries, and they are made with sturdier lead plating so they can handle more vibrations–essentially, a deep cycle battery can take more abuse than a car battery.
Additionally, car batteries are starting batteries–they are only meant to supply a short burst of power to start the engine. Once the engine is running, its alternator continually recharges the battery. The battery itself is not intended to be discharged below 80 to 85 percent.
Deep cycle batteries are meant to power boat electronics for a longer period of time. They are not connected to the engine so they cannot be recharged by the alternator. They are frequently discharged down to 50 percent or even lower.
So again, which one holds more power will depend on group size, voltage, and amperage, but they are not for the same uses and so it is pointless to compare them against each other.
FAQ
Can a Marine Battery Power a TV?
Most marine batteries have more than just boating related uses. It may be possible to use a marine battery to power a TV, but how long it will supply this power depends on the size of the battery and the TV.
For example, a 100Ah battery will supply 35 watts of power to a 32-inch TV for about 34 hours. A smaller TV, drawing about 20 watts of power, will receive 60 hours of power from the same battery.
If you want to use a marine battery for your TV, this battery below is a good choice.
Last update on 2023-09-26 at 06:27 / Affiliate links / Images from Amazon Product Advertising API
Can Marine Battery Power a Scooter?
Yes, many marine batteries can be used for scooters and electric wheelchairs. If you're buying a marine battery for this specific purpose, it's best to find one that specifically states it can be used for a scooter.
Also, you'll want to make sure it has the proper voltage and amperage for your specific scooter. This battery below is a good place to begin your search.
Last update on 2023-09-26 at 03:16 / Affiliate links / Images from Amazon Product Advertising API
Can a Marine Battery Power a Golf Cart?
Yes, some marine batteries can also be used in golf carts. Again, though, make sure it has the proper voltage and amperage. Double-check before buying any battery to find out if it will work for your specific need.
This battery below works well for golf carts.
Last update on 2023-09-26 at 07:57 / Affiliate links / Images from Amazon Product Advertising API
Conclusion
Some deep cycle batteries are larger and more powerful than others. They come in different sizes and are made for different uses. You can determine how much power a specific deep cycle battery holds by multiplying its voltage and amp hour rating.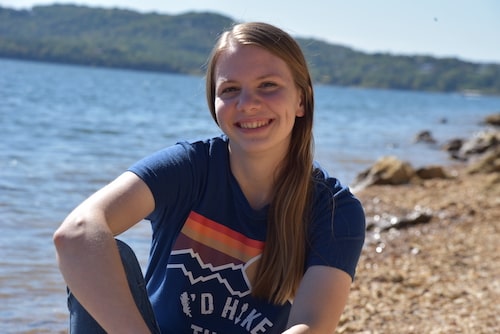 Sarah Hood has been writing for Anchor Travel since 2021. When she's not writing, she enjoys cooking, singing, and spending time in the great outdoors.