Every boat owner needs a great trolling motor, and if you're searching in the market for a piece of top-notch equipment to add to your fishing trips, then you may be stuck on choosing the best.
Two motors that have drawn comparisons due to their similarities in features, power, and price point are the Minn Kota Terrova and Motorguide Xi5.
Both motors are designed with innovative technology designed to increase efficiency and performance, allowing anglers like yourself to cruise in the water effortlessly.
The Minn Kota Terrova and the Motorguide Xi5 are best suited for serious anglers looking to get an advantage when it comes to snagging fish.
These are two models that are produced by two of the most reputable brands out there.
In this article, we'll take a closer look at the Minn Kota Terrova and Motorguide Xi5 to see how they differ from each other, and we'll give you our final verdict on which one is better.
Let's begin!
Direct Comparison
| | | |
| --- | --- | --- |
| | Terrova | Motorguide Xi5 |
| Shaft Length | 45", 54", 60" and 72" | 45", 48", 54", 60", 72" |
| Power Options | 12v (55 lbs), 24v (80 lbs), 36v (112 lbs) | 12v (55 lbs), 24v (80 lbs), 36v (105 lbs) |
| Steering | Electric Foot Pedal | Wireless Foot Pedal |
| Wireless Control System | iPilot GPS or iPilot Link | PinPoint GPS System |
| Stow and Deploy | Stow and Deploy Lever and Lift-Assist Design | Stow and Deploy Lever |
| Fish Finding Technology | Universal Sonar 2 and MEGA Down Imaging | Sonar Transducer |
| Comparing Prices Online | Click here to buy online! | Click here to buy online! |
Breaking it down
We've decided to compare the two motors because they offer plenty of similarities in terms of power, size, thrust, and even advanced technology.
However, there are some subtle differences that may sway your decision.
We'll cover its primary features such as its wireless control system, stow and deploy, steering, and fish-finding technology.
You'll understand what's unique about the feature, and we'll give you a clear winner for each category.
Wireless Control System
Trolling motors are becoming more advanced, and some offer the capability to control their motor and navigate their boat using a remote.
The remote allows you to control the direction, speed easily and even anchor your boat to a specific location.
Furthermore, you'll find that many of these wireless GPS systems have an autopilot function, which will head a certain path or direction, allowing you to sit back and relax.
Terrova
With the Terrova, users can choose between buying the iPilot or iPilot Link option. The iPilot Link is the best GPS trolling system we've seen in the market across all brands.
This self-contained system lets you adjust speed and steering, operate on cruise control by following a set path, save paths for future use, be able to operate through the Minn Kota mobile app and be compatible with the Humminbird fishfinder.
One of its best features is the Spot-Lock and Spot-Lock with Jog. When it comes to fishing, rough waters can easily sway you out of position.
The Spot-Lock anchors your boat in place, and the Jog function will allow you to move 5 feet in any direction so that you can follow your prey while fishing.
What's impressive about the iPilot link is that it records and saves up to 66 paths and 2,500 spots for their spot-lock. For frequent anglers, you can always return back to prime fishing destinations whenever you want.
Motorguide Xi5
The Xi5 has everything you'd want in a GPS system. Their Pinpoint GPS has various speed levels allowing anglers to control the speed of their motor easily.
With the remote, you can adjust the speed and direction with a push of a button.
In addition, it has a complete suite of autopilot functions such as anchoring your boat's positions, tracking courses, and locking in your direction.
However, with that said, it simply doesn't have the memory capacity and functions that the iPilot Link does.
Winner: Terrova, because the iPilot Link is more advanced.
Stow and Deploy
Stow and deploy is essentially the process of loading and unloading your trolling motor in and out of the water.
Although this might sound easy, anyone who has had older trolling motor models will understand the difficulty.
Typically, this involves unlatching the lock and manually lifting the motor out of the water. To deploy the motor, you'll have to lower the shaft and motorhead into the water and lock into the proper position.
This can be challenging, especially if you have to change the shaft height based on conditions of the water, like shallow or rough waters.
Terrova
UPDATED: New Features on the Minn Kota Terrova
Although the Terrova doesn't have a completely automatic stow and deploy system, it does have a lever for easy access and a cylinder mechanism to reduce heavy lifting.
What makes the Terrova different from the Motorguide Xi5 is its unique Lift-Assist design. This mechanism utilizes a nitrogen gas cylinder that significantly reduces the amount of force needed to lift the trolling motor.
This means you'll be pulling much less weight while stowing away your motor.
For those who have back problems, prior injuries, or are getting older, manually stowing a motor can be a challenge, especially if you're in rough waters. However, the Terrova makes the process much easier.
Motorguide Xi5
The Xi5 motor works in the same way that the Terrova does.
Simply release the lever and let the motor slide into the water to your desired height to deploy your motor.
Stowing is more difficult since you'll have to manually lift the motor up out of the water.
Without the gas cylinder like the Terrova, it can be quite heavy and labor-intensive to stow and deploy your motor.
Winner: Terrova, because of its Lift-Assist design.
Steering
Depending on your motor, trolling motors typically either have a hand tiller or foot pedal for steering.
With bow-mounted motors such as the Terrova and Motorguide Xi5, foot pedals are usually the most common since the long cords can extend anywhere on the boat.
Foot pedals allow anglers to have a hands-free operation and easily fish while still steering their boat.
Terrova
Foot pedals can be a great alternative to using the wireless remote, especially if you run out of batteries or prefer a slightly smoother control.
The Terrova electric foot uses heel and toe control to navigate. This works by pushing the toe downwards to steer right and pushing the pedal backward to steer left.
Its foot pedal is made of high impact resistant composite material to prevent flexing and warping, which can be common with foot pedals.
There's also a constant-on feature, which acts like an auto-pilot allowing you to cruise when you aren't changing direction. In addition, the pedal also has a spot-lock button and infinitely variable speed dial on the foot pedal.
The downside is that the long 18 feet cord can cause some clutter, and electric pedals are known to have a slight delay between the input and motor.
Motorguide Xi5
Fishing Tip - MotorGuide Xi5 S10E07
The steering is perhaps the biggest competitive advantage that the Xi5 has over the Terrova.
Its refined steering transmission is purposely designed with ball bearings, which creates a smoother rubbing action and greatly reduces wear and tear over time.
Since the friction is reduced, it also allows you to move quietly and remain stealthy while fishing.
Thanks to its' customized seal protection on the transmission, it will keep water and dust out to prevent any electrical damage.
In addition, the Xi5 comes with a wireless foot pedal, which eliminates the hassle of dealing with long cords that can clutter your space or get tangled up.
Winner: Motorguide Xi5, because of its steering transmission and wireless foot pedal
Fish Finding Technology
For anglers, fish-finding technology helps give you an upper hand while you're out hunting some fresh bass.
Fortunately, some features make locating fish much easier so that you can spot where they are, despite even having some blind spots.
Terrova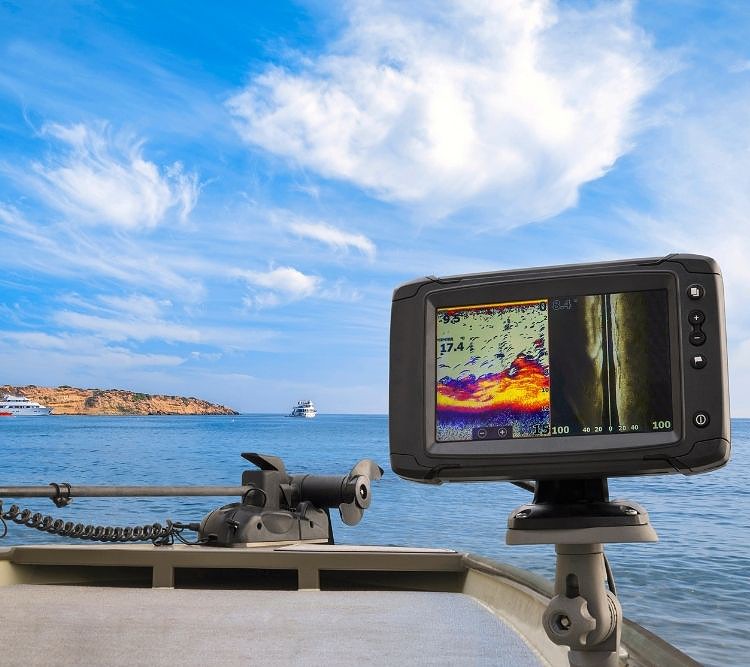 The Terrova offers two fish-finding features: the Universal Sonar 2 and the Mega Down Imaging. The Universal Sonar 2 is a built-in transducer in the lower unit of the motor that is compatible with most fish-finding brands such as Humminbird, Garmin, Lowrance, and Eagle.
This transducer offers dual beam technology and a thermometer for reading water temperature.
Most experienced anglers know that water temperature can determine the type of fish that reside in the waters and whether there are fish available or not.
The Sonar sends out signals underwater and receives echoes, thereby receiving important information such as detecting water depth and fish location.
Also, the Terrova offers MEGA Down Imaging allowing users to see all structures and fish underneath your boat. This is typically a blind spot for most anglers.
You'll be able to see realistic photo-like images of structs like rocks, algae, and all fish directly below your boat.
Motorguide Xi5
Like the Terrova, it has a sonar integration system compatible with fishfinder brands such as Simrad, Lowrance, and Mercury VesselView.
Its frequency is 83/200 kHz, meaning that it will transmit a cylindrical cone under your boat.
Given the frequency level, it will transmit a cone size of under 20 degrees.
Without the Sonar, it's much more difficult to find fish since you don't know where they are or where they like to hide.
Winner: Terrova, because it offers the MEGA down imaging along with the Sonar.
Final Recount
Terrova: 3/4
Motorguide Xi5: 1/4
Results: Terrova
Pros and Cons
Pros
Cons
Terrova

Very easy to stow and deploy the motor
Includes the iPilot Link and Spot-Lock with Jog to enhance navigation
Features the Mega Down Imaging to detect fish below you

A little expensive compared to most trolling motors
Electric steering means there's a short delay between the input and the motors turning

Motorguide Xi5

Pinpoint GPS system lets you change the speed and direction of the boat
Ball bearings in the steering transmission create smoother action and reduce wear and tear
Made with a protective coating to keep debris and water from damaging electrical components of the motors

A little pricey
It doesn't have as many upgraded features as the Terrova
Is the Minn Kota Terrova worth the money?
Although the Terrova is more expensive than most trolling motors in the market, you'll be hard-pressed to find the features it has elsewhere.
It has a wide variety of features that provide versatility and a hands-off approach to using a bow-mount trolling motor.
For experienced anglers or someone who hates the manual operation that most trolling motors provide, the Terrova will make life much easier.
The iPilot Link and electric foot pedal will allow you to spend more time fishing and less time worrying about navigating your motor.
Due to its wide range of power options and shaft length, the motor works for almost all sized boats, from inflatable dinghies to larger boats.
Which is better: Minn Kota Terrova or Motorguide Xi5?
Both motors have excellent features, but the clear winner is the Minn Kota Terrova. It simply has more advanced features than the Xi5.
The Terrova is designed for serious anglers who are frequently out on fishing trips and need something more advanced to make their job easier.
For example, the MEGA down imaging and iPilot Link are features that put the Terrova ahead of the Xi5. You'll be able to record and retrace paths that have previously worked for you, and the Spot-Lock with Jog allows you to move with schools of fish quickly.
The only reason you may want to consider the Motorguide Xi5 is if the transducer is compatible with your specific model of fish finder or if you prefer it's a wireless foot pedal and seamless steering transmission.
Final Verdict
In the end, you can't go wrong with either motor. Both are exceptionally designed and built with the ruggedness to withstand the rigors of any water condition.
On top of that, you get easy-to-use steering options and advanced GPS systems to navigate through waters.
However, in our opinion, since they are both at a similar price range, it's a no-brainer to choose the Terrova motor.
Now that you know the differences, you are ready to decide what's right for you and take your new trolling motor out for a spin!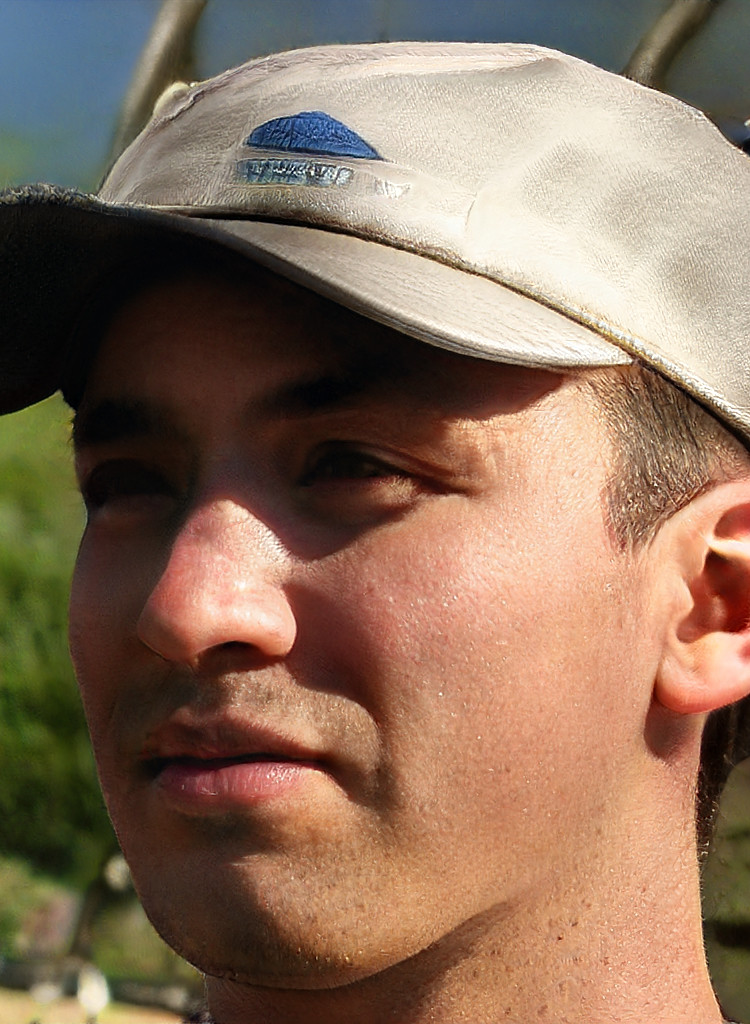 I created this site to help people – to help you – with your boat problems. Instead of helping one person at a time, I want this website to be the "one-stop-shop" for everyone's boating concerns. Read more.