Today, we're going to talk about the Ocean Spirit iSUP.
Produced by Outdoor Master, this inflatable paddle board is touted as the perfect choice for anyone who's new to the world of standup paddleboarding, or SUP.
But does it live up to its reputation? Is the Ocean Spirit actually a good choice for beginners?
What do you get when you buy the Ocean Spirit?
What are some of its top features and is there anything we wish was different about it?
How do you use the iSUP? Are there any alternatives that perform better or are more user-friendly for beginners?
Keep reading!
In this review, we'll answer all of these questions.
(Remember to use our discount code: OMVAN20)
Who is the Ocean Spirit iSUP For?
As it turns out, the Ocean Spirit is a great choice for beginners. Outdoor Master went the extra mile in designing a paddle board that is easy to inflate, easy to use, and even includes some added safety measures so you can learn in a safer environment.
Let's take a closer look at how and why the Ocean Spirit is a great choice for beginning paddle boarders:
Setting up the paddle board is easy. All you have to do is inflate it, place the skeg fin, assemble the paddle, and you're ready to hit the water.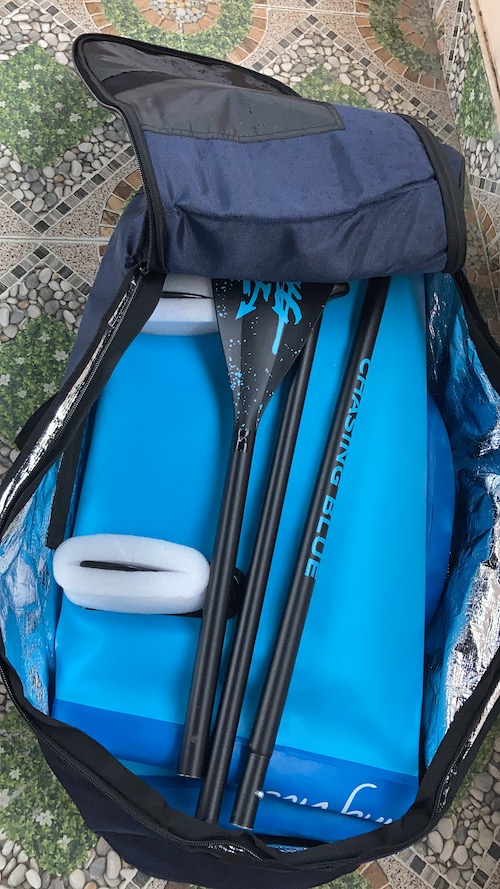 The surface of the board is covered in a rhombus pattern material for added traction. This will help you avoid slipping or sliding off the board.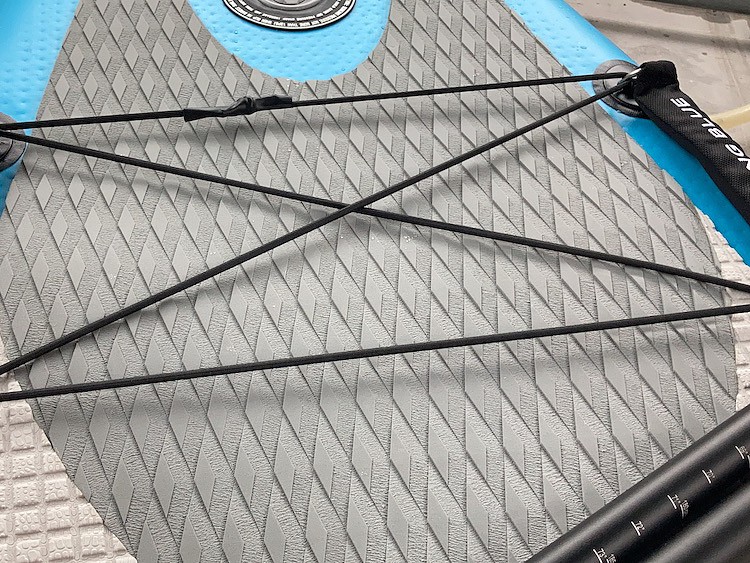 For further safety, a leg leash is included. Secure it to your ankle, and you will have a connection to the board in case you do fall off.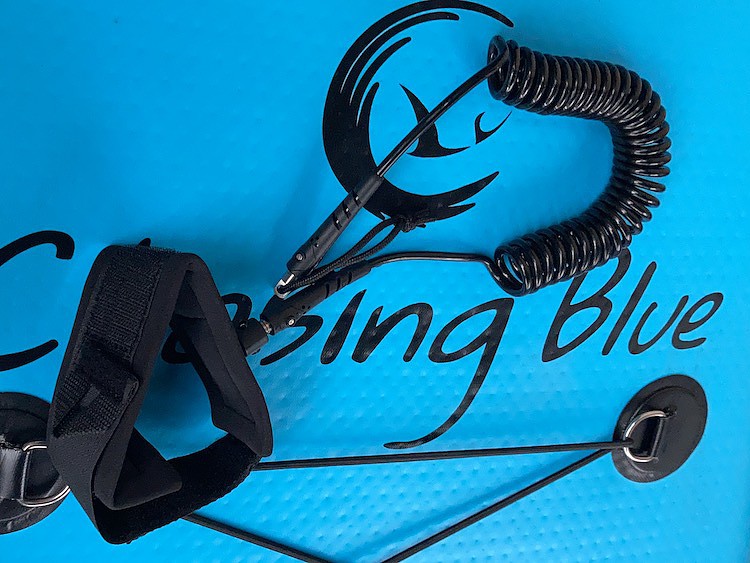 Of course, even if you're not a beginner, these features are great to have.
That said, if you're an advanced competitive paddle boarder looking for a premium SUP, this may not be the one for you. It is priced relatively low and has a fairly small amount of features compared to some of the top of the line paddle boards.
What's Included
As noted above, the Ocean Spirit is fairly inexpensive, but it provides good value for the price. When you order your new paddle board, you will get everything you need to get started on the water, along with some nice extras and freebies.
Let's take a look at what you'll find inside the box:
Rolling transport backpack: When deflated and disassembled, the paddle board, paddle, and all accessories fit nicely into this oversized backpack. The backpack has wheels for easy transport and is completely weatherproof. What's more, the inside of the bag is heat insulated so you can stuff water bottles, snacks or other heat-sensitive items inside the backpack's many pockets. There's plenty of room for extra gear and accessories even when the paddle board is folded up inside.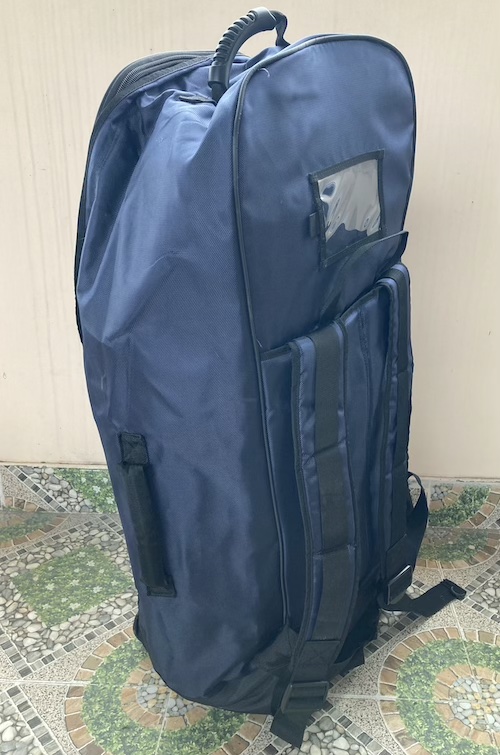 Inflatable paddle board: The board is made of tough, rugged materials that can take a lot of stress and don't puncture easily. D-rings that attach to the bungee cords and hand straps are firmly and permanently glued down. The bungee cords and hand straps are also high-quality and durable, so you don't have to worry about them breaking while you're out on the water.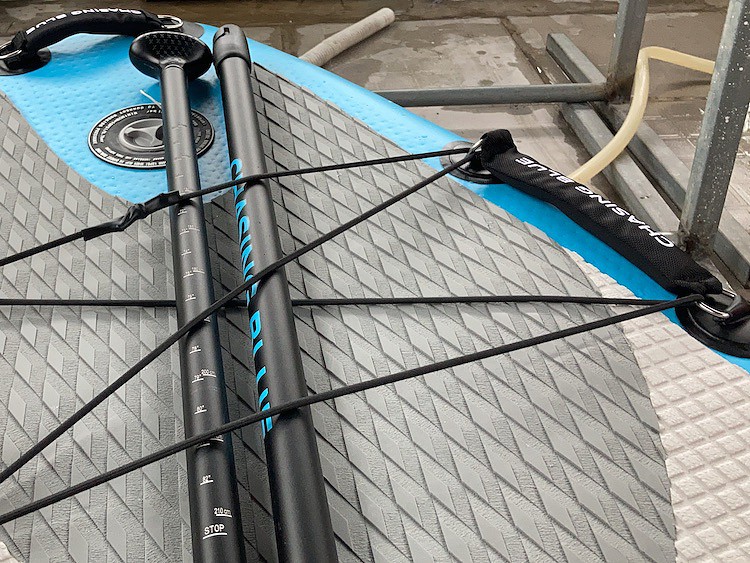 (Remember to use our discount code: OMVAN20)
Paddle: The adjustable paddle breaks down into three pieces of roughly 35 inches. Once assembled, it can extend between 72 and 86 inches. It is made of tough but lightweight aluminum, and it will float if dropped into the water.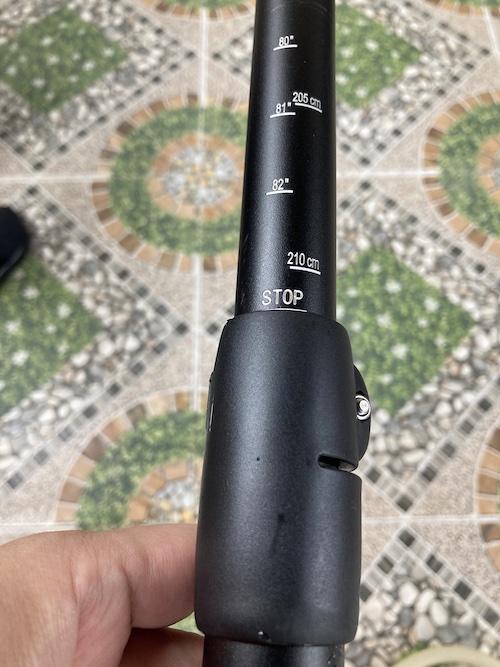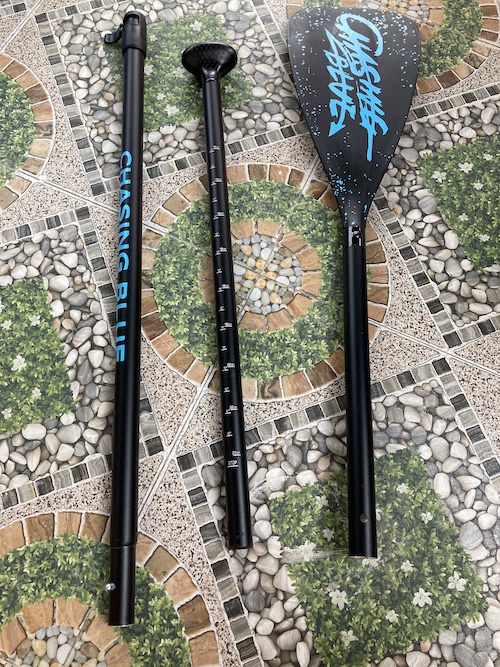 Skeg fin: The removable skeg is made of tough, thick plastic. It is easy to insert and remove, and it locks into place so it doesn't fall out while you're using the paddle board.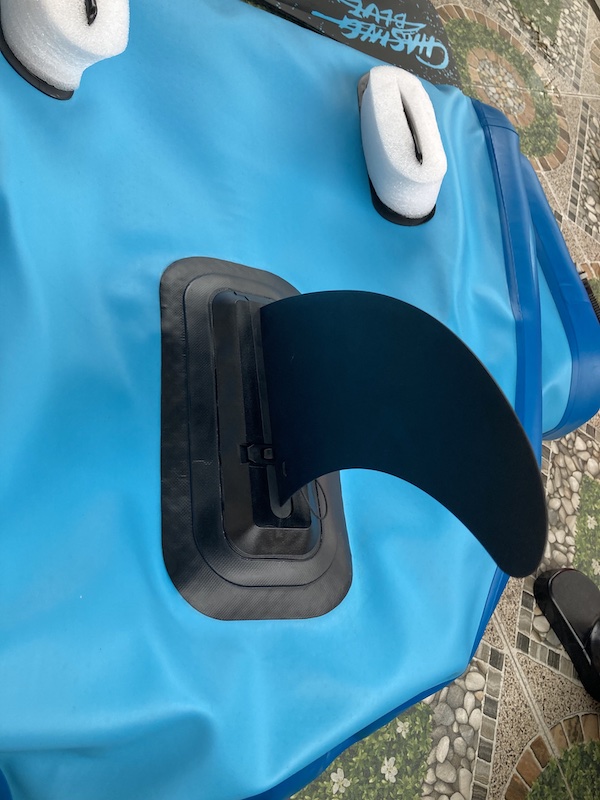 Hand pump: The hand pump and built-in pressure gauge are made of plastic. It is lightweight and portable, fitting comfortably into the backpack. The pump takes about 5 minutes to fully inflate the iSUP.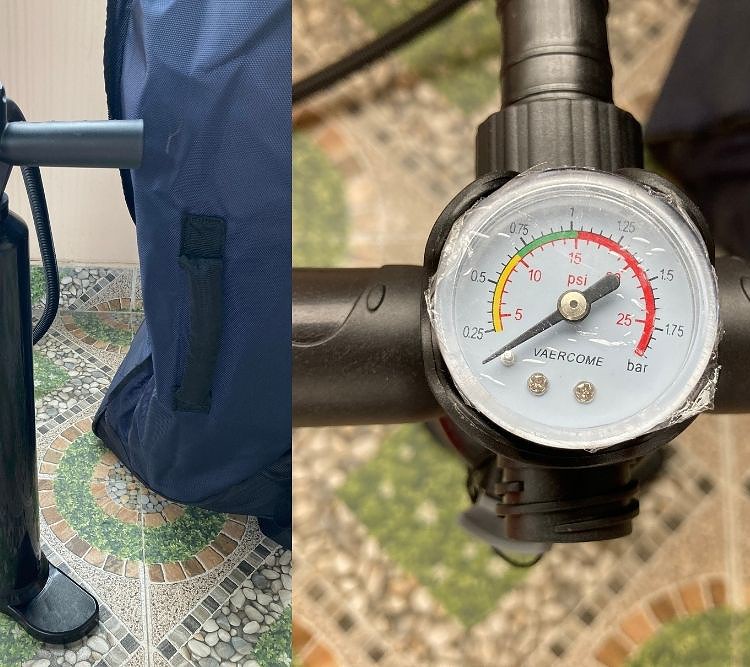 Repair kit: The repair kit comes with a chemical glue tube and two replacement seams. That way, you can replace any D-rings that may separate from the paddle board, and repair the board if it gets punctured.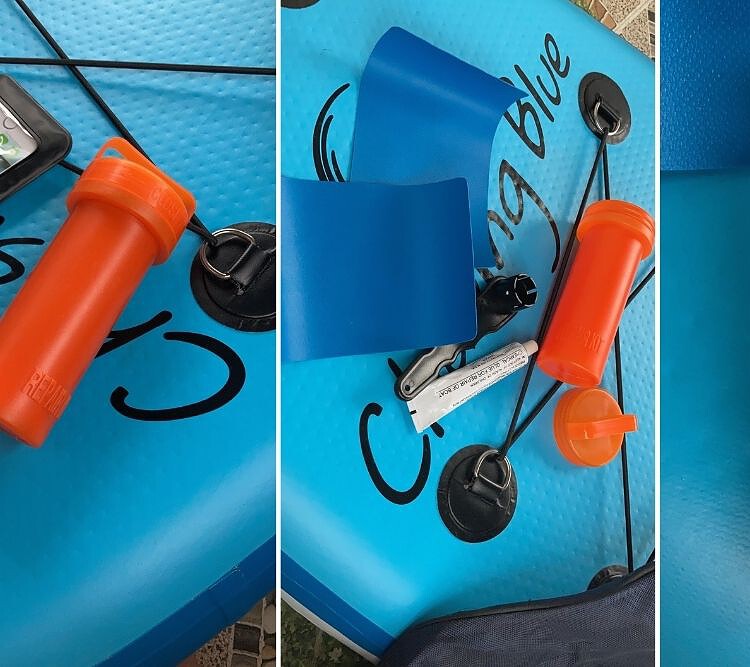 Accessories: The Ocean Spirit comes with several accessories: a coiled leg leash, a waterproof phone bag so you can keep your phone with you on the water, and mounts you can glue to the paddleboard so you can mount cameras or fishing rod holders.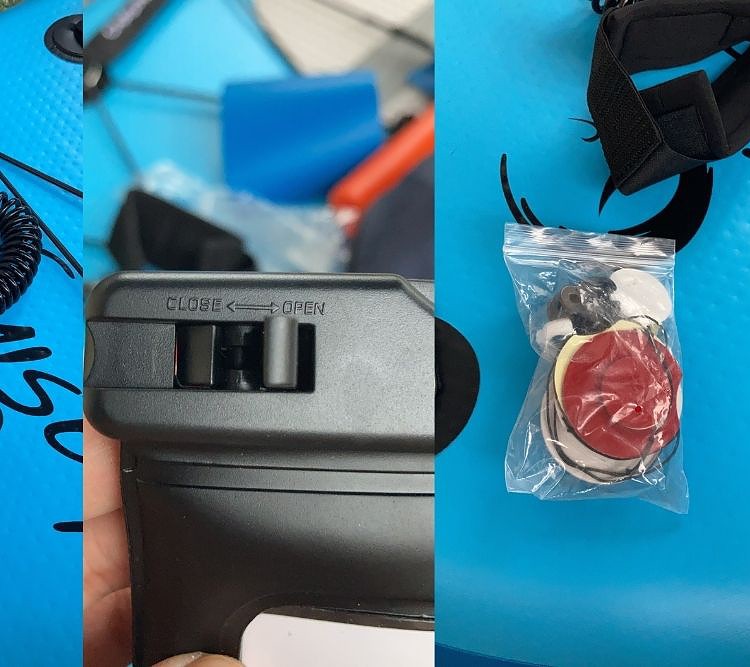 Owner's manual: The owner's manual is written in English, German, and French. It includes information about the paddle board and accessories, warranty information, and instructions for inflating, deflating, and packing the iSUP.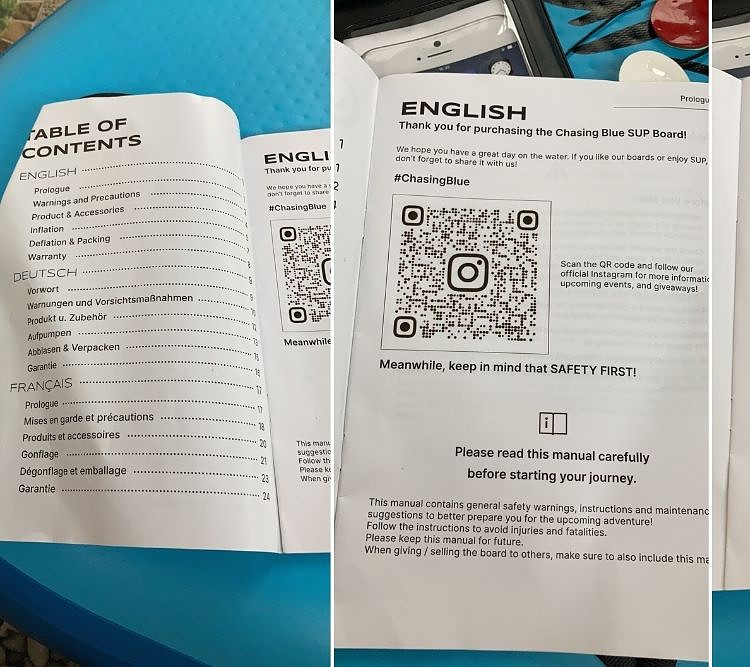 Overview of Features
The Ocean Spirit is a simple, straightforward paddle board, but it still comes with plenty of features for a very reasonable price.
First up, let's talk about the air pressure.
Because the Ocean Spirit is an inflatable paddle board, getting it inflated to the proper psi–and keeping it there–is extremely important. The Ocean Spirit has a maximum psi of 15 and a recommended psi of 12, and it has built-in safeguards to protect against overinflation.
The inflation valve is a Halkey Roberts valve. It's made to automatically release some air if the pressure exceeds 15 psi. This valve keeps your air pressure within limits so you don't have to worry about popping the paddle board or putting too much stress on it via overinflation.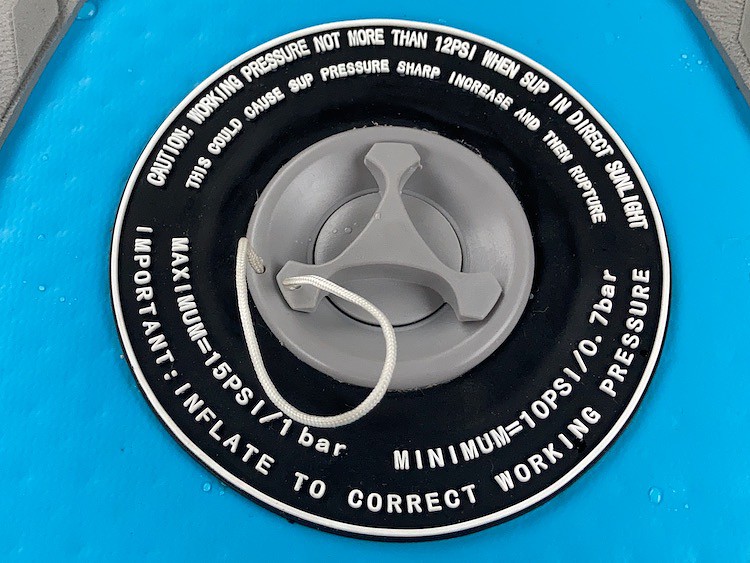 The included hand pump has a psi meter built-in, so it's easy to track the air pressure as you inflate the paddle board. The meter is color coded so you can see at a glance if you're within the optimum range of 10 to 15 psi.
It's worth noting, however, that the psi meter isn't always accurate, so it's best to err on the side of underfilling your paddle board if you're not sure.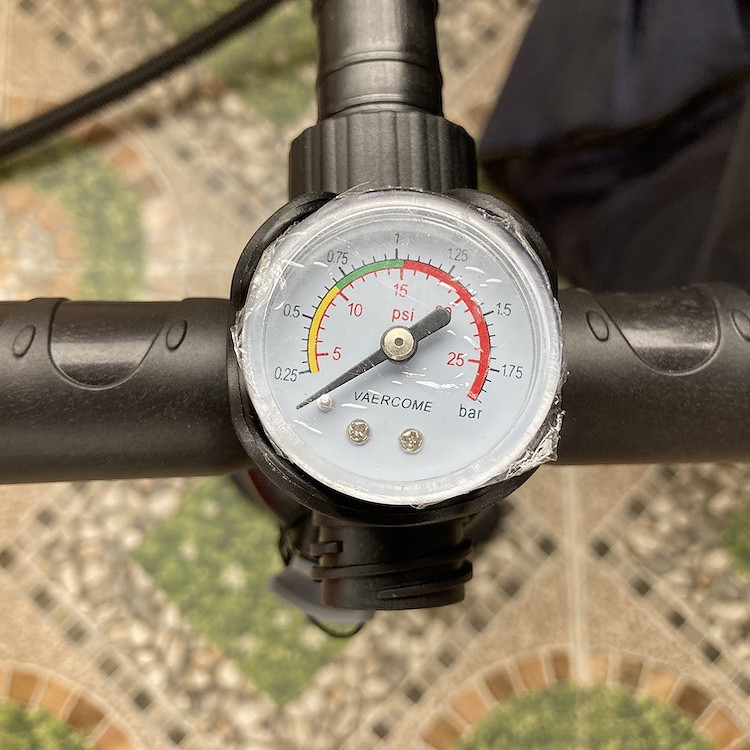 Next, let's talk about the overall design of the paddle board.
The Ocean Spirit was designed with an extra wide body, which gives it extra stability in the water. This is great if you're starting out or if you like to challenge yourself by paddle boarding in rough waves.
The board is 10 feet, 6 inches long and 30 inches wide in the middle. It is tapered at each end to give the board the classic, streamlined shape and help it move efficiently through the water.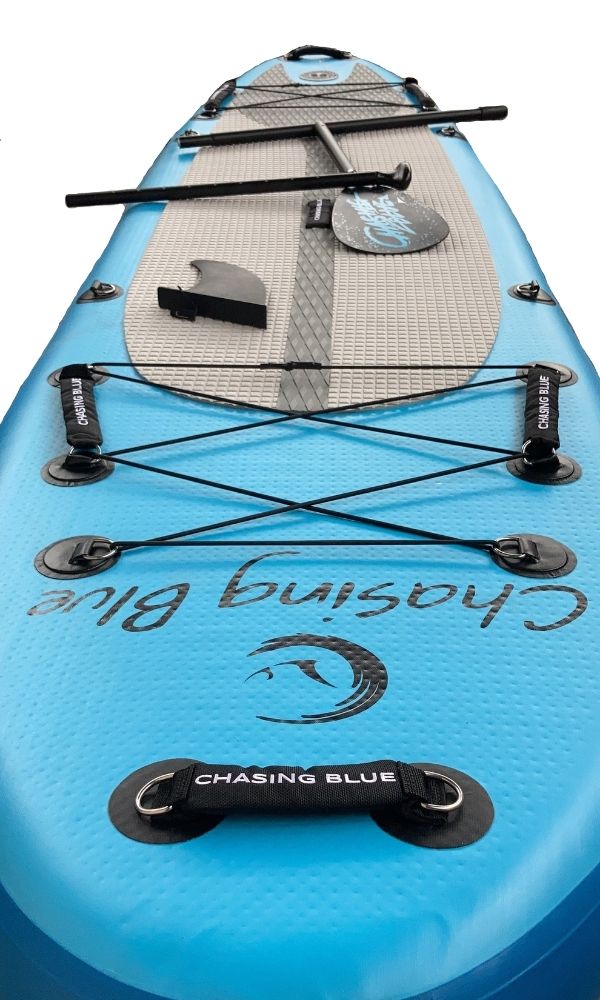 (Remember to use our discount code: OMVAN20)
The board has 18 D-rings secured at intervals around the edges. Some of these have bungee cords attached, which allow you to secure your gear beneath them. The additional D-rings can be used for clipping gear, tying off flotation devices, and anything else you can think of.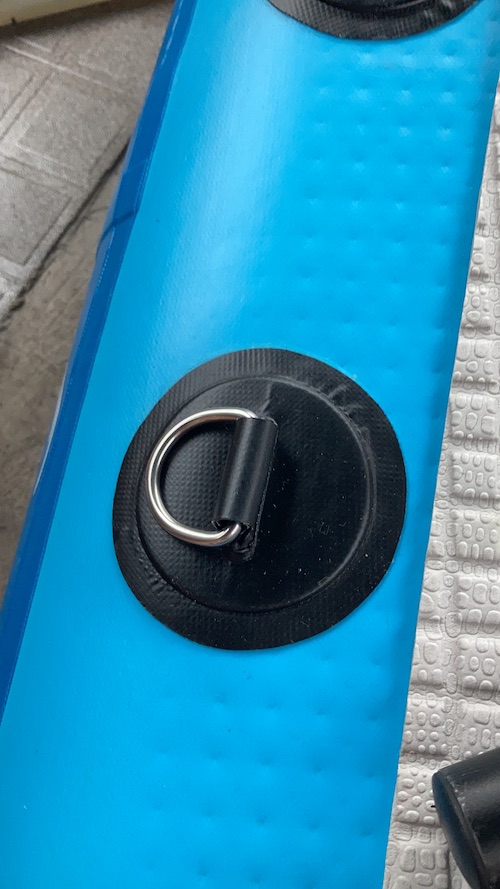 Finally, this article wouldn't be complete without taking a closer look at the accessories included with the board.
While the transport backpack can hardly be considered a mere accessory, it's a nice little add-on that makes getting your paddle board from point A to point B a breeze. The fact that it's waterproof and heat insulated? Even better.
Speaking of waterproof, the phone bag is a great accessory. The bag is made of clear, durable plastic, and it closes and locks to create a complete seal. The bag can then be strapped to the bungee cords or one of the D-rings to keep it from slipping off the board in the waves.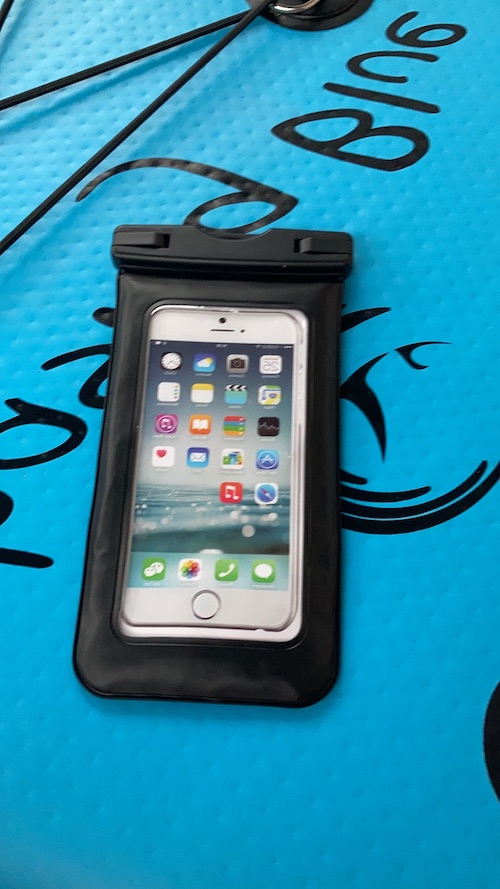 The repair kit is always a good thing to keep on hand just in case. It lets you patch leaks in the body of the paddle board and reattach any D-rings that come loose.
When you order the Ocean Spirit, you also get three sets of "action mounts", which you can attach anywhere on the paddle board using the glue tube. These mounts come in different sizes and styles so you can use them for different things, such as action cameras or camera sticks.
Overall, the Ocean Spirit comes with lots of great features and is thoughtfully designed and crafted.
What We Like:
The shape of the board makes it more stable in rough waters.
The Halkey Roberts Valve is designed to prevent overinflation.
The extra accessories add value to this paddle board.
What We Don't Like:
Though nice to have, the psi gauge doesn't work very well.
| | | | |
| --- | --- | --- | --- |
| Design | Ease of Use | Features | Customer Service |
| ⭐⭐⭐⭐⭐ | ⭐⭐⭐⭐ | ⭐⭐⭐⭐⭐ | ⭐⭐⭐⭐⭐ |
| Wide by sleek design makes it stable in choppy waters | Easy to inflate and use despite some troubles with the psi gauge on the pump | Comes with plenty of features at a great price point | Responsive service and fast shipping |
How to Use the Ocean Spirit iSUP
The Ocean Spirit requires only a few minutes to inflate so you can get out on the water in no time. The step-by-step process is included in the owner's manual, but let's look at some tips for using your inflatable paddle board.
Remove the deflated board from the backpack and roll it out flat. Make sure there are no sharp rocks, pieces of glass, or other sharp materials in the area.
Hook up the pump hose to the valve and begin pumping. There are two settings on the pump, a fast fill and a slower fill. You can use the fast fill at first to get air into the iSUP quickly, then switch to the slow fill as you get close to capacity.
Once the board is fully inflated, remove the hose and return the valve cap. Attach any desired accessories such as the leg leash and phone case. Assemble the three parts of the paddle and set it to the desired length.
Flip the board up on its side and insert the skeg, ensuring that it locks into place. Set the board immediately in the water so as not to damage the skeg.
If you're new to paddle boarding, start out in calm waters and make sure there are other people in the vicinity. Practice laying, sitting, and kneeling on the board, gradually working your way up to standing if desired. It's okay to go slow as you get used to it.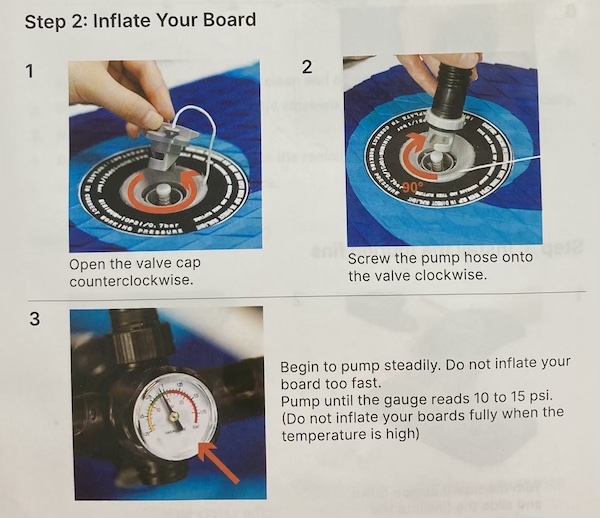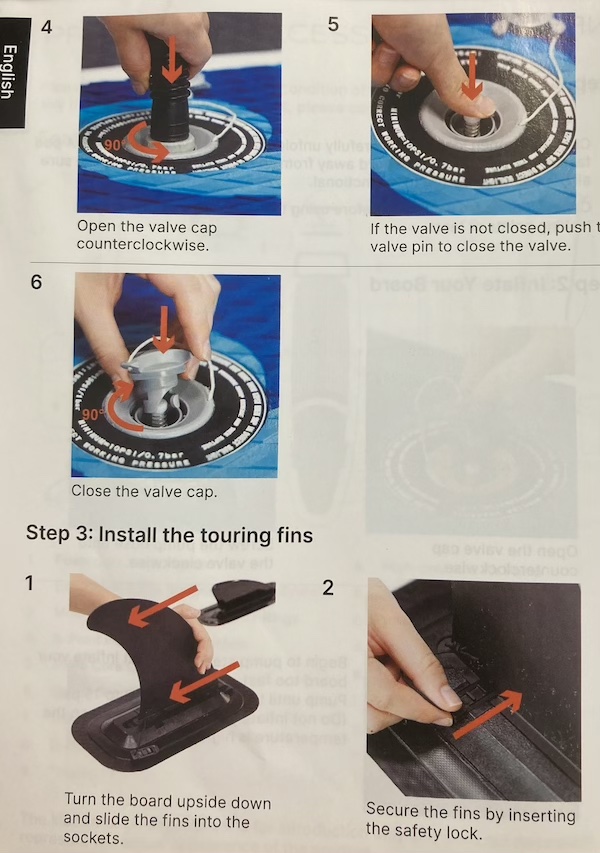 Before starting, it might be helpful to check out a good SUP tutorial video like the one below:
Learn to SUP in 5 minutes- How to Stand Up Paddleboard
Conclusion
The Ocean Spirit iSUP is a high-quality and affordable paddle board that makes an excellent choice for beginners. It includes several great features, is easy to inflate and use, and comes with a 2 year warranty.
If you've been itching to get out on the water and give paddle boarding a try, the Outdoor Master's Ocean Spirit iSUP is a great place to start. Even if you're not a beginner, but you're looking for a basic, inexpensive paddle board that will hold up, check out the Ocean Spirit today!
(Remember to use our discount code: OMVAN20)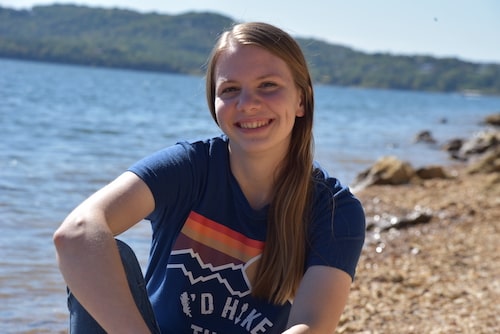 Sarah Hood has been writing for Anchor Travel since 2021. When she's not writing, she enjoys cooking, singing, and spending time in the great outdoors.