Fish finders are awesome tools that make it easier for you to find where the fish are congregating.
Perhaps you've had such good luck with your fish finder in the past that you want to try it for ice fishing. Or maybe you ice fish on a regular basis and you're wondering how it would work to add a fish finder to your arsenal.
Will fish finders and their associated transducers work in ice water and freezing temperatures?
Are there fish finders specifically made for ice fishing? How do they work?
Keep reading!
In this article, we'll answer all of these questions. Plus, we'll also include a list of some of the best fish finders on the market to use when ice fishing.
Can You Use a Fish Finder for Ice Fishing?
If you've never used a fish finder before, or if you've never done any ice fishing, you're probably wondering if it's even possible to use a fish finder in icy water. Won't the temperature damage the sensors?
The short answer is, it depends on the type of fish finder.
Many fish finders are made specifically for warmer waters. These types of fish finders would likely be damaged, or at least would not work properly, if used for ice fishing.
If you already have a fish finder and you're considering whether to use it for ice fishing, check your owner's manual. See if the fish finder is rated for a certain temperature range or minimum.
If the manual doesn't say whether the device can be used in icy water, it's best not to take any chances. Save your fish finder for warmer weather. If you still want to go ice fishing, consider purchasing any of the ice fishing fish finders reviewed at the end of this article.
Some high-quality fish finders can be used in both warm and cold water. If you like to fish year-round in lots of different weather conditions, it would be a good idea to invest in one of these fish finders.
Before purchasing, always make sure the fish finder is rated for ice fishing and freezing water temperatures. You wouldn't want to spend top dollar on a fish finder for year-round use, only to realize you can't use it for ice fishing because the freezing temperatures damage it.
Some other fish finders are made specifically for ice fishing. These ice fishing fish finders are the most likely to work through ice without running sluggishly or sustaining damage.
If you live in a colder climate where you do a lot of ice fishing, or even if you just enjoy a lot of hardcore ice fishing in the winter, an ice fish finder is probably the device you're looking for.
Again, you'll want to make sure it's rated for the conditions you'll be fishing in, and you won't want to waste money on a cheap or low-quality ice fishing fish finder. The devices reviewed at the end of this article will give you a good starting point in your search for a good ice fish finder.
Will a Transducer Work Through Ice?
The transducer is the part of the fish finder that is actually submerged underwater. It sends out signals through the water which bounce off the fish and return images to the device.
Obviously, it's important that your transducer functions properly for your fish finder to be effective. Which may lead to the question, will transducers work for ice fishing? Can they send signals through the ice?
Again, this will depend on the type of transducer you are using.
Some transducers would definitely sustain damage in cold or icy water. Others won't necessarily be damaged but may run slow or simply won't work when exposed to freezing temperatures. Still others are made to handle a wide range of water temperatures.
There are also some transducers made specifically for ice fishing. If you're not sure whether your transducer can handle extreme cold, it might be best to invest in one of these transducers.
It's also worth noting that anyone transducer may be compatible with a number of different fish finders. This means you could potentially purchase an ice fishing transducer and hook it up to your existing fish finder, which would save you money on having to buy both.
Of course, if you do this, you'll still want to make sure the cold air temperatures won't damage your fish finder. Again, your owner's manual is your best friend when making this determination.
How Does an Ice Fish Finder Work?
Ice fishing fish finders work in much the same way as traditional fish finders. They read the signals sent through the transducer, interpret those signals as a series of GPS images. They will then direct you toward the location where the fish have been discovered.
The difference between ice fish finders and regular fish finders is in their construction. Most regular fish finders are designed to handle splashes of water without sustaining damage but are not designed to handle cold temperatures.
Fish finders used for ice fishing must have more durable, insulating outer parts to protect the delicate sensors from the cold. They may also need stronger outer coverings that will not break easily if the fish finder encounters chunks of ice.
Top 3 Fish Finders for Ice Fishing
1. Humminbird Ice Helix 5 Chirp
This premium fish finder is one of the top devices for ice fishing on the market. It comes with a laundry list of great features, including:
Year-round capabilities–it's made for ice fishing but can be used in any season in a wide range of water conditions and temperatures
Six different sonar settings to help weed out the clutter and hone in on the fish
Adjustable zoom to help you spot fish at different depths
Highly detailed "dual spectrum" chirp sonar that can show specific fish, size, and outline
Built-in GPS and Bluetooth
This fish finder is made of durable materials that can handle temperatures as low as -20 degrees Fahrenheit. It also uses an open-water transducer which allows this fish finder to work at an exceptional range of both water and air temperatures.
Of course, all these benefits, as well as the Humminbird name, come at a price. This is one of the more expensive fish finders out there. But if you can afford the steep price tag, you can feel confident knowing that you're getting a truly exceptional product.
2. Deeper Chirp Fish Finder
This is a different sort of fish finder. To use it, you cast it into the water up to 330 feet from wherever you're fishing. It is compatible with both iOS and Android devices and will send signals to your phone when it has found the fish.
This is a highly portable fish finder, making it easy to move from hole to hole when ice fishing. Some users claim it works in temperatures as low as -20 degrees Fahrenheit.
Other great features of this device include:
Self-generated Wifi so it doesn't use the internet or data on your phone.
Quick-charging–it can reach 100% battery in just 75 minutes
Ice flasher display to help you find fish easier in icy waters
3 separate frequencies
Accurate readings between 6 inches and 330 feet deep
This fish finder is also a bit pricey, but it can be used year-round in almost any water conditions (including both fresh and saltwater). It is convenient, accurate, and versatile, making it an excellent value product for the money you spend on it.
3. Lucky Portable Fish Finder
This fish finder is a high-quality budget option for those who need a smaller price tag. It's a hand-held portable fish finder that will work in a number of different water conditions and temperatures.
Some of its features include:
Ice flasher feature for locating fish in icy waters
Simulation mode allows you to try the device and get comfortable with using it before you take it out on the water
It is rechargeable and will work for up to 5 hours on a full charge
It comes with its own transducer
It has various adjustable display settings so you can personalize exactly what you're seeing
Though its overall function is somewhat limited compared to the other items on this list, it works great as an entry-level fish finder and will handle icy waters like a pro. And for the price, it can't be beaten.
Conclusion
It is possible to use a fish finder for ice fishing, but it's important to make sure you have the right kind of fish finder. Not all fish finders can handle the extreme cold temperatures they are exposed to during ice fishing.
If you're not sure whether your fish finder can handle the cold, or if you're looking to buy a new fish finder to use for ice fishing, be sure to check out the products recommended in this article.
Happy ice fishing!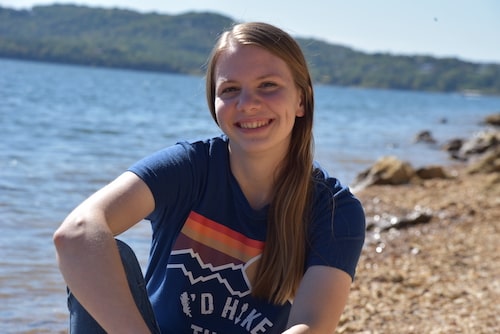 Sarah Hood has been writing for Anchor Travel since 2021. When she's not writing, she enjoys cooking, singing, and spending time in the great outdoors.