Fishing on regular inflatable boats can be incredibly difficult. They don't maneuver well in rough waters and don't have a sturdy bottom to stand on.
The worst possible scenario is capsizing your boat because you tried to stand on the shaky tubes.
Luckily, there's a better solution.
Rigid Inflatable Boats (RIB) are designed with a rigid platform made of aluminum, fiberglass, or plastic, providing a stable platform. In addition, they're easy to anchor, more responsive, and very maneuverable because of it's V-shape hull design.
We'll cover the 5 best RIB boats for fishing and tell you to look for when you're hunting for one.
Let's begin!
5 Best RIB Boats for Fishing
1/ Newport Vessels Inflatable Dinghy Boats (Dana, Del Mar, Newport, Baja, Catalina) – Best for Durability and Stability
Newport Baja Inflatable Boat - 11ft Marine Wood Floor
WHY NEWPORT: The crisp white PVC fabric of a Newport dinghy will earn you regular compliments at the dock, and makes you easy to spot while flying across the water at 15-20mph (depending on model &...
FEATURES: Electric trolling motor compatible. 3-20hp Outboard Compatible (depending on model). Air Keel creates a shaped V hull for easy planing and improved steering. Sturdy carrying handles. 3x...
Last update on 2023-04-01 at 02:07 / Affiliate links / Images from Amazon Product Advertising API
Newport Vessels hard-floor boats are best suited for anglers looking to fly across the water and quickly get to their fishing spot. Their RIB boats are available in five sizes, 8×10", 9×6", 10×6", 11×9", and 12×6". In addition, it's one of the most durable and stable boats out there!
Newport Vessels has always been a dependable brand with quality products, their RIB boats are no exception. With its V-hull design and its large 18-inch tubes, you'll be able to cut through the water, maneuver narrow pathways with ease without sacrificing stability or comfort.
They are constructed with a triple-layered 1,100 denier PVC fabric along with UV treatment to prevent UV damage and withstand the rigor's rough waters. In addition, the seams are hot-air welded, and it's been vigorously tested for inflation, air retention, and quality checks to ensure no leaks will occur.
Its floors are made of aluminum marine-grade coated plywood, making for a stable surface for planing, casting, and standing.
Newport Vessel offers plenty of extra accessories in the box. This includes starboard and port towing D-rings, two repair patches and valve wrench, a foot pump, a storage bag, an aluminum bench seat, and two aluminum oars.
Although there's plenty to like about the boat, the large tube size takes away from the amount of space you have in the cockpit.
What we like:
Depending on the size you choose, it seats between three to six people
Marine wood floor and large tubes increase stability
Air keel and high horsepower motor helps to keep the boat on plane
Hot-air welded seams and high-quality PVC ensures the boat won't leak
Includes many nice features like a self-bailing drain blue, two aluminum oars, foot pump, grab the rope, carrying handles, carry bag, and three bow D-rings for towing
What we don't like:
Large tube size means there is less cockpit room
Unboxing a BOAT! First Fish on the Newport Vessels Inflatable Boat
2/ Emaxusa Inflatable Boat – Great for Traveling at High Speeds
Last update on 2023-04-01 at 02:07 / Affiliate links / Images from Amazon Product Advertising API
Trudging along at slow speeds can make fishing incredibly boring. With the Emaxusa inflatable boat, you can significantly reduce your travel time with its higher horsepower capacity and V-shape hull. If speed is a priority, we recommend this boat.
The Emaxusa has a maximum capacity of 30 horsepower for the 13.8 feet boat, letting users go faster and stay on the plane. Not to mention, more horsepower helps with anchoring the boat for fishing and staying on course even with strong winds or currents.
The V-shape tip and hard-bottom inflatable are designed to cut through the water even against turbulent water waves.
The Emaxusa inflatable boat also has a few extra safety features to help you on your fishing trip. For example, there are rubber handles on the side of the boat, which gives you a grip to hold onto while fishing. The floors are made of anti-slip aluminum to prevent slipping while standing. Not to mention, this dinghy can be used for fresh and saltwater.
Unfortunately, the Emaxusa doesn't come with a repair patch kit. This kit is much-needed for emergencies in case there are tiny leaks in the tube while you're out in the water.
ALEKO® BT320 10.5ft Inflatable Boat with Aluminum Floor
What we like:
It's able to be built and de-assembled within 10 minutes
The RIB is relatively inexpensive
The V-shaped tip allows you to cut water and turbulent water waves
Heat-welded seams prevent the boat from drowning or air leakage
Depending on the size, it handles between 15 to 30 horsepower
What we don't like:
The boat has less space compared to a flat hull
3/ BRIS 14.1 Ft Inflatable Boat – Best for Families
BRIS 14.1 ft Inflatable Boat Inflatable Rescue & Dive Inflatable Raft Power Boat
30 Days money back guarantee. All of our boats come with 3 year manufacturer warranty. Guarantee begins when product is delivered.
Premium Quality Materials : BRIS this model boat is made by 2,000 Dtex 1.2mm PVC fabric with polyester support, having excellent resistance to tearing, tension and breaking . It is a much more...
Last update on 2023-04-01 at 02:07 / Affiliate links / Images from Amazon Product Advertising API
There's nothing like bonding and spending quality time with your family when you're out fishing in beautiful, calm waters. The BRIS 14.1 feet inflatable boat is the top choice for families based on its length, seating capacity, and safety features.
This boat seats up to 8 people and has a weight capacity of 1,984 pounds, meaning you can bring your family members and teach them how to fish. Its 14.1 feet length is on the larger end of casual RIBs, and it has much more storage capacity than the previous boats mentioned.
The BRIS RIB includes a built-in oarlock for convenient rowing and many stainless D-rings on the rear and bow tubes for securing gear.
Most boats are susceptible to damage from UV rays, saltwater, or even air leaks. The BRIS inflatable solves these problems. It has a splash guard on the rear to protect your transom from saltwater damage. There is also a one-way drain valve to prevent your gear from getting wet or, worse, sinking from excess water.
BRIS inflatable dinghy features a deep-V keel allowing the boat to cut through the water and withstands well to choppy waves, giving you a smoother ride. On the bottom of the tubes is a double-layered fabric to protect against abrasive sands and sharp rocks.
The hull is made of PVC construction and uses aluminum floor panels for enhanced stability. This provides rigidity to the boat so that you're less like to feel unstable while turning. And it's aluminum material provides corrosion resistance.
For extra safety measures, the BRIS boats are heat welded to guarantee protection from humidity, fresh and saltwater conditions. Since there isn't any glue involved for heat-welded seams, there isn't any adhesive that can wear down. Thus, the welded seams should last fifteen years or longer.
Unlike most boats, the BRIS inflatable contains five separate air chambers. These chambers provide better buoyancy and a more firm exterior.
Unfortunately, the boat is quite heavy. However, with the D-rings and handles, that should make transporting the boat much easier.
What we like:
The BRIS boat comes with a three-year warranty
The boat seats up to eight people and has a maximum capacity of 1984 pounds
It can handle up to 30 horsepower
1.2mm PVC fabric with polyester support and 2.4 mm thickness on lower tube ensure protection against tearing, abrasion, tension, and breaking
Marine-grade plywood transom provides support and stability for your outboard motor
What we don't like:
The boat weight is a little heavy
4/ Inflatable Sports Boats Shark – Most Portable and Lightweight
Inflatable Sport Boats Shark 9.8' - Model SB-300-2022 Model - Aluminum Floor Premium Heat Welded...
The sleek white contoured design was created by nautical engineers for rear buoyancy and faster planing at takeoff. "Easy Planing" extended rear pontoons and transom area allows for more maximum...
All seams are HEAT WELDED and guaranteed to last in fresh water, salt water and extreme humidity. Eliminating the use of problematic glue and nose cones. The thick .9 mm, 1100 denier reinforced PVC...
Last update on 2023-04-01 at 02:07 / Affiliate links / Images from Amazon Product Advertising API
The heavier the boat, the more difficult it is for you to transport. And it also limits the maneuverability and control you have over the boat. The Inflatable Sports Boats Shark is designed for casual anglers who plan on going on fishing trips by themselves or with a small gathering.
The boat weighs a mere 70 pounds and is very to assemble and disassemble. Also, since the boat is lighter, this means you need less horsepower from your outboard motor to achieve high speeds.
The Shark has a sleek contoured shape to produce faster planning at takeoff and optimal rear buoyancy.
Rather than using the standard marine plywood floors, this boat features aluminum floors and seats because they are lighter, stronger, and easier to clean.
Also, the seams are heat welded to withstand salt water, fresh water, and extreme humidity. We also like how the tube diameter is 16 inches, smaller than others like the Newport Vessel boats. This means you get more space inside the v-hull.
One of the downsides to having a lightweight and portable boat is that you're sacrificing power. This boat only has a 15 horsepower capacity, less than other RIBs.
Inflatable Sport Boat Shark 9.8' and accessories overview
What we like:
It seats up to five people
The sleek and thin boat design helps faster planning at takeoff and rear buoyancy
PVC material is .9mm thick, and 1100 denier reinforced to ensure oil-stain, UV, and puncture resistance
It comes with many accessories like two aluminum bench seats, two oars, a foot pump, two repair patches, a drain plug, a storage bag, and more
The boat is easy to assemble and very portable
What we don't like:
It only supports up to 15 horsepower
5/ Aquos Heavy-Duty Inflatable Pontoon Boat – Best for Standup Fishing
AQUOS 11.5ft Heavy-Duty for Two Series Inflatable Pontoon Boat with Stainless Steel Guard Bar and...
The AQUOS Heavy-Duty for Two Series 11.5FT Inflatable Pontoon Boat weighs 91 lbs (only the boat), it can be separated into several components so that can be packed easily into a car and handled by one...
The maximum weight capacity is 800 lbs and aluminum Floor Board Size is 39*85 inch, it can meet your different requirements. A few simple additions can turn your Fishme pontoon boat into a unique and...
Last update on 2023-04-01 at 02:07 / Affiliate links / Images from Amazon Product Advertising API
Pontoon boats are perhaps the best option for fishing in calm waters like lakes and ponds. If you're cruising in shallow waters, you wouldn't have a big need for a V-hull because you won't be in rough waters. The Aquos Inflatable Pontoon Boat is best suited for anglers who fish in shallow waters.
This boat is decked out with useful furniture such as an adjustable swivel seat, a stainless steel grab bar, and an EVA anti-skid floor. In addition, you'll get other accessories such as rowing oars, a fishing bag, and a side storage bag.
The other RIBs mentioned have limited space because the air chambers are designed to be on the same level as you. A pontoon features tubes below you and the floor pad is constructed on top of the side chambers. Since there are rails, you can sit or stand up while fishing without worrying about falling over.
As for its construction, the Aquos pontoon is constructed with a military marine grade PVC tube and a 39 x 85-inch aluminum floorboard.
PVC is lightweight, flexible, and holds up well, especially in shallow water. Although it's not as durable as Hypalon, the PVC material is lighter making it easy to transport and easier to clean.
The aluminum floorboards provide additional stability to your boat, so you feel secure while standing or moving in your boat.
Also, the Aquos is much more portable than most RIBs because you can take the boat apart into several components and pack it into your car. Typically, RIBs would require a trailer for transport.
The wider stance of this pontoon increases the water contact surface allowing for greater stability and better balance.
The only downside of this boat is that you won't be able to use it in rough waters or strong winds since there isn't any exterior protection.
What we like:
It includes two stainless steel grab bars that extra stability and safety
The adjustable swivel seat makes fishing much more comfortable
EVA anti-skid pad prevents slipping and falling no matter the weather conditions
Everything can be broken down into several components and packed into a car without a trailer
Able to customize the boat with rod holders, anchor locks, fish finders, etc.
What we don't like:
RIB Boat's Buyer's Guide
Now that you know the top 5 RIB boats for fishing, you have a good understanding of the best products in the market. However, how do you know what you're looking for? And what features should you be looking at?
There are so many RIBs in the market that it'll take some time to sift through the entire market. Luckily, we're here to save you that time by giving you the rundown of what precisely to look for.
These include factors such as:
Hull-shape
Self-bailing versus bucket boats
Tube material
Tube size
Features
Welded Seams
Maximum Motor Power
Aluminum versus Fiberglass Construction
Hull-Shape (Deep V-Shape or Flat Bottom)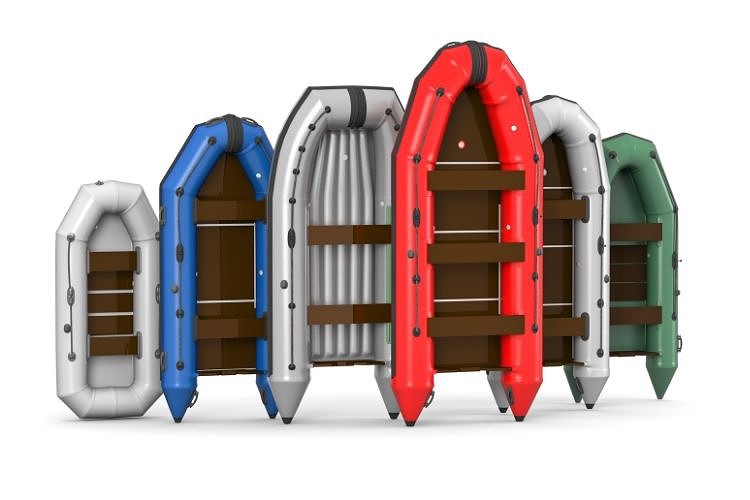 Most RIBs have a V-shaped bottom. However, the depth of the V shape will vary from boat to boat. Finding the right hull shape for your boat will depend on your needs.
Do you need to speed across the waves? Or are you looking to coast around in a small lake?
A narrow, deep V-shaped boat is designed to cut through the water instead of gliding over it as a flatter hull would. As a result, your RIB will provide a safer and smoother ride when confronted with waves.
In addition, the V-bottom includes a keel that runs the length of the hull, meaning the boat has continued contact with the water. You'll be cutting through the water rather than riding on top of it.
Since V-Shaped hulls generally have a high transom height, that will reduce the amount of water that enters the passenger area, especially in rough conditions.
However, flat-bottom boats also can be incredibly useful. These boats feature a flat keep and wide beam translating to a stable platform. Anglers may enjoy the flat bottom because they can stand to cast without rocking back and forth.
The flat bottom is ideal for shallow water because it can navigate rivers by running over the top of riffles with little water needed or transiting the muddy flats where other boats would normally get stuck.
In addition, the flat keel allows users to have more deck space for increased storage area.
Therefore, if you plan on riding at high speeds or in rough water conditions, we recommend the V-shape hull. We like the flat bottom for calm or shallow waters like rivers, ponds, and large lakes.
Self-Bailing Versus Bucket Boats
When you're running your boat at high speeds, you are bound to get wet. Even at lower speeds, water will splash and may find its way inside of your boat.
So what happens if water gets inside?
Nobody wants their bags to get soaked or a puddle of water in their boat.
Luckily, some RIBs have a self-bailing system. Self-bailing boats will have several well-positioned holes on the floor to allow water inside the RIB to drain back out.
Typically, the slope of the flooring and the deck height allows the water to splash inside and immediately reach the drainage holes.
A self-bailing system will prevent too much water from getting inside of your boat, which can lead to sinking. Or the increased weight can cause loss of handling, making it harder to maneuver and control.
Of course, you get the added benefit of keeping your gear dry as well!
Bucket boats have floors that attach to the side chambers and do not have drainage holes. They have a higher clearance to prevent water from getting in. However, these boats require you to remove the water yourself with a bucket manually.
Bucket boats are better suited for lakes and recreation waters, but self-bailing boats can be used in all situations.
Tube Material
The tube material will determine the durability and maintenance required for your boat. Most RIBs use any one of the following tube fabrics: Hypalon, polyvinyl chloride (PVC), or polyurethane (PU).
This comparison table will show you how each material stacks up with one another:
Fabric
Pros
Cons
Life Expectancy
Hypalon

Quite durable
It can be made in a variety of colors
Best for larger boats
Mostly leakproof

Not quite as strong as PU tubes
May scuff easily

20 years or more
PVC

Best use for casual use
Least expensive
Good leakproof
Easy to clean and maintain

The easiest material to puncture
Prone to color fade or UV damage

10 to 15 years
PU

Very resistant to solvents, fuel, oil, abrasion, and puncture
Leakproof
Easy to clean

More difficult to repair
Heavy construction
Stiffer material
Limited range of colors

10 to 15 years
Tube Size
When considering the tube size, you want to go back to your intended use. Are you planning to bring people along or go on a solo fishing trip?
Since RIBs come in all sizes, you'll want something that fits your needs. They can range from 7.5 feet up to 55 feet. Although, most recreational RIBs range from 7.5 feet to 16 feet.
Boats that are below 10 feet fit between one to three people. Boats that range from 11 to 16 feet tend to fit up to five people.
Also, check the maximum capacity of the boat.
Generally, you'll want to stay about half of the maximum load capacity for a comfortable ride. Too much weight will limit your ability to go at high speeds or may make handling more difficult.
Of course, this also depends on your engine.
Features
Most RIBs include a handful of features that will enhance the boat, such as extra storage, roofs, seats, and even pre-installed engines.
Most RIBs are powered by a single outboard engine and driven by propellers.
However, if you want something more powerful, consider a disease-powered engine with a jet drive.
Many RIBs will provide a complete set of items to go along with the RIB. For example, they might include bench seats, oars, a foot pump, storage and carry bag, drain plug, a repair kit, and floor panels.
Welded Seams
When it comes to investing in a RIB, the quality of the seams is important. Most boats are made up of multiple panels that are held together by seams.
If the seams were to get loose mid-trip, all of the air would leak out of your boat. There are two main ways to bond the seams together: welded seams and glued seams.
We recommend avoiding boats with glued seams because their holding strength diminishes over time, which may result in leaks after a few years. In warm and humid conditions, the glue may be prone to degrading as well.
In contrast, heat-welded seams bond the two fabric panels together. If they do suffer damage from an accident, they are repairable. Most seams can be re-welded on the go using a hand-held welding device. This means you can quickly close an air leak and increase the lifespan of your boat.
Maximum Motor Power
Depending on your intended use for a RIB, you may need more horsepower. As a result, you'll either add a motor or replace your existing one.
If you plan to change your engine or add one, we recommend knowing the max motor power.
If the maximum is 20 horsepower, there's no use getting an engine with 25 horsepower because your boat can't handle it. In fact, it can become counterproductive and dangerous.
However, having more horsepower can increase the speed of your boat, so you can get to your fishing spots faster or get away from storms faster.
Aluminum Versus Fiberglass Construction
Most RIBs are made of either aluminum or fiberglass materials. In short, aluminum is resistant to corrosion, more affordable, and lighter.
It tends to have high tensile strength making them more durable than fiberglass. Also, aluminum boats are tougher and can handle shallow waters, especially if you hit hard surfaces like rocks.
The maintenance is much easier for aluminum as well. You simply have to rinse it off, while fiberglass requires waxing and buffing with a special fiberglass gel coat.
On the other hand, fiberglass is more comfortable and provides better handling than aluminum boats. The material can be molded, which means these boats usually have a much sleeker design.
Final Verdict
If you're looking for a premium rigid inflatable boat, our top recommendation is any of the Newport Vessel hard-floor boats because they offer a wide selection of sizes and horsepower. Not to mention, you're getting a boat with durable PVC fabric and plenty of extra accessories to make transporting and steering in the water much easier.
If you're looking for the best RIB for stand-up fishing, the Aquos inflatable pontoon is the perfect option.
Now you know what the best RIBs are in the market!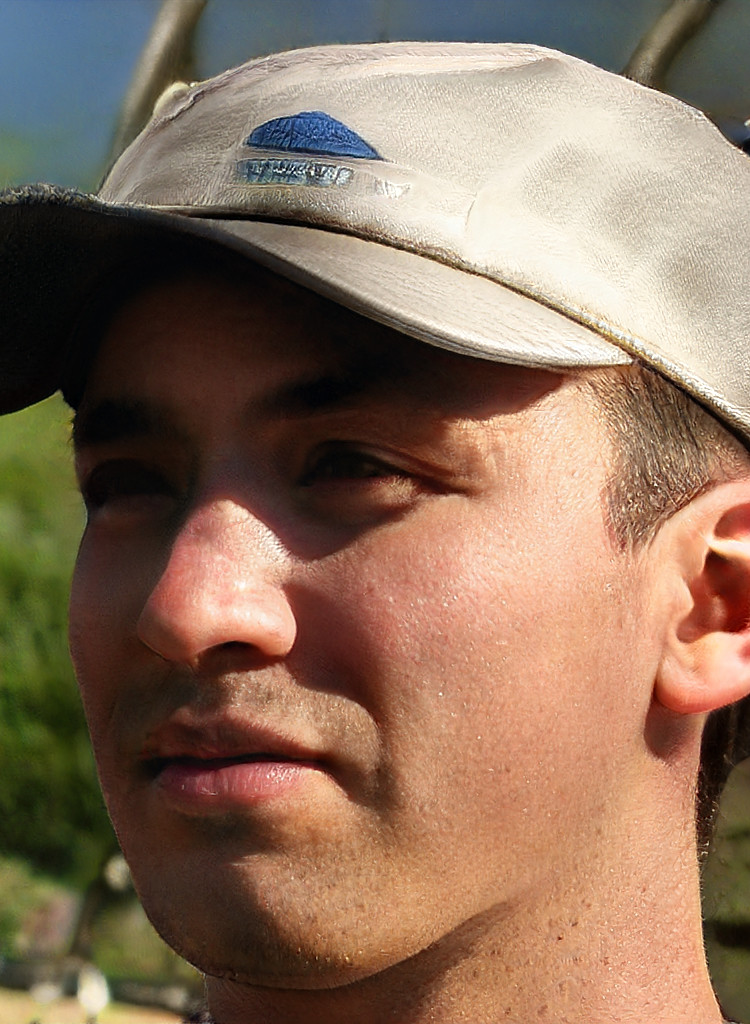 I created this site to help people – to help you – with your boat problems. Instead of helping one person at a time, I want this website to be the "one-stop-shop" for everyone's boating concerns. Read more.