So you want to enjoy fishing from every vantage point, and you want to test your fishing skill in every possible way, right? Well, you haven't done that until you have tried fishing from a Rigid Inflatable Boat, otherwise known as a RIB boat. But are RIB boats really worth your time and energy? More importantly, are they really good for fishing?
Let's take a close look and see.
Can You Fish From An RIB?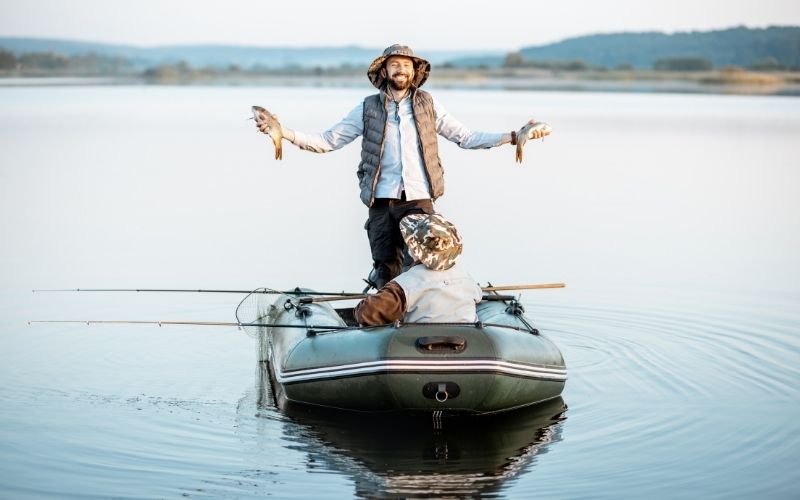 Let's face it, if you love fishing, and you don't mind a challenge, you can find a way to fish in most situations. So the answer is, of course, you can fish from a RIB boat.
The value of RIB boat fishing is subjective. So let's take a look at the advantages and disadvantages, so you can decide if it is for you.
A primary concern is comfort. Because RIB boats are typically small, you will find less room to move around than with other boats. If you choose to have a console, the space is more limited.
Also, RIB boats typically lack the shelter that you have with other types of boats, according to World Sea Fishing. This means that you may get splashed by water, meaning you will need to wear a wetsuit to stay dry.
Be prepared to bounce around, especially in waves of more than one foot. This will give you the sensation of flipping over. Because of this, RIB boats typically come with deep hulls. But deep hulls usually mean deeper drafts to deal with.
Of course, you need to be careful with your hooks and knives, although skilled fishermen do not find this to be a problem. You may also need a little anchoring practice, as the boat sway makes anchoring more difficult than with other types of boats.
Now for the advantages. Many fishermen report that RIB boats allow them to enter shallower water. This makes them good for any type of waterway. They keep a steady speed, and once they are stable, they tend to stay that way.
A big advantage of RIB boats is portability. They are easily towed by a small trailer. Or, they can be stored in the back of a car equipped with a hatchback. If you can get your car seats to fold down, there is a good chance that you can get your RIB inside.
Launching is easy too. Perhaps no other boat is more easily placed into the water. Once you are off, you can expect to accelerate to your model's top speed quickly.
So fishing from a RIB boat is not only possible, but it offers special challenges that can test your true skill and love of the sport.
Are RIB Boats Safe For Fishing?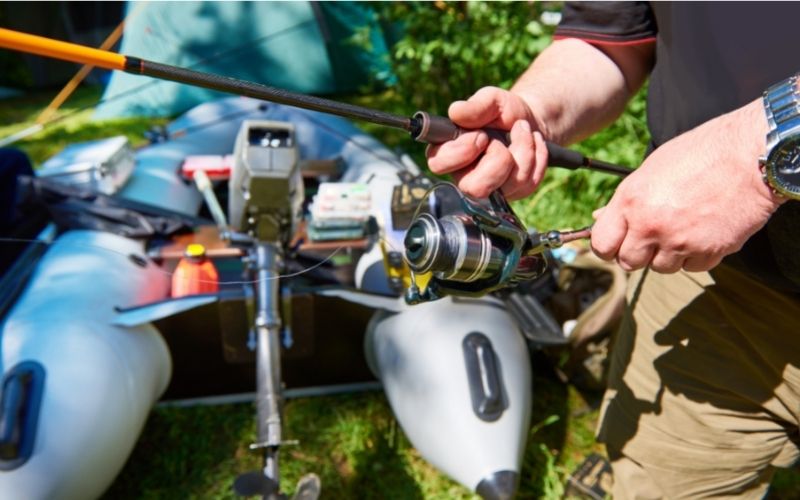 You are skimming along the water surface in a lightweight, and relatively small, inflatable boat. That sure sounds like danger waiting to happen. But it doesn't have to be that way if you take the proper precautions.
First, Towergate Insurance recommends you bring along a Marine VHF radio. This will allow you to communicate with other watercraft and create a clear path for yourself. You can find out where other boats are going and keep out of their way. Also, you can discover what is going on ahead of you.
Carry written emergency procedures. Get them laminated. This will safeguard the procedures from splashes, and prevent them from deteriorating over time.
Next, be sure to have plenty of lights. If you enjoy boating at night, floodlights are essential. Floodlights allow you to spread light over a large area. They blanket the water with light evenly, so you get an accurate picture of everything around you.
Navigation lights are strongly recommended as well, so have them for both your port and starboard sides. Navigation lights are especially important in low visibility. They help you decipher the size and distance of boats and other objects in the water. You should display them immediately upon sunset, and keep them on until sunrise.
Searchlights are the third type of essential light. They make it much easier to find someone who has fallen overboard at night. Select the maneuverable type in order to search your entire area. This is important because the sky and sea tend to blend together when it is dark. Also, remember to test your bulbs and bring backups.
If you are in an area with few boats, you will need to attract attention in the event of an emergency. Bring along flares. Select either hand, smoke, or rocket flares, and learn how to use them.
Once your lighting needs are covered, don't forget to bring life jackets. You can choose foam, manually inflatable, or automatically inflatable jackets. Whichever you choose, be sure that they will keep you afloat and keep your head above the water, even if you become unconscious.
A lightweight, analogue compass will help you navigate toward land in an emergency. Combine it with a GPS to stay on course. Fasten your compass to a chain, along with a whistle, to help you when you are in distress. These are easily lost in rocky waters.
Remember, RIB boats may lack the stability of other boats, but they can be safe for fishing if you take the proper precautions.
Are RIB Boats Good For Fishing?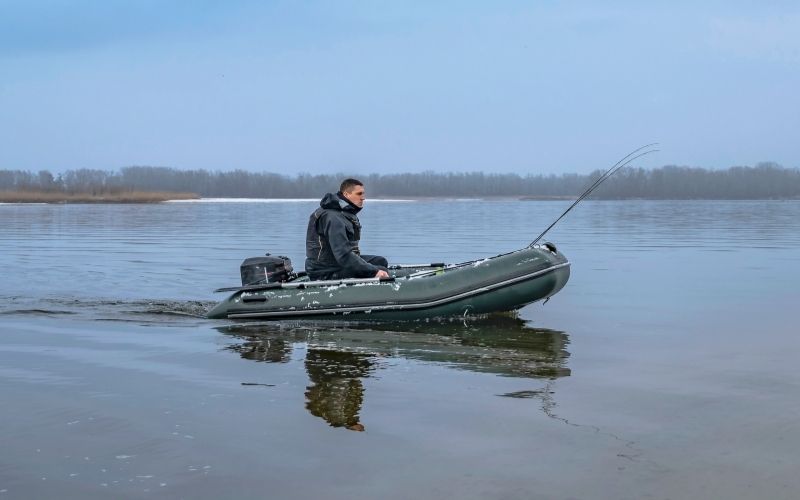 What determines if any boat is good for fishing? Is the boat strong enough to handle the external conditions? Will it get you where you want to go? Most importantly, can the boat be equipped with what you need to have a good time and catch fish?
First, let's debunk the myth that RIB boats may have inferior strength. Boating World says that you can get more people in a RIB boat than in comparably-sized fiberglass or aluminum boat. RIB boats offer a high level of buoyancy to keep you afloat. Both law enforcement and the Coast Guard use RIB boats for heavy-duty work.
The convenience starts when towing and launching. You won't need an SUV or pickup truck. A small car and a lightweight trailer will get you to your launching destination. Forget about waiting at the boat ramp. Just find yourself a cleared bank and you are on your way.
RIB boats can get you where you want to go. Since they are lighter than fiberglass and aluminum boats, and they typically come with V-shaped hulls, you can count on slicing easily through pounding seas. You can reach speeds well over 90 miles per hour! Models with squared-off bows will block the water spray along the way.
But the most amazing part begins once you are on the water. Models with dual floors give you a level platform that provides a soft ride. As you zoom through rough seas, you will have less stress on your back. RIB boats are easily maneuvered because of their relatively lightweight.
Boating World acclaims RIB boats for their affordability. You get a greater value, "foot-for-foot," than you get from hard boats of a similar size. You can add a swim platform, a dining table, rod holders, a baitwell, and even a cabin. You can even tow your buckets from a rear platform.
So RIB boats pass the test for strength, adaptability, and fishing convenience. This makes them good for fishing.
Conclusion
Fishing from a RIB boat is not only possible, it allows you to venture into shallower water than you could with other types of boats. If you take proper measures, like bringing along a Marine VHF radio, lights, flares, life jackets and a compass, you can ensure a safe outing. RIBs are definitely good for fishing because they offer enough room for your fishing gear and, foot-for-foot, are more affordable than hard boats of a similar size.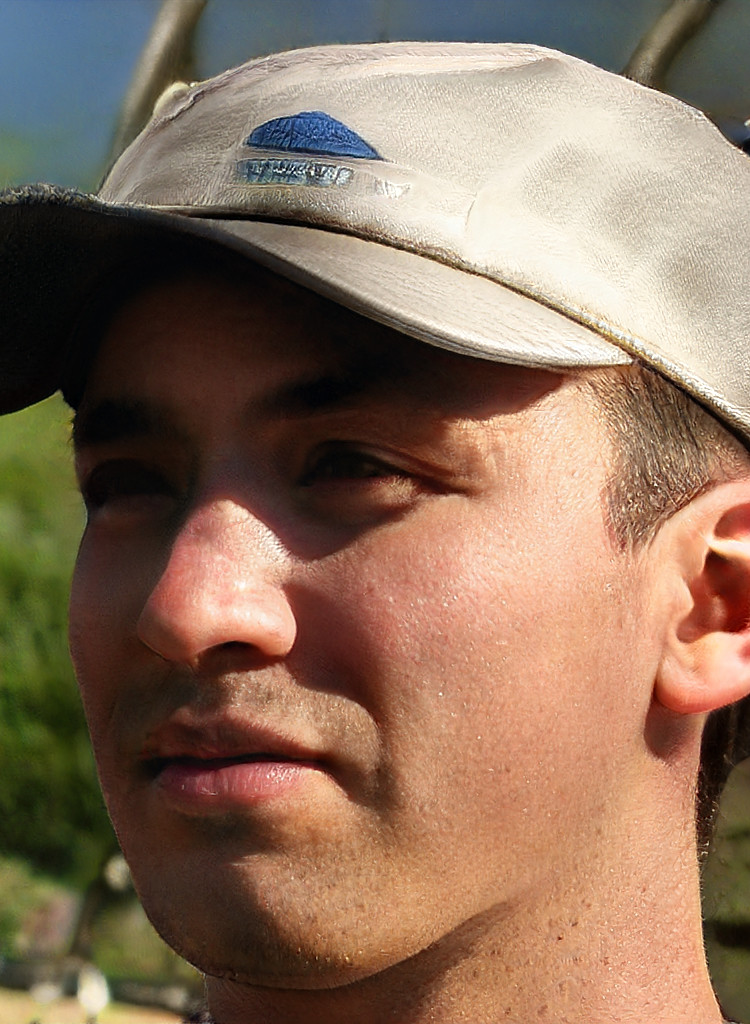 I created this site to help people – to help you – with your boat problems. Instead of helping one person at a time, I want this website to be the "one-stop-shop" for everyone's boating concerns. Read more.