You're finally going to do it.
You've spent years dreaming about taking a kayak camping trip, and you've finally decided to take the plunge and get out there this weekend.
But before you go, you want to make sure you're prepared. You know you'll need a lot of gear, and packing it all on your kayak is the first step to a safe and successful trip.
So, how do you pack an inflatable kayak for camping?
Read on to find out!
6 Tips For Packing a Kayak
If you've never done a kayak camping trip before, it might be a good idea to go with someone for safety. It's also a good idea to familiarize yourself with everything you need to take before you start packing and come up with a plan.
We'll discuss several key tips in this article, but you may find it helpful to get a visual of the whole process.
How to pack for Kayak Camping
Check out the detailed video above on how to pack a kayak. Though the kayak used in the video is a rigid kayak, the video contains lots of helpful information that can also apply to using an inflatable kayak.
Without further ado, let's talk about some important kayak packing tips.
1. Waterproof Everything
Anytime you go kayaking, there's a good chance you're going to get wet. Kayaks ride low in the water and often go over rapids, so you and everything in your kayak is likely to get sprayed sooner or later.
Even if you stick to calm waters the whole time, it's important to prepare yourself and your gear in case of rain.
Since there are so many ways you may encounter water when you're kayaking, it's good to put everything in waterproof bags or containers.
Place all your gear in waterproof bags, organizing it in whatever way makes sense to you. Put your food and water in a waterproof cooler or other container, and pack clothes and any accessories in separate waterproof bags.
You'll find that it's easiest if you have everything organized and separated so you can find what you need whenever you need it.
Don't forget the little things like your cell phone or any other electronics you may have. It's especially important to keep these in a waterproof bag or container.
Waterproofing everything will ensure that nothing gets damaged, bedding and clothes stay dry, and your food is kept fresh.
2. Pack Small and Light
Obviously, there's not a ton of room in most kayaks, and not a very substantial weight limit either. Inflatable kayaks are generally more buoyant, giving them a greater weight capacity than rigid kayaks, but it's still important not to overload them.
You may need to pack a lot of gear for camping, so make sure the items you take are as lightweight as possible.
Only take what you need, and take small or camping size items rather than full size gear if possible. The lighter and smaller your gear, the more you'll be able to take and the greater your chances of staying well within the kayak's weight limit.
3. Make a List
Keep in mind from the beginning that you probably won't be able to take everything you want to take. That said, it's good to start by making a list of everything you want. Before leaving, do a practice pack to see if everything will fit. If not, rework your list.
Remember, it's not necessary to take it all because you're trying to get away–you're going to be "roughing it" for a day or two. Focus on the essentials such as food and water, tent, bedding, first aid supplies, flotation devices, and a change of clothes; add other things only if there's room in your kayak.
If you're having trouble knowing what you should take, this article from Superior Paddling contains a great and highly inclusive list. You may not need everything on the list; on the other hand, you may need some things that are not on the list. Either way, it gives you a good place to start.
4. Evenly Distribute the Weight
Whatever you do, you don't want an imbalanced kayak. Poorly distributed weight makes your kayak more likely to capsize, take on water, move slowly and sluggishly, and experience other problems.
It generally works best to put your heavier items near the middle of the kayak, or just slightly toward the back. More lightweight, bulky items can go near the ends. Make sure and use as much available space as you can.
Never attempt to pile all your heavy things in one place and leave them. Try to spread out both heavy and light things as evenly as possible.
5. Strap it Down
Once you have everything in place, if possible, tie it all down with ropes or bungee cords.
This step is essential, especially if you're going to be facing some rough waters–you don't want everything shifting around throwing the kayak off balance, and you certainly don't want any of your essential gear falling out and getting lost in the rapids.
Strapping things down will give you peace of mind so you're not worrying about losing any of your stuff, and it will help the kayak avoid becoming unbalanced so you don't have to worry so much about capsizing.
6. Be Prepared
Kayaking and camping are both fun activities, but both can become dangerous and even deadly if you don't prepare for unexpected problems.
Preparation starts before you even hit the water. As discussed above, it's important to practice packing your kayak ahead of time so you know exactly what you're able to take and can get the most out of your available space.
Food, water, and shelter are the most essential items you can take with you. Take high-energy non-perishable foods that don't take up a lot of space, more clean water than you expect to need, a protective tent, warm bedding, and clean clothes in case you get wet or chilled.
You should also take first aid supplies and flotation devices in case of emergencies.
Even if you're an experienced kayaker and camper, let a friend or family member know where you're going to be and when. Keep your cell phone with you, though bear in mind you may not have cell service where you're going to be.
Run through different scenarios in your head–falling out of your kayak, encountering bad weather or wildlife, getting injured. Think about what you will do in these situations so you can be mentally prepared if anything happens.
If you take the time to prepare before heading out, you'll have a better chance of having a fun, problem-free kayak camping trip.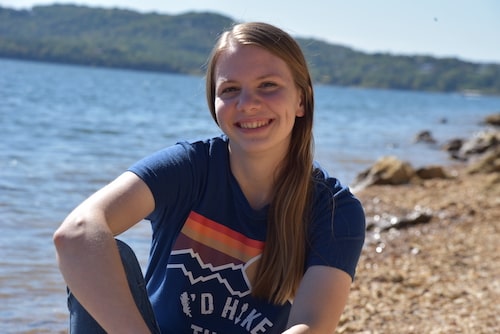 Sarah Hood has been writing for Anchor Travel since 2021. When she's not writing, she enjoys cooking, singing, and spending time in the great outdoors.