It can be uncomfortable to be outside in the freezing cold or blazing heat, especially if you're unprepared.
You can shiver yourself into hypothermia or sweat and get burned by the sun.
You could also get wet, depending on the weather.
Luckily, kayaking is an activity that can be enjoyed regardless if it is hot or cold outside, or even raining.
If you know how to dress before taking your inflatable kayak out to the water, you shouldn't have to worry.
In this article, we'll discuss what you can wear in your kayak.
What to Wear in Your Inflatable Kayak?
The air temperature doesn't always correlate with the water temperature.
It may be a warm spring day, but the water could still be quite cold. Therefore, even if it's warm out, you still may want to prepare for the cold water you still may encounter.
Regardless, we're going to cover what to wear for both warm and cold weather.
A) Warm Weather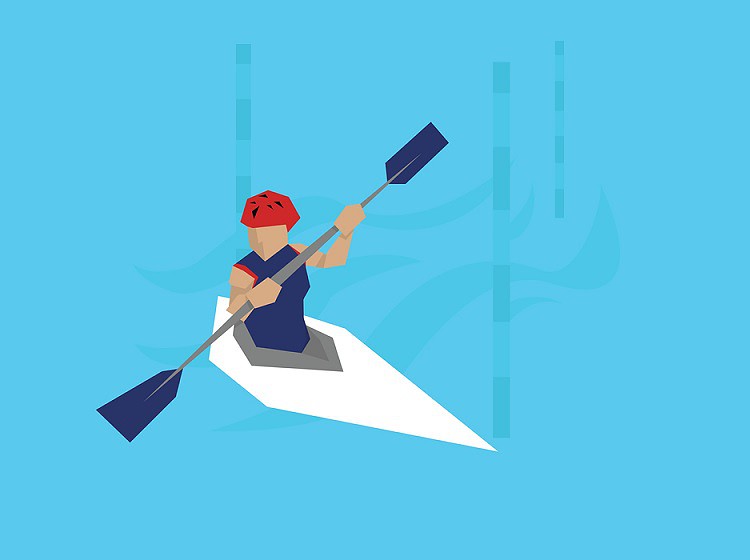 If it's hot outside, you will probably see other kayakers wearing typical swim gear such as swim shorts, bathing suits, and tank tops.
People may enjoy splashing around and feeling the cool water, or even hopping into the water and going for a swim.
Typical swimming attire will provide the necessary clothing coverage, while also being lightweight and comfortable, and will even dry relatively quickly.
If you plan on playing in the water and getting wet while kayaking, you will want to wear quick-dry clothing made from materials such as nylon or polyester.
If you wear clothing such as a pair of jeans or a cotton shirt, your clothes may stay soaked for a while after they become wet.
If it ends up raining, you may not care if you are already wet from playing in the water.
Likewise, it may be warm outside but the water could still be cold, leading you to not want to be wet.
Consider the following items for kayaking in warm weather conditions.
Shorts/Pants
You can find shorts suitable for paddling that are not considered your typical swimming shorts.
These shorts can look like normal shorts you'd wear in the streets but still function like swimming shorts.
These shorts will be quick, dry and comfortable, which is exactly what you need. These can also be worn by women over their bathing suit bottoms.
These Huk shorts are a great lightweight option to wear on your kayak. They also offer sun protection.
You can also wear quick-dry pants if you don't want to wear shorts. They can also protect you from getting a sunburn on your legs, as opposed to shorts leaving your legs susceptible to the sun.
Shirt
Guys may choose to go shirtless while kayaking in warm weather, similar to how they may swim. Women may choose to wear a bathing suit top.
However, if you choose to wear a shirt, choose a quick-dry shirt. This can be short sleeve or long sleeve.
These shirts are generally comfortable, dry quickly, and can also prevent you from getting a harsh sunburn.
Again, aim for polyester or nylon materials over cotton.
BALEAF offers a great quick-drying shirt which also offers a UPF 50+ rating for sun protection.
Rain Gear
If it ends up raining, you may not care if you are already wet from swimming or splashing around.
However, if you do not want to get wet, you should look into taking some rain gear.
Likewise, this gear can also come in handy if the temperature is warm outside but the water temperature is cold and you are not looking to get wet while kayaking.
You can also put on your light rain jacket in the event you become slightly chilled.
Wet/Dry Suit
If you anticipate cold rain or water, you can also consider wearing a wet suit or a dry suit.
If you plan on swimming or being in the water, you may prefer wearing a wet suit. These are not completely waterproof like dry suits but can be more comfortable.
You may prefer a dry suit if the water is extremely cold, as these are considered completely waterproof.
Consider getting a neoprene wet suit that is comfortable and offers some added warmth.
Hat
Your shirt and pants may protect most of your body from the sun, but you shouldn't forget about your neck, face, and ears getting some sun.
Consider wearing a wide brim hat .
A wide brim hat will provide coverage over a large area. You can consider baseball caps and other hats that may provide coverage for your face, but a wide brim hat will protect your neck and ears.
Sunglasses
Many people wear sunglasses in general, but you will surely want to consider wearing
some if you plan on going out on the water.
Sunlight will bounce off the water and can be very harmful to your eyes.
Consider getting a pair of polarized sunglasses , as these will specifically help out with the sunlight bouncing off the water.
B) Cold Weather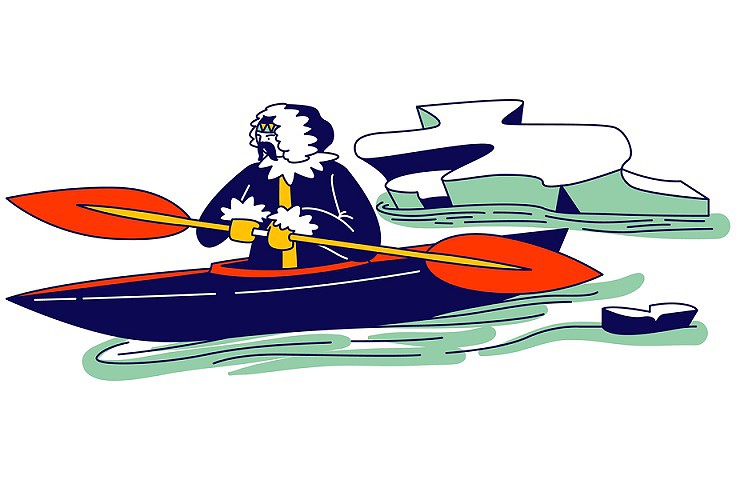 If you are considering paddling your kayak in cold weather, you will most likely not want to get wet.
You will need protection from both outside air temperatures and also water temperatures. Water will need to be repelled from reaching your skin and body.
Consider the following items for kayaking in cold weather conditions.
Wet/Dry Suit
Consider wearing a wet suit under your clothing for added warmth, but make sure the clothing you wear on the outside will be able to repel water to keep you from getting cold.
A dry suit will help in really cold weather. It will keep the water out completely, and you can layer clothes underneath it.
Shirt
When you are looking for shirts to wear under your dry suit or other jackets/clothes, it is ideal to wear shirts that are made of wicking materials, such as polyester or polypropylene.
These materials will help keep moisture away from your body.
This should be your base layer, while you can explore heavier materials to layer on top of it.
A long-sleeve moisture-wicking shirt is a great option for your base layer.
Pants
You will want to wear pants that are both warm and waterproof.
If you plan on wearing a wet suit, these will be great to slide on over it.
You can even find pants that are lined with fleece for added warmth.
Long Underwear
Before sliding on your pants, it wouldn't be a bad idea to wear a pair of long underwear, especially if it is really cold.
Similar to your shirts, consider getting long underwear made of wicking materials to keep the moisture away from your body.
Jacket
If you choose to wear a jacket, you need one that is warm but still comfortable.
You may not want to be wearing a bulky jacket in your kayak, which could make it hard to move and paddle.
Therefore, you should focus your attention on layering your clothes so you may only need a light jacket on top.
Neoprene Footwear and Socks
Keeping your feet warm is very important also.
Wearing a pair of neoprene boots will help keep your feet warm by insulating them and repelling the water.
You need to also consider wearing some socks that are moisture-wicking. This will provide added insulation and help your feet stay warm.
C) Additional Items (Regardless of Temperature)
There are other items that you should consider as well.
These items are not limited to hot or cold weather; they can be used during both weather conditions.
Life Jacket
You will need to have a life jacket regardless of what the weather is like outside.
A life jacket can save your life, and it may even be required to have one according to your local laws.
Water Shoes
It is a good idea to wear some form of water shoes , even if you do not wear the neoprene boots discussed previously.
You run the risk of stepping on harmful objects while walking on land, launching your kayak, or even swimming in the water.
You probably wouldn't be happy if you accidentally stepped on a fish hook while swimming
Gloves
While gloves can help keep your hands warm, they can also provide overall protection.
You can get blisters on your hands from paddling, but wearing a pair of gloves will keep your hands happy the whole trip.
Sunscreen
The clothing you wear can protect you from the sun.
In fact, many clothing items geared specifically for watersports include an SPF rating in their description and advertising.
However, it would be wise to bring sunscreen with you to make sure you are fully protected.
Conclusion
Now that you know what to wear on your inflatable kayak, you should be able to take it out on the water anytime you want.
You're relatively able to wear whatever you want when it's warm, but it's generally preferred to dress for the water temperature instead of the air temperature if you plan on swimming or getting wet.
If it's cold, make sure you layer up to stay warm. Don't forget to consider the wind in your calculations; it can get windy out on lakes and big bodies of water.
Keep an eye on the weather, and enjoy the water.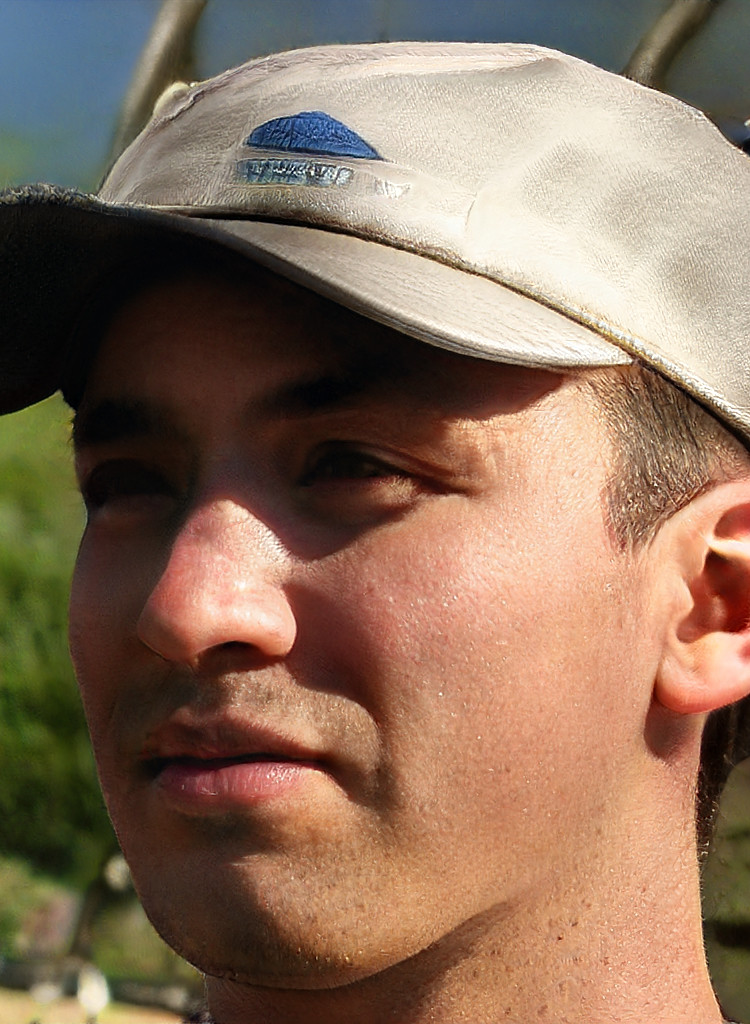 I created this site to help people – to help you – with your boat problems. Instead of helping one person at a time, I want this website to be the "one-stop-shop" for everyone's boating concerns. Read more.