Today, your inflatable kayak was hit with water from all sides. You glided over calm water and splashed through rapids.
Then the sky turned dark and the rain started tumbling down.
You want to clean your inflatable kayak carefully, with a proven step-by-step process.
Now that the rain has stopped, you want to dry it properly.
Before you venture into the water again, you want to waterproof your kayak too.
Let's go over the steps to accomplish all of these.
Cleaning And Drying Your Kayak Properly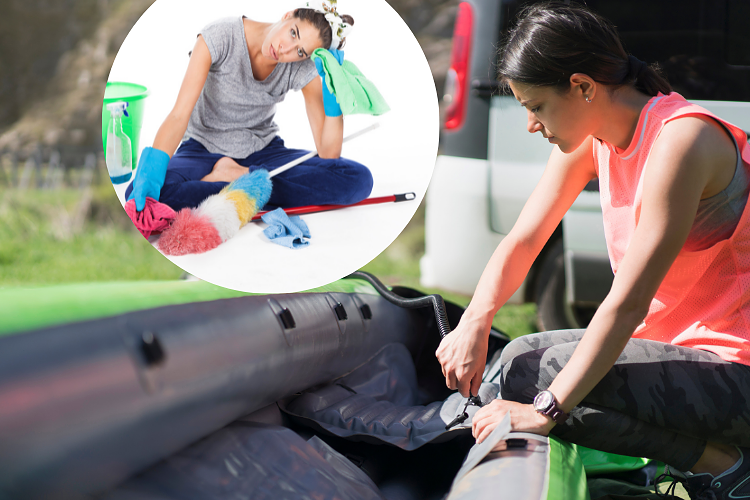 To get started, you need to have the right materials. So, gather a sturdy bucket, cleanser from a local marine store, vinegar, water, and towels.
Rinse your kayak with a hose to soften any dirt. Be sure that all dirt is loosened and rinsed away.
Next, add the cleanser, vinegar, and water into the bucket. Stir vigorously to make a thick cleaning solution.
Dampen the towels with the mixture and use it to clean the kayak. Wipe the kayak one section at a time.
Remove the seats from the kayak. If you have any bags or other components, take them out too. If there is any debris, such as twigs or leaves, be sure to remove them.
While the kayak is still inflated, dry the outside with the towels.
Next, deflate the air from the floor. Hold the kayak upside down to get any excess water out of it. Tip the kayak sideways to allow water to drip off of the walls.
If there is still water on the kayak, dry it off. Continually wipe the kayak until it is completely dry, or as close to completely dry as possible.
A creative way to dry your kayak is to suspend it in your backyard, as illustrated by the YouTube video below:
Airvolution Kayak drying it out
Once all debris is removed, deflate the remaining part of the kayak. Get any excess water out. This is very important to avoid mold build up.
Consider how often you use your kayak to determine how dry it needs to be. If you use the kayak often, then a little leftover moisture will not cause much harm.
But if you don't use your kayak often, leaving any moisture will attract mold.
Your cleaning results will improve with practice. Rocks and sand are not the worst things for kayaks. Water is the thing to watch out for. Eliminate as much moisture as you can.
You have made a significant investment in your kayak. You may also be paying insurance to protect you in case of accidents.
Avoid the temptation to set your kayak down and come back to it later. Wash and dry it promptly after every use.
To Waterproof Your Kayak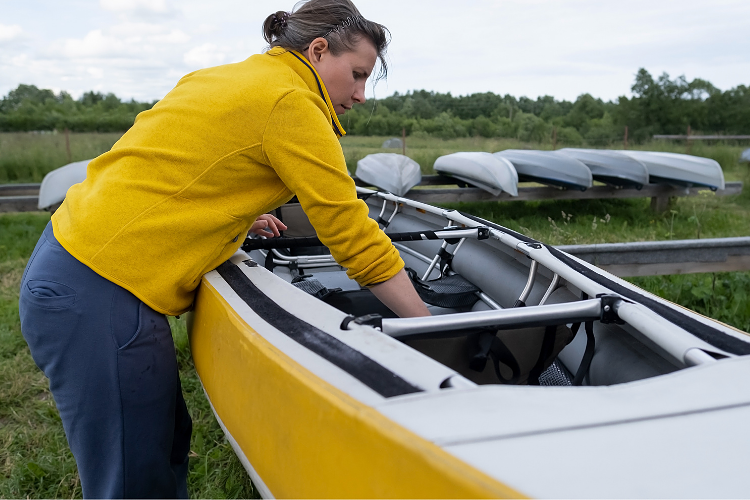 Waterproofing your kayak starts before you add protectants.
If your kayak is inflatable, it will not have screws. Note that if you have a rigid kayak with screws, make sure the screws are tight, according to Dagger.
Check your kayak gear. Be sure they aren't leaving any water. If water is slipping into your kayak, and you can't determine the cause, the water is probably coming from the gear.
Inspect the kayak skin, and the fabric, for leaks. The smallest leaks can result in enormous liquid build-up.
If your kayak is rigid with screws, purchase from your local marine store and apply it around each screw.
Aquaseal is a clear urethane adhesive that turns into a strong rubber when it cures, so you can depend on it.
Most likely you have seen the commercials depicting Flex Seal. An entire boat floor is created with cured rubber and used to transport the narrator.
Aquaseal is a similar product that is extremely effective when used on kayaks.
It can also be used to repair rips and tears. Once Aquaseal dries, it bonds tightly.
You can start by applying Aquaseal to any tears in the cockpit or the walls. Remember, if your kayak is rigid, be sure to apply Aquaseal around any screws.
For the best seal, spread the Aquaseal generously. It will take about 24 hours for the Aquaseal to cure. The application of sealant is illustrated well in the following YouTube video:
waterproofing your fishing kayak
To Protect Your Kayak
How to apply Poly Guard, the polymeric inflatable boat polish and protectant
Once your kayak is dry, it is recommended to apply a protectant.
The more often you use your kayak, the more important it is to use a protectant.
If you only use your kayak occasionally, protectants are less important. Just make sure to deflate your kayak and store it properly.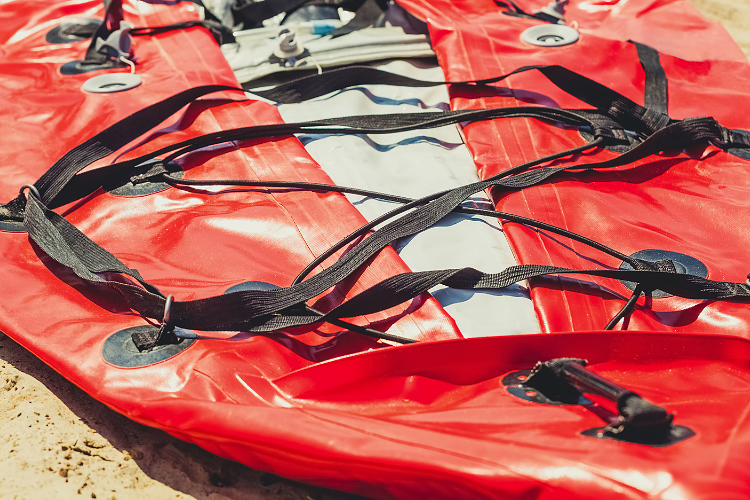 But if you are a frequent kayaker, using a protectant is more important because your kayak has greater exposure to the sun. Besides, the added shine just makes it look great.
Sandshore ranks the best protectants for kayaks according to their effectiveness.
Ranked eighth is 303 Protectant. This one is popular because it is 100% grease free.
Starbrite Premium Marine Polish has a slick texture and claims to increase hull speed.
In sixth place is 3m Marine restorer and wax. This one adds wax to the rubbing compound. It effectively fights even heavy oxidation.
Next up is Meguiar's Flagship Premium Marine Wax. This one can remove swirls and scratches from plastic.
Quickie Sauce Professional Fast Wax is extremely effective on seats and upholstery. It protects for three to four months.
Meguiar's is so effective that it makes the list again, this time as a protectant.
Scotchgard Marine Liquid Wax bonds to surfaces, giving long-lasting protection.
Ranked first for protection is… you guessed it, it's Meguiar's again! This time it's Meguiar's Pure Wax. This protectant combines resin, polymers, and Aruba wax to give a brilliant shine and unsurpassed protection.
Conclusion
Leaving a kayak wet after use is like throwing bait on the dock. Just as your bait is sure to get gobbled up, mold will stain and destroy your kayak. So clean and dry it properly as soon as you are finished using it.
Start by rinsing your kayak with a hose to remove loose dirt. Remove the seats and any components you have inside.
With the kayak still inflated, use a mixture of water, vinegar, and marine cleanser to clean one section at a time.
Deflate the floor, then hold the kayak upside down to be sure all water drips out.
Next, dry the kayak with towels. When the kayak is completely dry, apply Aquaseal to prevent moisture from seeping through any tears.
Apply a protectant. Scotchgard and Meguiar's protectants are excellent choices.
Remember, your next great kayaking adventure starts with how well you take care of your kayak immediately after each use.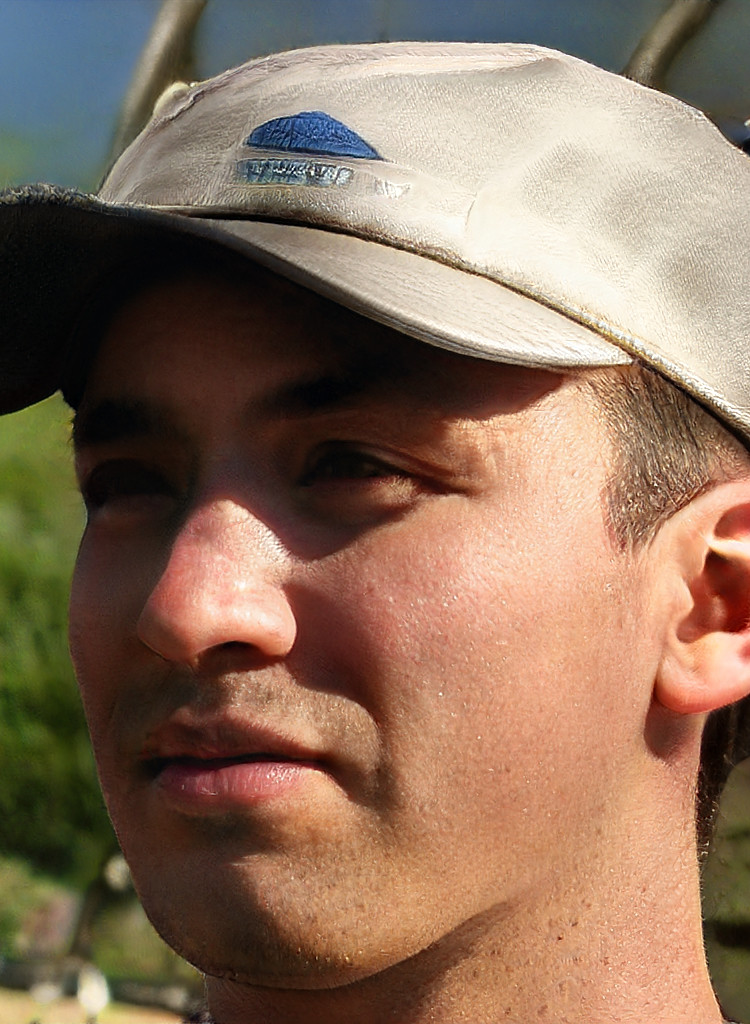 I created this site to help people – to help you – with your boat problems. Instead of helping one person at a time, I want this website to be the "one-stop-shop" for everyone's boating concerns. Read more.