There's nothing worse than having leaks on your inflatable boat.
These will let out the air and render your boat completely useless. It can't stay afloat, let alone carry your weight on the water.
So you go DIY and attempt to repair your boat. But there's a big problem.
Which inflatable boat glue should you use?
Ordinary glue won't do. It won't stop the leaks. Or worse, it could put your life in danger if the leaks open when you are out in the water.
That's why knowing which glue to use is so important.
Today, we're going to have a look at all there is to know about gluing your boat. So let's jump straight into it!
IN A HURRY? HERE'S OUR PICKS
GEAR AID Aquaseal FD Flexible Repair Adhesive for Outdoor Gear and Vinyl, Clear Glue, 0.75 oz,...
NRS Stabond Adhesive 8 oz
Podoy Tire Patch Wooden Handle Repair 1 1/2" Dia Roller Tool
GEAR AID Aquaseal FD Flexible Repair Adhesive for Outdoor Gear and Vinyl, Clear Glue, 0.75 oz,...
NRS Stabond Adhesive 8 oz
Podoy Tire Patch Wooden Handle Repair 1 1/2" Dia Roller Tool
Last update on 2023-09-26 at 01:17 / Affiliate links / Images from Amazon Product Advertising API
What is the Best Glue for Inflatable Boats?
There are three qualities that go into making a great inflatable boat glue. These are:
Ability to stick to PVC or Hypalon
Ability to withstand water
Ability to give an air-tight seal
A glue with these three abilities should solve all your leaking problems. On the other hand, a glue that is missing one of these won't work. But why are these three things so important?
Ability to Stick to PVC or
Most inflatable boats today are made from either PVC or Hypalon. These two are great with water, that's why they're the materials of choice.
One feature of both PVC and Hypalon is that they are quite slippery. This is good for water but bad for glue. If you use ordinary glue, it won't grip the surface as it should.
That's why you need a glue that sticks to these materials. Without this ability, your patches will be no good. No matter how much glue you put, it will slide right off.
Ability to Withstand Water
This one is obvious. A glue that isn't waterproof will be pointless to use on inflatable seams. It may stick at first, but once it hits the water, it will all get washed away.
Lacking this ability is particularly dangerous. This is because it does stick at first, and you might think you fixed the problem. But once you get in the water, the glue will get washed away.
With the glue washed off, the leaking will come back, and the boat will deflate. You'll find yourself in a very dangerous situation, with your boat sinking before you know it.
That's why it's so important to make sure your glue is waterproof. Never settle for a glue that isn't proven on water.
Ability to Give an Air-Tight Seal
The air-pressure inside inflatable boats is quite high. It's so high, anything that isn't shut tight will give way. That's why you'll need a strong glue that can withstand this.
Some glues can stick to PVC and are waterproof, but are quite weak. These are no good. They can patch up your boat at first, but once the pressure is on, they will burst.
Most glues don't advertise being able to do this. Instead, they advertise their strength. So look for a glue that is as strong as possible. This way, you'll never have to worry about air getting out.
Our Recommendations
Any glue with those three abilities should do. But if you're still confused, let us help you out. These are our recommended inflatable boat glues.
Gear Aid Aquaseal
Whenever you need to patch up your aqua gear, Gear Aid's Aquaseal can do the trick. This glue was made for the water. Even when things get wet, it won't wash away.
If your inflatable boat is leaking or needs a patch, this glue will do the trick. Once cured, the glue creates a rubber-like seal. It is flexible, so it won't crack when you inflate and deflate your boat.
To make things better, this glue can withstand extreme temperatures. So if you are boating in icy waters, this won't be a problem. The same is true when the sun is up over tropical seas.
Finally, Gear Aid Aquaseal will bond to PVC, Hypalon, and a bunch of other materials. Other glues may slide off, but this one will stick to your inflatable boat like a rock.
NRS Stabond Adhesive
Another great option you have is the NRS Stabond Adhesive. Unlike the previous glue, which comes in a small pack, this one comes in an 8oz can. This allows you to get a lot of gluing done.
This glue, or should we say, adhesive, is not quite as simple as the other one. You'll have to mix 10 parts glue to 1 part accelerator (comes with the glue) before you apply it. That said, it is very, very strong.
It is so strong, Stabond Adhesive provides you with permanent repairs on your inflatable seams. This isn't just a temporary fix, with it, your boat will be as good as new. It is 100% waterproof and won't give way, even when the air pressure is high.
Whether your boat is made from PVC, Hypalon, or some other type of rubber, the NRS Stabond Adhesive won't slide off. That's why we recommend it.
How to Glue Your Inflatable Boat
Now that you know which glue to get, it's time to get to work.
Gluing your boat is not as difficult as you may think. Unfortunately, so many people do this improperly. And when improper techniques are used, the air will always escape through the inflatable seams.
So how is it done?
Here is our foolproof guide on how to glue your inflatable boat.
How To: PVC and Urethane Boat Repair
Step 1: Find the Leak
Before everything else, you need to know where your inflatable is leaking first. You can't get anything done if you can't spot where the air is escaping.
How do you find where your inflatable boat is leaking?
To do this, fill your boat with air, and listen. Listen for a sound of air escaping. Sometimes, this makes a high-pitched screaming noise. It can be a little faint, so lean your ear close and listen carefully.
If you can't hear anything, try feeling for a leak. When the pressure is high, the air will shoot out from the hole. Hover your hand over the boat and try to feel for this.
Still can't find it? If you can't hear it or feel it, it's time to look for bubbles. To do this, you'll need some soapy water.
The trick is to coat your inflatable boat with sudsy soap. When the hole is covered with this, the escaping air will push against the soap. This, in turn, will create a big air bubble.
This is the easiest way to find that hidden leak.
Step 2: Cut Patch
Now that you know where the leak is, it's time to prepare the patch. Cut a circular patch around 4 inches in diameter. You can adjust this size depending on the size of the hole.
Having a circular patch is so important. When it comes to air-tight sealing, this is the best shape. Squares and straight lines make it easier for air to escape.
Step 3: Prepare Boat and Patch
Don't glue the patch on right away, it won't hold very well. It's important to prepare both the patch and the boat first.
To do this, give both of them a light sanding. You want their surface to be a little rough as this will help bond them together. Be careful not to over-sand them though, as this can damage your boat.
Next, rub acetone on both the patch and boat. This will clean up any dust and prepare the surfaces for gluing.
Step 4: Glue!
Finally, we come to the most important step, the gluing.
This step will vary depending on which type of glue you are using. Make sure to read the instructions to know exactly how it is done. Generally, though, you want to cure the glue first.
To do this, apply a coat of glue on the boat and the patch. Wait for around 3-5 minutes for the glue to dry. Then apply a second coat and wait for that to dry as well.
When that dries, apply the patch onto the boat. Apply it slowly using both hands. You don't want any air bubbles to get between the patch and the boat.
Step 5: Roll
Now take a roller and rub it on the patch. What you're doing here is you are bonding the glue in the patch and the boat together. Rolling also gets rid of any micro air patches in between.

Step 6: Wait
Once that's done, all there's left to do is wait. Give the glue time to completely harden. This will take at least 24 hours, but you may want to leave it longer.
Once that's over, you'll have an inflatable boat that's as good as new. You'll never have to worry about the glue failing you. So you can hit the water with absolutely no fears.
Conclusion
And there you have it! Now you know that fixing a leaking boat isn't all that difficult after all. It's only those who go down the trial and error route that are constantly frustrated.
But you, now you know which glue works, and how to repair your inflatable boat. Now you can save yourself so much time, energy, and money on your repairs.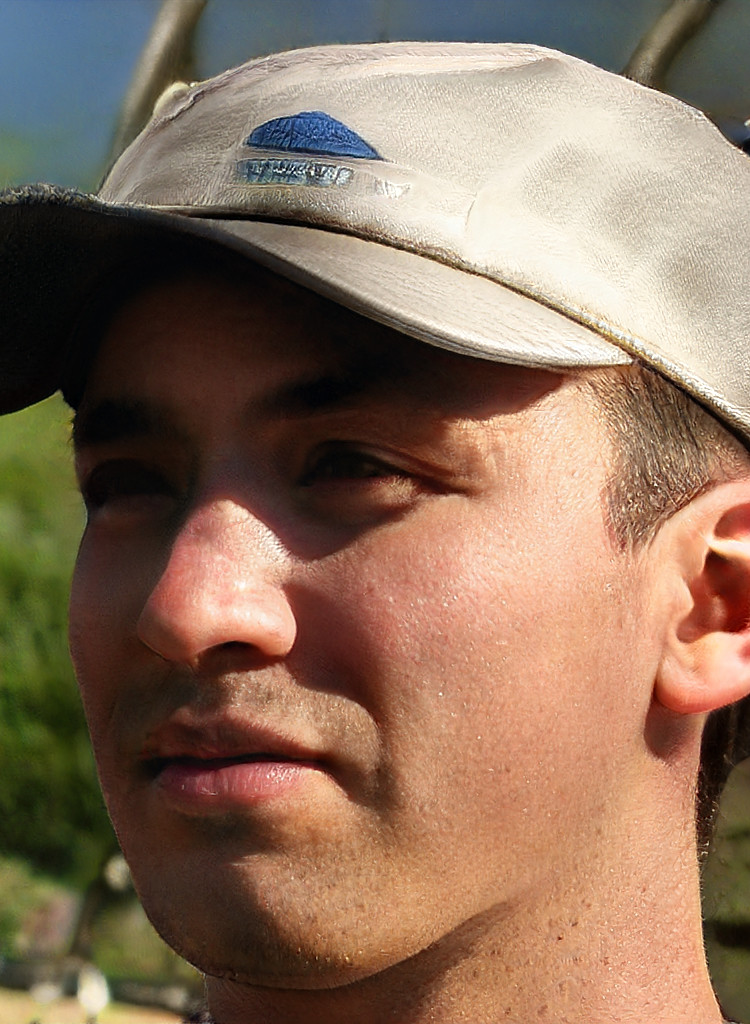 I created this site to help people – to help you – with your boat problems. Instead of helping one person at a time, I want this website to be the "one-stop-shop" for everyone's boating concerns. Read more.