They say electric motors will replace combustible engines in the coming years. The Minn Kota E Drive and Torqeedo Travel aim to do just that. Both are doing their best to overtake small gasoline-powered outboard motors in the marketplace.
The Torqeedo is designed to mount onto a dinghy up to 1 ton in weight. While the E Drive is designed for full-size pontoons. Both can be mounted onto Jon boats.
With more and more lakes restricting combustible engines on the water you might be considering either motor for your boat.
Both have their pros and cons, but which one will come out on top?
Let's find out!
Side By Side Specs Comparison
| | | |
| --- | --- | --- |
| Specs | Minn Kota E Drive | Torqeedo Travel 603 S |
| Horse Power | 2hp | 2hp |
| Voltage | 48 | 24 |
| Weight | 85lbs (Without Batteries) | 34lbs (With battery) |
| Full Throttle Run Time | 2 Hours | 50 Minutes |
| Speed | 5 mph | 4.5 mph |
| Shaft Length | 20 Inches | 24.6 Inches |
| MSRP | Check Current Pricing | Check Current Pricing |
Side By Side Features Comparison
| | | |
| --- | --- | --- |
| Feature | Minn Kota E Drive | Torqeedo Travel 603 S |
| Tilt | Electric | Manual |
| Prop Material | Stainless Steel | Plastic |
| Throttle Display | Yes | Yes |
| Battery Type | Lead Acid | Lithium-Ion |
| Reverse | Yes | Yes |
| Steering Control | Cable Steering Compatible | Tiller |
A Fair Comparison
While both of these electric motors overlap in their target market they approach it in very different ways. In this article, I will compare what I believe to be the seven most important specs and features as fair as possible.
Each motor will be graded on each important spec. The winner of each spec will receive one "point" to their total score out of seven. Then we will go over the pros and cons of each motor.
Whichever motor has the best score at the end will be considered the winner.
These features are not in any particular order. Voltage is the first, but that does not mean I believe it to be the MOST important spec or feature.
Keep in mind that these are my expectations for an electric motor, your expectations might be different.
1. Voltage
Voltage is such an important factor, it actually comes down to a weight issue and requires more connections. The average weight for a high capacity 12v battery (what the average boater uses) is 65lbs.
To reach higher voltages one will need more batteries. More batteries mean more weight and more connections because each new battery has to be properly wired into the circuit. More connections mean there is more of a chance for one to go bad.
The Minn Kota requires 48 volts. That means it will need 4 12v batteries in a circuit. Adding a massive amount of weight to the boat and several more electrical connections.
The Torqeedo requires 24 volts to work properly. Cutting back on weight and electrical connections but leaving room to be desired in other areas.
Winner: The Torqeedo Travel 603 S easily wins the first round.
2. Weight of Motor
Your boat can only handle so much weight. That's why I believe having a lighter motor is beneficial. This does come with its cons which we will discuss later but for now, we will focus on the pros of a light motor.
The E Drive comes into the bout weighing a whopping 85lbs without the additional weight of the extra batteries needed to run. Compared to gasoline engines this Minn Kota is right on par.
However, when compared to other electric engines it is on the heavy side. This is because it has more parts made out of metal instead of plastic, which we will discuss later.
The Travel 603 S scoots into the bout weighing a lowly 34lbs including the battery. It is over half as light as the E Drive and on the lower end of the spectrum when compared to gasoline outboards of similar horsepower.
Because it is composed of mostly plastic it can shed the pounds the Minn Kota cannot. While being made of plastic helps, it is also a con which we will discuss later.
Winner: The Torqeedo Travel 603 S extends its lead.
3. Steering Control
This is where you might disagree with me. I have operated boats steered with steering cable/ steering wheel and I have operated tiller handle steered boats.
It is my preference to have a boat with a steering wheel. While this does mean a few more possibilities of something breaking, It's a more comfortable position.
The E Drive and the Travel 603 S both steer differently, so steering control made the top 5 important features list.
Minn Kota E-Drive Electric Outboard Motor - Testing and For Sale
The E Drive gives you options. If you like the tiller handle there is an option to add a tiller handle to your motor. If, however, you prefer to be behind the wheel, it also has the option for steering cables.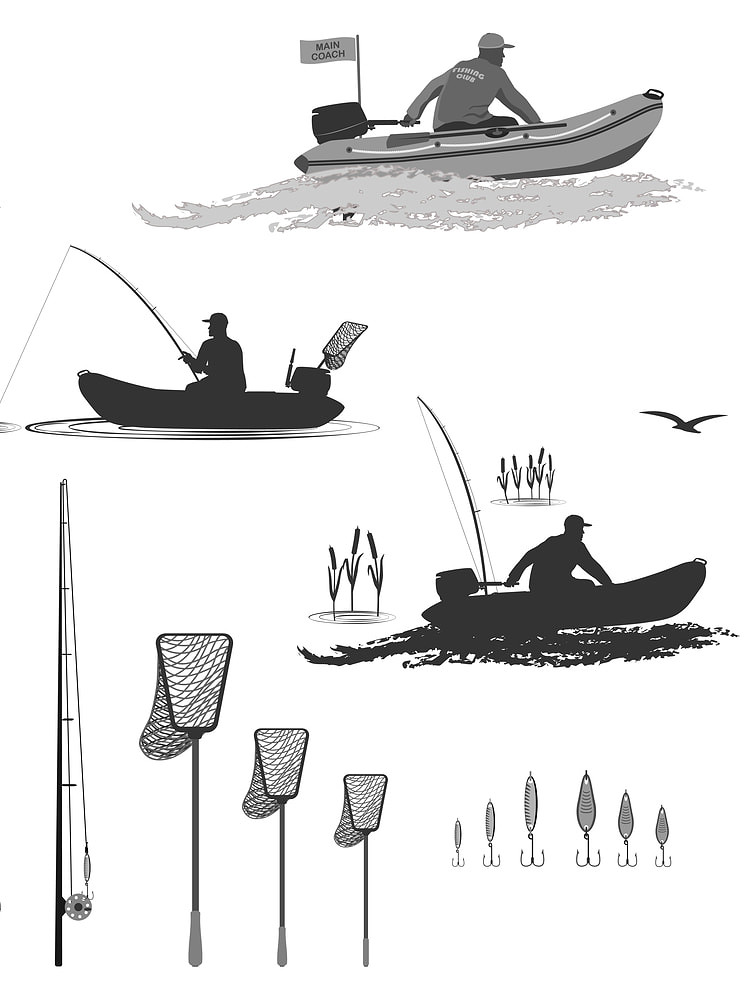 The Travel 603 S only has the option for tiller handle steering. This does cut down on the steps for the installation process and cuts down on the possibility of breaking.
Not having the option for running steering cables is the reason why the Minn Kota wins. However, if you don't have the option for steering cable on your boat then this section really should matter.
Winner: The Minn Kota E Drive gets its first win.
4. Runtime
You enjoy being on the water or you wouldn't be researching electric motors for your boat. The longer you can stay on the water the better. That is why runtime should be very important to you.
A longer runtime means you have the option to go a little further from the boat ramp and make more memories with your family and friends.
The E Drive can operate at full throttle for 2 hours. If you don't go full throttle it exponentially prolongs the runtime. While this sounds amazing, don't forget this motor is only 2hp so you won't be breaking any speed records during that 2-hour window!
There are two reasons the E Drive runs for 2 hours. First, the 4 batteries are connected to have a large capacity (Amps per hour).
The second is Minn Kota's Digital Maximizer. Minn Kota boasts that this feature delivers only as much power as you need, extending your time on the water.
The Torqeedo with its smaller battery capacity only runs for 50 minutes. Yes, LESS THAN HALF as long as the E Drive.
Torqeedo tried to compensate for the lack of run time by offering a solar charger for the batteries. This solar charger can be hooked up and charging while the motor is operating. Prolonging your adventure on the water.
Of course, this solar charger does not come with the motor, it must be purchased separately.
Winner: The Minn Kota E Drive boasts a longer run time of over an hour!
5. Prop Material
Plastic Vs Metal. Which is better? I prefer metal simply because it's tougher to break. However, if you intend to use your motor in salt water, you might run into corrosion problems with a metal prop.
While I must admit I am less of a fan of plastic, I see that it has its many benefits.
The Minn Kota E Drive is constructed of mostly metal parts, the prop included. This gives it the ability to better handle run-ins with rocks and logs.
However, this also adds a lot of weight to the motor itself. It also restricts it to only freshwater use.
Minn Kota warns that using any of their products not designed for use in brackish or saltwater voids the product warranty.
The Torqeedo Travel 603 S prop is made of plastic, like a majority of the motor. While this is not ideal for the strength of the motor, it allows the motor to be much lighter and more versatile.
You won't have to worry about saltwater corrosion if you plan to use it in brackish or saltwater. The Torqeedo is approved for fresh and saltwater usage.
What the Travel 603 S might lack in strength, Torqeedo made up for in ingenuity. They designed a breakaway system that we will talk about in the Tilt section.
Winner: The Torqeedo Travel 603 S puts up another point in this round.
6. Tilt
Having electric tilt/trim makes getting to the plane much easier. With the press of a button, you can get the motor to the perfect angle to maximize efficiency of your motor.
Manual tilt does not allow you to do this while on the go. You will have to experiment with the tilt, while stationary until you find the best angle to run it on your boat.
The Minn Kota E Drive has electric trim. So if you are venturing through shallow water you can trim the motor up and when you enter deep enough water you can trim it back down.
The tilt button is located on the throttle display unit. This placement means tilting the motor takes little to no effort.
The Torqeedo Travel 603 S is manual tilt. You will have to pull two pins, set the motor at the angle you believe to be correct, and reinsert the pins.
This is a bit more of a hassle, but Torqeedo tried making up for it with their breakaway feature. If you were to strike a rock or any submerged debris, the lower unit can kick towards the surface without breaking.
This is a nice feature but since it doesn't get too high speeds, which we will talk about next, it is not a feature that will be needed often. When it is needed, though, IT IS NEEDED! This feature can save you from repair costs or having to buy a new motor.
Winner: Despite the breakaway feature of the Torqeedo, the Minn Kota E Drive takes the point.
7. Speed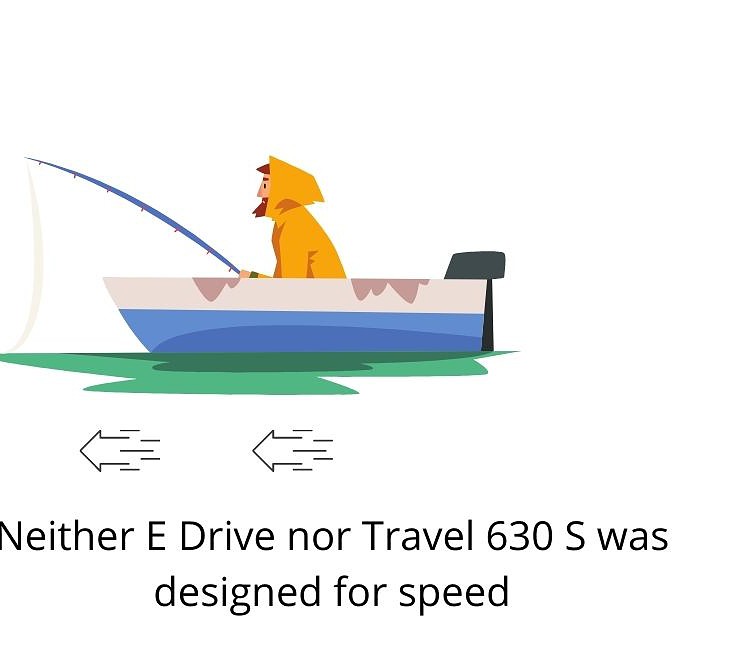 Do you want to get where you're going quickly? Do you enjoy flying across the water? Well, neither of these electric motors boasts incredible speed. They are, after all, 2hp motors…
Neither was designed for speed. They were designed for a quiet electric alternative to small gasoline-powered outboards. Either one will get you where you need to go, just not in a hurry.
So how fast will each motor go?
The E Drive comes in as the speed demon at 5mph. You're not going to beat anyone in a race across the water but you will have a good time with friends and family at an enjoyable pace.
Believe it or not, the Travel 603 S is slightly slower than the E Drive. It tops out at 4.5 mph. This is plenty fast to get you where you want to go.
Winner: The Minn Kota E Drive is faster.
Which Motor is Winning?
The winner of each category was-
Voltage – The Torqeedo Travel 603 S uses less voltage/ fewer batteries.
Weight of Motor – The Torqeedo Travel 603 S is a lighter motor.
Steering Control – The Minn Kota E Drive has 2 options on how you can steer it.
Runtime – The Minn Kota E Drive runs more than an hour longer than the Travel 603 S on a full charge at full throttle.
Prop Material – The Torqeedo Travel 603 S is more versatile because of its plastic parts, prop included.
Tilt – The Minn Kota E Drive has an electric tilt instead of a manual tilt.
Speed – The Minn Kota E Drive barely beats the Torqeedo Travel 603 S by 0.5 mph.
That means the Minn Kota E Drive has won 4/7 rounds, and the Torqeedo Travel 603 S has won 3/7 rounds. This doesn't mean you should go out and buy the E Drive. The Travel 603 S might still be for you!
Check out the Pros and Cons below to help finalize your decision.
Minn Kota E Drive and Torqeedo Travel 603 S Pros and Cons
There is no such thing as the perfect motor. Every single one has its pros and cons. It's up to you to decide which motor's pros outweigh the cons for your specific situation.
Pros
Cons
Minn Kota E Drive

2-year warranty
Metal parts
Longer run time
Throttle display
Quiet
Electric tilt
Multiple steering options

Heavy
Slow
Freshwater Only
Uses more batteries
Stop to charge
Lead Acid Batteries

Torqeedo Travel 603 S

2-year warranty
Freshwater or saltwater
Versatility
Throttle display
Breakaway feature
Quiet
Fewer batteries
Solar charge on the go (sold separately)
Floating Lithium-Ion Battery
Completely waterproof
Easily dismantled and stored

Made mostly of plastic
Slow
Shorter run time
Manual tilt
One steering option
And the Overall Winner Is…
The winner of our testing is the Minn Kota E Drive. It beat out the Torqeedo Travel 603 S because of its electric tilt, multiple steering options, speed, and runtime!
This does not mean we wouldn't recommend buying the Travel 603 S. It is a solid motor and well worth a closer look at the features it offers.
Many people favor electric motors for their lack of noise while they are operating. With so many lakes beginning to ban gasoline-powered outboard motors, electric motors are finally starting to be recognized as a viable alternative.
However, few people know electric motors were invented before the combustible engine! Now, you're one!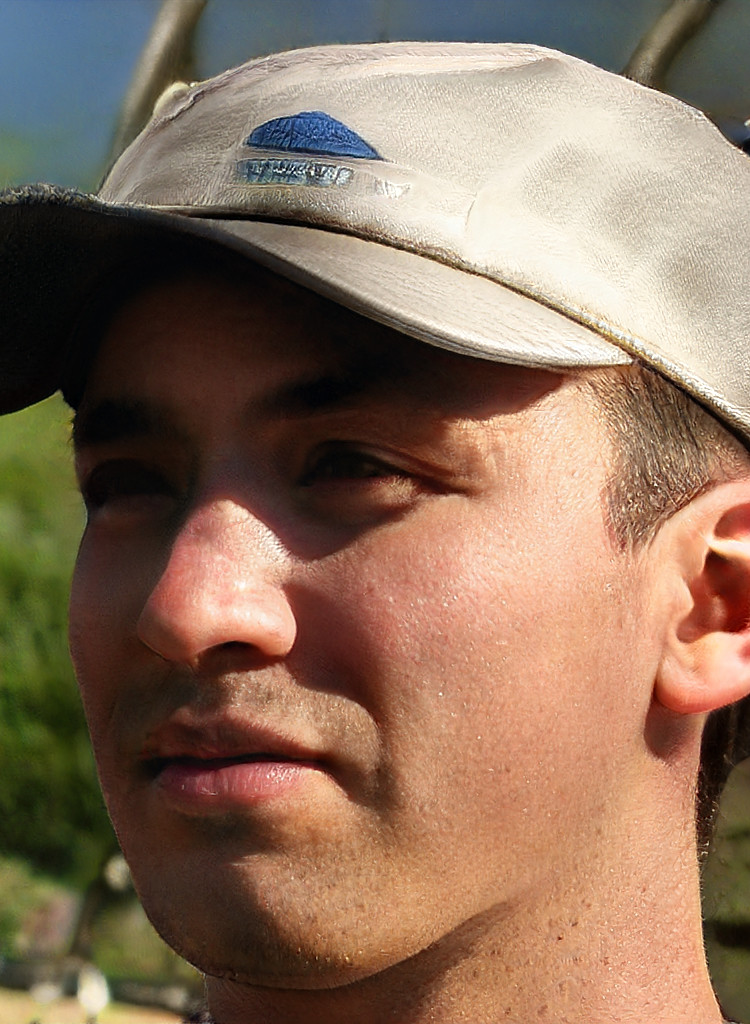 I created this site to help people – to help you – with your boat problems. Instead of helping one person at a time, I want this website to be the "one-stop-shop" for everyone's boating concerns. Read more.