Minn Kota is undoubtedly the gold-standard brand for trolling motors and is highly popular among boaters and anglers of all skill levels.
They manufacture their motors with highly durable materials and incorporate innovative technology to improve the experience out in the waters.
However, over time, they have built up quite a wide selection of trolling motors. As a consumer, it can be difficult to pick the right one. If you're looking for a basic motor for an inflatable boat or another type of small boat, you've come to the right place.
Today, we'll be comparing the Minn Kota Traxxis versus the Endura Max.
Minn Kota Traxxis is loaded with many unique features to keep your boat positioned right where you need it. This is designed for anglers who need a quality motor to keep you on top of the fish, so you won't have to worry about letting your catch slip away from you.
Endura Max is a reliable and durable transom-mount motor designed to keep you in the water long due to its motor can last up to five times longer.
This is the perfect fit for casual anglers or boaters looking for extended travel around a large body of water.
Direct Comparison
| | | |
| --- | --- | --- |
| | Traxxis | Endura Max |
| Shaft Length | 36", 42" | 36", 42" |
| Power | 12v (45 lbs), 12v (55 lbs), 24v (70 lbs), 24v (80 lbs) | 12v (40 lbs), 12v (45 lbs), 12v (50 lbs), 12v (55 lbs) |
| Steering | Tilt/Extend Tiller with steering tension control | Telescoping tiller |
| Stow and Deploy | One-hand stow and quick-cam depth adjuster | Lever lock bracket |
| Prop | Power prop | Power prop |
| Technology | Digital Maximizer, push-to-test battery meter | Digital Maximizer, push-to-test battery meter |
| Comparing Prices Online | Click here to buy online! | Click here to buy online! |
Breaking it down
Both trolling motors are exceptional-quality motors that produce great power, speed and will last a long time.
We'll compare some of their different features that separate them apart and what they do.
By the end, you'll know which motor is right for you based on your needs!
Stow and Deploy
Traditionally, trolling motors have to be manually stowed and deployed. This requires manually lifting the motor into and out of the water.
In some cases, you'll have to unscrew a latch to extend the shaft and lift the motor from vertical to horizontal.
This can be incredibly time-consuming and must be done while you're at a complete stop. If you're in rough waters, getting on the back of your boat to stow or deploy the motor can be outright dangerous.
Traxxis
The Traxxis offers a unique one-hand stowage, allowing users to deploy the trolling motor with one hand. This means you won't have to move to the nearest weed bed or set down your rod.
To stow away the motor, lift it by pulling it up and towards you into a horizontal position. It should smoothly roll over the transom.
It can be lifted to any one of the ten different positions for convenient travel. Rather than having to pull a lever or unscrew anything, it features a thumb release to deploy the Traxxis into your desired position.
Endura Max
The Endura Max features a ten-point lever lock bracket with a quick-release mount for easy stow and deploy. Its quick-release lever is perfect for those who need to get the motor off quickly while out in the waters.
There are two bracket bolts with wingtip handles to provide leverage when tightening up the bracket in a position.
With the depth adjustment collar, you can easily change the depth of your motor to any of its ten placement settings.
Winner: Traxxis, because it has an easy-access thumb release to deploy
Tiller
Hand-controlled motors are the most reliable and allow you to put in little effort to steer your boat. It also reacts faster than remote or foot-controlled motors.
Not to mention, the tiller won't have a wire running across your boat as a foot pedal does.
The tiller is a one-handed handle used for steering. It works like a wheel where you simply turn the handle left or right to make a turn on the boat. There is a dial where you can adjust the speed settings.
Due to its quick reaction time and the little effort required to steer, hand tillers are best used in narrow waters where you'll have to make subtle or sharp turns to avoid hitting obstacles quickly.
Traxxis
The Traxxis has a Tilt/Extend Tiller that provides greater versatility and control when you're navigating your boat.
Unlike the telescoping handle that the Endura Max offers, the Tilt/Extend Tiller from Traxxis can tilt up to 45 degrees. This allows you to stand up while controlling the tiller.
For anglers who love to stand up while fishing, this is probably the biggest advantage. Standing up gives you a better line of sight to find a fish.
Not to mention, you'll have greater torque to reel in a bigger fish when it bites.
Anglers can control the handle with one hand and use their other handle to fish while standing up.
In addition, the tiller can be extended by up to six inches for better comfort.
Endura Max
The Endura Max features a telescoping handle, which is similar to the Tilt/Extend Tiller from the Traxxis, except it doesn't have the tilting capability.
However, it's still an intuitive, comfortable, and easy tiller to control.
You can turn the handle to adjust the various forward and reverse speed settings.
The big benefit of the tiller is that it only requires a one-hand operation allowing you to fish and navigate simultaneously.
This telescoping handle also can be extended horizontally by up to six inches.
Winner: Traxxis, because the Tilt/Extend Tiller can tilt up to 45 degrees
Power
Trolling motors measure power by the amount of thrust a motor has (in pounds). The more power you have, the easier your boat can reach maximum speed and keep on course easily, even in rough waters.
But how do you determine how much thrust you need? The answer depends on the weight of your boat.
Here's a simple guideline to follow based on your boat weight:
1500 lbs or less = 30 lbs of thrust
2000 lbs = 40 to 45 lbs of thrust
2500 lbs = 50 to 55 lbs of thrust
3000 to 3,500 lbs = 70 lbs of thrust
4000 lbs of thrust = 80 lbs of thrust
Traxxis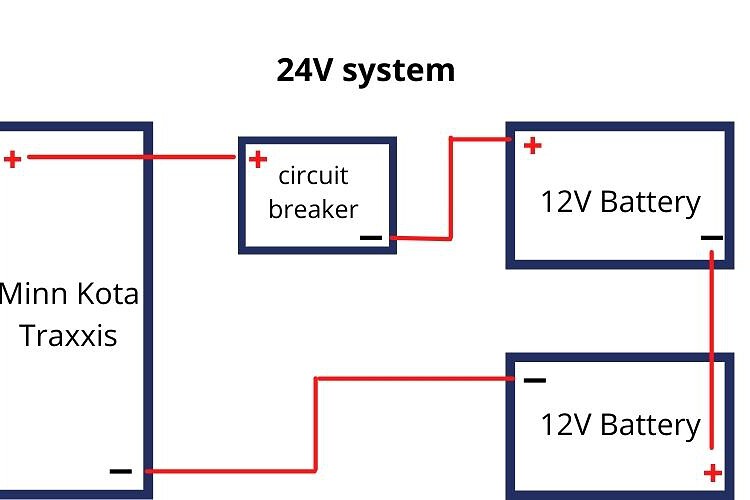 For those with larger boats, the Traxxis is an excellent option. The power options offered are the 12v (45 lbs), 12v (55 lbs), 24v (70lbs), and the 24v (80lbs).
As shown above, using two batteries and having more thrust gives your motor greater power to push heavier boats within the 3000 to 4000 pounds range.
It's important to note that the higher thrust won't make your boat go faster if you have a smaller boat.
But if you have a larger boat, having less thrust may not allow you to reach maximum speeds on your boat. Not to mention, it'll require your motor to work much harder, causing more battery drainage.
Or, if you run a smaller boat but plan to seat multiple people or carry heavy gear, you may consider the higher power options.
Endura Max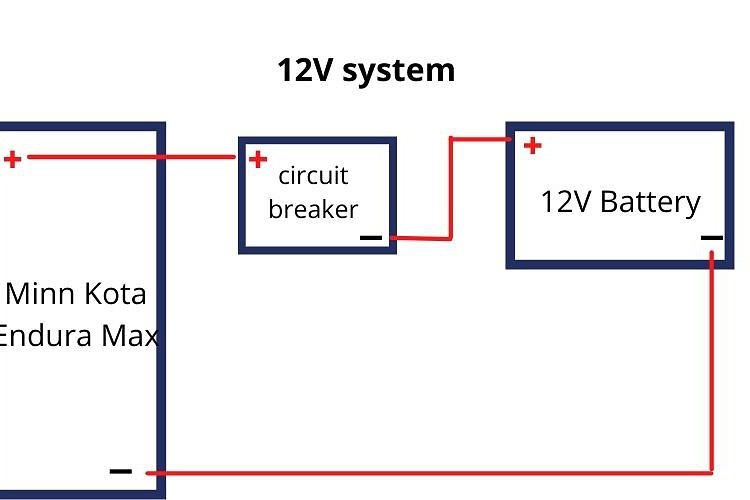 For those who own inflatable boats, you'll only need a single 12 voltage battery. This is enough power to get you where you want to go at maximum speed.
The Endura Max offers the following power options: 12v (40 lbs), 12v (45lbs), 12v (50 lbs), 12v (55 lbs).
You can choose the right amount of thrust needed for your small boat.
Winner: Traxxis, since it gives you the option to power heavier boats
Advanced Technology
Minn Kota stacks their motors with incredible technology such as GPS navigation and remote-control steering, fish finders, easy stow and deploy, and others.
Even though these two motors are lower-tiered motors compared to their premium models, they still incorporate advanced features such as the ability to extend the battery life and easily adjust your motor's position.
Traxxis
Minn Kota Traxxis Electric Motor
Traxxis offers a few unique features that you won't find on other motors, such as the steering tension control and the depth adjusting quick-lock cam.
The steering tension control is where you adjust the tension needed to turn the tiller. As an angler, this can be extremely useful when you need to make adjustments on the fly.
Above the Traxxis' mount, there is a collar allowing you to lock into your desired steering tension.
If you're doing a lot of maneuvering, you can keep the collar loose, allowing you to steer your boat effortlessly.
Or, when you're moving in a straight line, you can tighten the tension to enjoy hand-free operation. This prevents the tiller from steering your boat sideways.
When you're stowing the motor or adjusting the depth, you'll want to tighten the steering so that you don't accidentally move your boat.
The Tension levels allow you to set the optimal steering performance based on your comfort level and the conditions in the water.
In addition, the motor has the depth adjusting quick-lock cam. Most motors require you to loosen a screw, make an adjustment, then tighten the screw again for propeller depth adjustment.
The quick-lock cam will open and close in one quick motion, enabling users to adjust the prop depth in a fraction of the time.
Since the cam holds the prop securely when closed, you don't need to worry about slipping into a lower depth like you would with a screw-type depth adjuster.
Endura Max
The Endura Max doesn't have any unique features that differ from the Traxxis. And that's understandable, considering the Max is cheaper.
This motor features the Digital Maximizer (which the Traxxis also has). The Digital Maximizer lets you set the level of power delivered to the trolling motor, which in turn adjusts the speed.
This feature is best utilized when cruising at a slow pace, such as fishing in an area.
Winner: Traxxis, because they have unique features that give you better versatility and control
Final Recount
Traxxis: 4/4
Endura Max: 0/4
Results: Traxxis
Pros and Cons
Pros
Cons
Traxxis

Able to adjust the tension for effortless steering or tightened for easy stowing
Quick-cam depth adjuster lets you adjust the depths based on shallow or rough waters
Traxxis can deploy into ten unique positions

Slightly more expensive than the Endura Max

Endura Max

Less expensive than the Traxxis
More thrust options for a single 12v battery
Lever lock bracket is made with a composite material to resist UV damage, warping, and flexing

Tiller can't tilt its angle as the Traxxis Tilt/Extend Tiller can
Is the Minn Kota Traxxis worth the money?
Considering the Minn Kota Traxxis is still relatively inexpensive, it comes with incredible value.
The Traxxis has plenty of unique features like the one-hand stowage, steering tension control, depth adjusting quick-lock cam, and digital maximizer to enhance your fishing and boating experience.
Sure, there aren't any automation features like autopilot or GPS navigation. However, you're getting a reliable, durable, and easily adjustable motor.
Which is better: Minn Kota Traxxis or Endura Max?
Based on our analysis, the Traxxis is clearly better than the Endura. For a slightly higher price, you're getting better features.
The main advantage of the Traxxis is its adjustability. With the one-way stowage and quick-lock cam, you can easily make adjustments on the fly in the water without putting yourself in a dangerous situation.
In addition, the higher power options can steer bigger boats.
Final Verdict
Both trolling motors are incredibly reliable, powerful, and easy-to-use motors. With their hand-tiller and digital maximizer, the motors have ultra-responsive steering and are extremely energy-efficient to keep you in the water for a long time.
As mentioned, the Traxxis simply has better adjustments, such as the ability to change the steering tension, the one-hand stowing, and a quick depth adjuster.
Now you're ready to pick a trolling motor and test it out on your boat!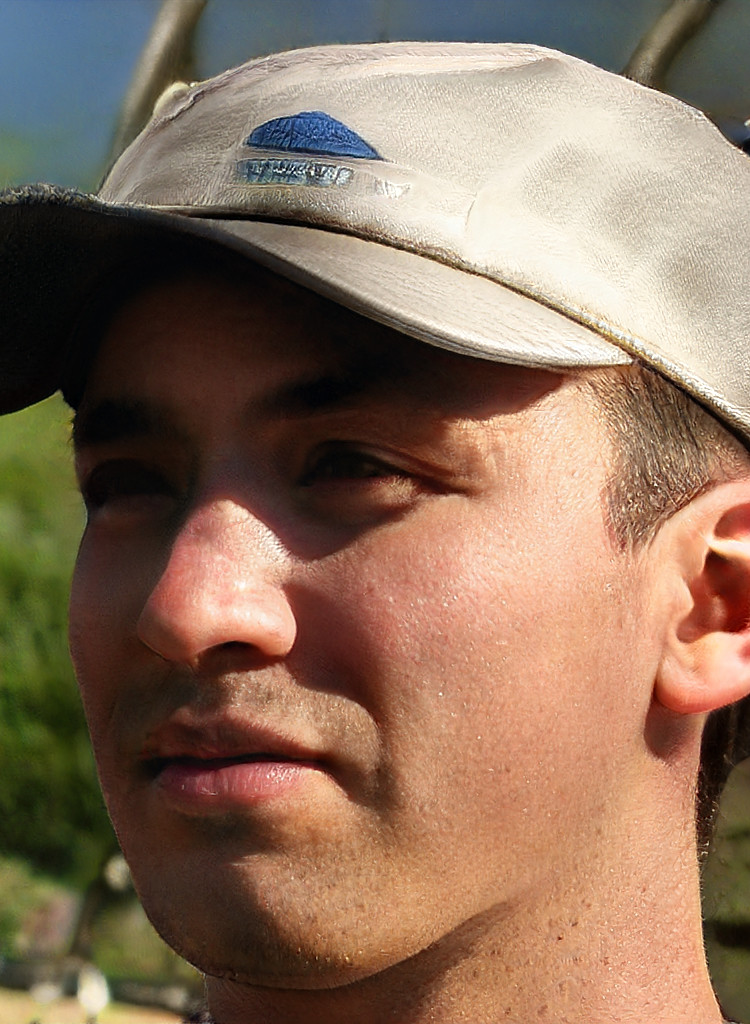 I created this site to help people – to help you – with your boat problems. Instead of helping one person at a time, I want this website to be the "one-stop-shop" for everyone's boating concerns. Read more.