Minn Kota has separated itself as one of the most trustworthy and high-tech manufacturers of trolling motors. They offer features that are, quite frankly, more advanced than others in the market.
But what makes Minn Kota outstanding?
They offer advanced and robust features such as their signature iPilot GPS system to enhance the experience of anglers.
In addition, their motors are durable, and Minn Kota has over 300 repair centers allowing you to address any problems should they arise.
In this article, we'll cover the 5 best Minn Kota trolling motors and our buyer's guide on how to choose the right one for you.
Let's get started!
Top 3 Picks for You
Minn Kota 1358986 Ulterra Freshwater Electric-Steer Bow-Mount Trolling Motor with MEGA Down/Side...
Minn Kota Riptide PowerDrive with i-Pilot Saltwater Bow-Mount Trolling Motor, 70/IP_BT/54-Inch Shaft
Minn Kota 1368821 Ultrex Freshwater Cable & Electric-Steer Bow-Mount Motor with Universal Sonar 2,...
Minn Kota 1358986 Ulterra Freshwater Electric-Steer Bow-Mount Trolling Motor with MEGA Down/Side...
Minn Kota Riptide PowerDrive with i-Pilot Saltwater Bow-Mount Trolling Motor, 70/IP_BT/54-Inch Shaft
Minn Kota 1368821 Ultrex Freshwater Cable & Electric-Steer Bow-Mount Motor with Universal Sonar 2,...
Trolling Motor Buyer's Guide
Choosing the right trolling motor for your boat comes down to many factors, such as the mount type, thrust, shaft, and others. In addition, the trolling motor you use must match the needs of your boat.
Bow-Mount Motors vs. Transom-Mount Motors
Where you mount, the motors will affect the performance of your boat. There are two types of mounting types: bow-mount motors and transom-mount motors.
The bow-mount mounts to the front of the boat, while the transom mount is located on the stern of the boat.
So what's the difference?
A Bow-mount trolling motor pulls your vessel through the water as opposed to the transom mount motor pushing it from behind.
As a result, bow-mount motors provide better control and maneuverability.
In addition, bow-mount motors typically have more steering options such as by foot, hand, or wireless remote. For anglers looking for precise steering, we recommend bow-mount trolling motors.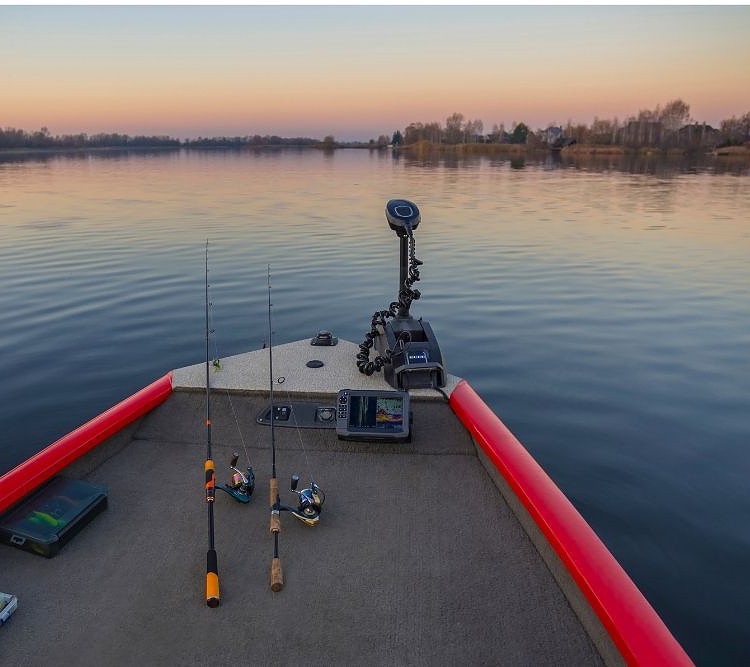 Transom mounts are typically more affordable and much easier to install than bow-mount motors.
That's because bow-mounts require a plate to be drilled into the bow, while transom mounts use a clamp to easily attach onto the stern of the boat.
However, transom mounts are also more conducive for inflatable boats and kayaks.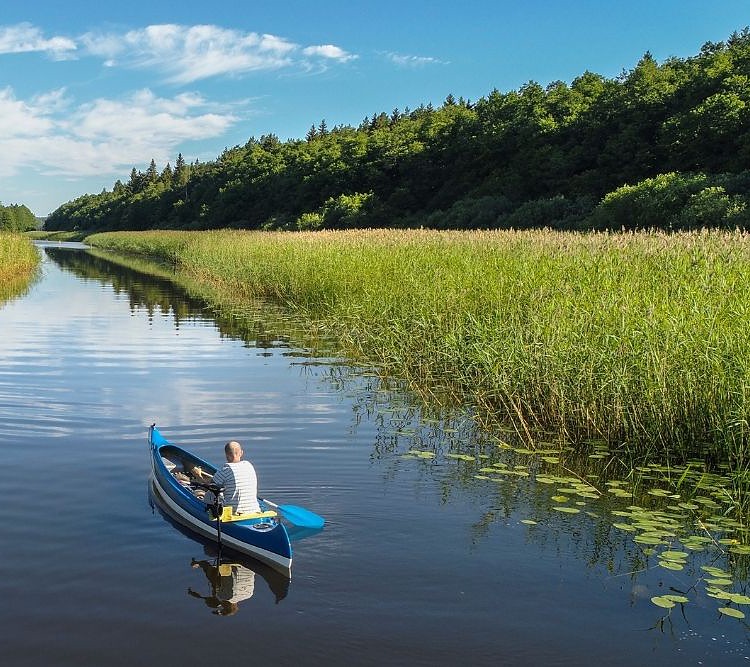 Bow-mounts require a flat surface that can be drilled into, which is why most larger boats with decks use a bow-mount motor.
Fresh vs. Saltwater
Depending on the waters you plan to fish in, you'll want to select a motor for the water condition.
Many Minn Kota motors offer a freshwater or saltwater version for each model. The primary difference between the saltwater and freshwater motor is the material that each is made of.
For saltwater trolling motors, the compartments for the motor have materials that are made to repel corrosion caused by saltwater.
That's because salt corrodes metal, which inevitably reduces the lifespan of a motor.
Saltwater motors typically have a sacrificial anode, which is a tiny metal tab on the bottom. This metal material acts as protection to prevent the lower portion of the motor from rusting.
On the other hand, freshwater has less than 1% of dissolved salt content, meaning having an anti-corrosion material isn't as useful.
Generally, saltwater is the safer choice to go with. Freshwater trolling motors are cheaper, but you run the risk of damaging your motor in any saltwater condition.
Shaft Length
Having the right shaft length is important because you want the propeller of the motor to be submerged at a minimum of 12″ under the waterline.
A shaft that is too long may be a hassle to stow or may hit the bottom. In contrast, a shaft that is too short may come up out of the water during operation.
You can determine the right length of your boat by measuring the distance from the shaft to the water.
Then add 20″ to your Minn Kota motor. For rough waters, you may want to add a few more inches to keep the prop submerged well.
Thrust
One of the most important factors when deciding on your trolling motor is to determine the amount of thrust needed for your boat.
Thrust can be explained as the measurement of how powerful your trolling motor is.
The heavier and larger your boat is, the more thrust you'll need to achieve its maximum potential.
However, for inflatable boats or other small vessels, you won't need as much thrust to operate at its maximum speed.
Having adequate thrust will help:
Your boat reach up to 5 miles of maximum speed
Keep your straight path without being blown off course
Have responsive steering
Anchor your boat onto one spot
There are different ways you can measure the amount of thrust needed for your boat. We recommend having 5 lbs of thrust for every 200 lbs of total weight that your boat carries.
Volts
The amount of thrust may determine the volts needed. Volts will tell you how much battery power is required from your trolling motors. Obviously, more is better, especially with boats that maneuver in offshore rollers or strong tides.
Here is a breakdown of how many volts or batteries you'll need. Keep in mind that one battery is equivalent to 12 volts.
55 lbs of thrust or less require one battery or 12 volts
68 to 80 lbs of thrust requires two batteries or 24 volts
101 to 112 lbs of thrust requires three batteries or 36 volts
Steering
Although many Minn Kota motors use the iPilot wireless remote for steering, some still offer the capability to use a hand or foot control for steering. This may serve as a good backup option. Or frankly, some people prefer less techy features to save on cost.
Each has its own advantages and disadvantages. With a foot pedal, anglers have the benefit of steering hand-free, and it can be placed anywhere on the boat.
The downside to using pedals is that they will cause more clutter in your boat, and there are more parts that can potentially malfunction.
In contrast, hand-control steering offers no clutter and typically has an immediate response time. The downside is that you won't have a hands-free operation, which can make fishing difficult.
Advanced Features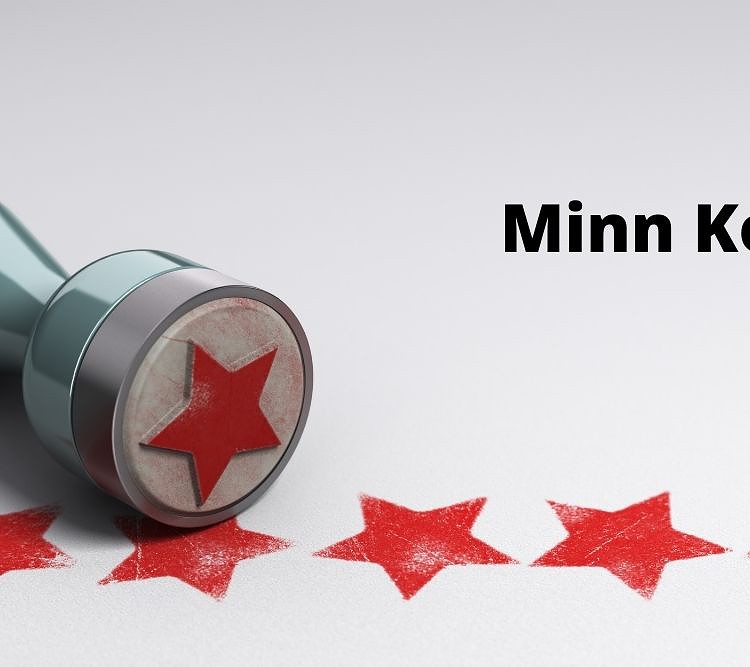 Minn Kota is known for having plenty of advanced features such as route storage and autopilot capabilities to guide you to your destination efficiently.
Anglers can navigate their boat using a wireless remote control or with Bluetooth connectivity control these features from their phone.
Minn Kota's most notable feature is their iPilot which uses GPS navigation to lock into fishing spots, command speed and steering, record and retrace paths, and more.
In addition, it offers the Spot-Lock feature to keep your boat in position while you fish.
Some Minn Kota trolling motors have tools to enhance your fishfinder capabilities, such as the Hummingbird's MEGA imaging, which provides clear imaging below and the sides of your boat.
5 Best Minn Kota Trolling Motors
1/ Best Overall: Minn Kota Ulterra
Are you looking for the best possible trolling motor possible? The Ulterra is the most luxurious model that Minn Kota has to offer.
With so many high-tech features at your disposal, you barely have to lift a finger.
The most notable feature is Ulterra's auto stow and deploy system. Typically, you'll have to manually lift your motor in and out of the water.
However, the Ulterra allows you to push a single button to stow or deploy your motor. This feature can be done remotely, so you don't even have to be on your boat!
In addition, users can choose between the iPilot or the iPilot Link system. The iPilot is Minn Kota's signature GPS navigation system, which enables you to steer the boat with the wireless remote.
Other capabilities include being able to record and retrace paths, change speeds, lock the boat into a position, and more.
The iPilot Link is an upgraded version that has more memory storage. It allows you to save more tracks and spots, which is helpful for serious anglers who want to save all of their best fishing locations.
Also, the iPilot Link can easily connect to the Humminbird Fish Finder into your iPilot GPS system.
There's also a built-in transducer on the lower unit where the Humminbird MEGA imaging can provide a top-level or side view of the fish around you. This helps you to pinpoint precisely where the fish are.
What we like:
Offers an electric foot steering for hands-free operation
Auto-stow and deploy from anywhere on your boat
Humminbird MEGA Imaging provides clear imaging to help you locate fish
Includes the iPilot or iPilot Link system
Able to access features with your smartphone through the mobile app
What we don't like:
Electric-based steering can sometimes be less responsive than cable foot steering
2/ Most Affordable: Minn Kota Endura C2
For those who want a basic motor that gets the job done without having to pay for all the bells and whistles, the Endura C2 is an excellent option.
The big selling point about the Endura is that it's the most affordable option that Minn Kota has to offer.
Quite frankly, the Endura may be the most suitable for inflatable boats. That's because it uses a transom-mount motor.
Also, the Endura offers shorter shaft lengths and lower thrust levels, making it ideal for smaller boats. Currently, it is available in 30″, 36″, and 42″ in shaft length, and 30, 40, 45, 50, and 55 lbs in thrust.
Although it doesn't have the fancy electrical systems that the Ulterra has, you're paying a small fraction of its cost.
The Endura does have a super-responsive 6-inch telescoping tiller, which is super sensitive to every turn you make.
You can even extend the tiller out by six inches without sitting right next to the motor. And you can change speeds with the tiller. The Endura offers 5 forward and 3 reverse speed options.
Lastly, we like that it comes with a lever lock bracket, which allows you to adjust the motor to a kayak, canoe or any other small boat. It has a quick release lever and 10 different positions to ensure your motor is locked in at the right position. This bracket is made from a reinforced composite material, which is UV resistant.
What we like:
One of the most affordable trolling motors in the market
Includes a 6-inch telescoping tiller
Has 5 forward and 3 reverse speed settings
What we don't like:
3/ Most Durable: Minn Kota Maxxum
The Minn Kota Maxxum is an excellent medium-sized trolling motor that strikes a balance between powerful yet still affordable.
It certainly doesn't have the fancy features that the Ulterra has. However, it's a step above the Endura C2 and is a bow-mounted motor.
Its most distinct feature is the Bowguard 360 mounting technology, which provides pressure reliefs to the motor and shaft in the event that you hit the bottom of the seafloor.
This mounting technology acts as a shield and protects your trolling motor during impact.
In addition, the Maxxum has a few other upgrades compared to the Endura. It uses a heel-toe cable-steer foot pedal rather than a hand tiller.
This allows you to take your hands off steering and focus on fishing instead. The foot pedal is ultra-responsive since it's directly linked to the motor. You can also adjust speeds with the pedal.
Another upgraded feature is the weedless Wedge 2 proper. The Endura C2 uses a power prop, while the Maxxum has a weedless wedge prop.
This prop has a swept-back and flared blade design made to cut through thick vegetation. As a result, your motor won't have to drain its battery trying to power through weeds.
What we like:
Includes an ultra-responsive foot pedal that can control speed and direction
Illuminated directional indicators tell you which direction you're headed
Uses their Weedless Wedge Prop, which is designed to power through weeds
Bowguard 360 Breakaway Mount protects your motor while fishing
What we don't like:
It's only designed to mount on the bow
Sale
The Riptide PowerDrive has all of the electrical features that the Ulterra has, without some of its fishfinder capabilities.
It's designed for the person who wants the autopilot feature to make navigating much easier without paying extra for other high-tech features they might not be interested in.
This motor offers the signature iPilot system where you can wirelessly control your boat. The iPilot can change speeds, steer, and record paths. For example, once you've recorded a path, you can simply set your navigation to your saved path and let the motor do its job for you.
With its large LCD screen, you can track where you are at any time. Without a GPS system, you can easily get lost when navigating uncharted waters.
One unique aspect about the Riptide Powerdrive is that it is built with a multi-layer corrosion system.
First, the lower unit is grit-blasted, then it's coated in aluminum to prevent rust and oxidation. Lastly, a final layer of powder coat paint is added for extra protection.
What we like:
Includes the signature i-Pilot GPS system
Check your battery levels with the Battery Meter button
Offers multi-layer advanced corrosion protection on the lower unit
It uses a deploy-assist lever allowing you to deploy and stow easily
What we don't like:
It may be easier to manually stow your motor when you're going through shallow or obstructed waters (weeds, wood, rocks, etc.)
5/ Great for Fishing: Minn Kota Ultrex
Looking at the Ultrex, it's slightly below the most upscale option that Minn Kota has to offer.
The Ultrex is nearly similar to the Ulterra, except it offers a bit more manual capabilities. For example, it uses the Lift Assist rather than the Auto stow and deploy system.
The Ultrex offers a stainless steel nitrogen gas spring making it easy to lift your motor. However, it still requires some manual work.
However, some of the manual capabilities may work to their advantage. The Ultrex uses a meaning it has a direct link between the motor and foot pedal.
As a result, you get a very responsive motor. In contrast, the Ulterra has an electric pedal that sends electrical signals whenever a button or pedal is pushed.
This could mean slightly less responsive steering for the Ulterra.
However, it still comes with plenty of high-tech features such as their iPilot GPS system, along with Spot-Lock and Spot-Lock Jog features.
What we like:
It comes with the Universal Sonar 2, which easily connects and disconnects with your fish finder
Offers the Spot-Lock and Spot-Lock Jog feature
Able to steer with the i-Pilot remote or the cable foot pedal
Uses Digital Maximizer to keep your motor lasting longer
What we don't like:
Wrapping Up
It's clear that the Minn Kota Ulterra is the best trolling motor because of its auto stow and deploy system, iPilot navigation, and spot lock, along with its MEGA imaging technology.
The Ulterra is the ultimate motor for serious anglers who want every competitive advantage.
However, depending on your needs and budget, the other motors mentioned may be best suited for you.
We've hoped you found our Minn Kota trolling motor guides helpful in your quest to obtain the right motor.
Minn Kota 1358986 Ulterra Freshwater Electric-Steer Bow-Mount Trolling Motor with MEGA Down/Side...
Minn Kota Riptide PowerDrive with i-Pilot Saltwater Bow-Mount Trolling Motor, 70/IP_BT/54-Inch Shaft
Minn Kota 1368821 Ultrex Freshwater Cable & Electric-Steer Bow-Mount Motor with Universal Sonar 2,...
Minn Kota 1358986 Ulterra Freshwater Electric-Steer Bow-Mount Trolling Motor with MEGA Down/Side...
Minn Kota Riptide PowerDrive with i-Pilot Saltwater Bow-Mount Trolling Motor, 70/IP_BT/54-Inch Shaft
Minn Kota 1368821 Ultrex Freshwater Cable & Electric-Steer Bow-Mount Motor with Universal Sonar 2,...