If you enjoy river fishing and boating, chances are, you've spent a fair amount of time paddling upstream.
It's taxing, tiring work, especially after a long day on the water.
Have you ever wondered if there's a better way to get upstream? Maybe you've considered using a trolling motor, but you're not sure whether it would work or not.
So would it?
Could you use a trolling motor for pushing a canoe or kayak upstream? How about an inflatable boat, a jon boat, or something larger?
Keep reading to find out!
Can You Use a Trolling Motor to Push a Canoe or Kayak Upstream?
The short answer is, yes, you can.
Of course, it will depend on the type of canoe or kayak you have, as well as the trolling motor.
Some specialized types of kayaks and canoes may have a trolling motor included or built-in, though these are fairly rare and expensive. However, if you have one of these, you may be able to use it to power the boat upstream.
There are also specialized types of trolling motors made specifically for kayaks. These may work best for kayaks, as regular bow or transom-mounted trolling motors may be too heavy for the small boats.
Another thing to consider is the river you plan to go boating on. If the current is heavy, the trolling motor may struggle to move the boat forward. If the water is too shallow, the motor may strike the bottom, breaking the shaft or the propeller.
Even if the water is deep and the current isn't too heavy, you'll want to be aware of any problem areas you may encounter along the way. Rocky outcroppings, narrow passages, or other obstacles in the water may damage the trolling motor and should be avoided.
Also, just because it's possible to use a trolling motor with a kayak or canoe doesn't mean that you should. Kayaks especially are small boats, and mounting a trolling motor may make it more prone to tipping.
This is one reason why it's so important to consider the type of boat and the type of motor you have. If you're not sure whether a trolling motor will work with your specific canoe or kayak, it might be best to err on the side of caution and simply keep paddling it instead.
Another thing to consider is that trolling motor batteries will have to work harder when pushing your boat upstream, which may cause them to die while you're still in the water. Larger batteries will last longer but will, of course, be heavier, weighing down your boat and adding to the load.
So yes, it is possible to use a trolling motor to get upstream in your kayak or canoe. But it's important to consider the type of trolling motor and the water conditions before doing so.
How About Jon Boats and Inflatable Boats?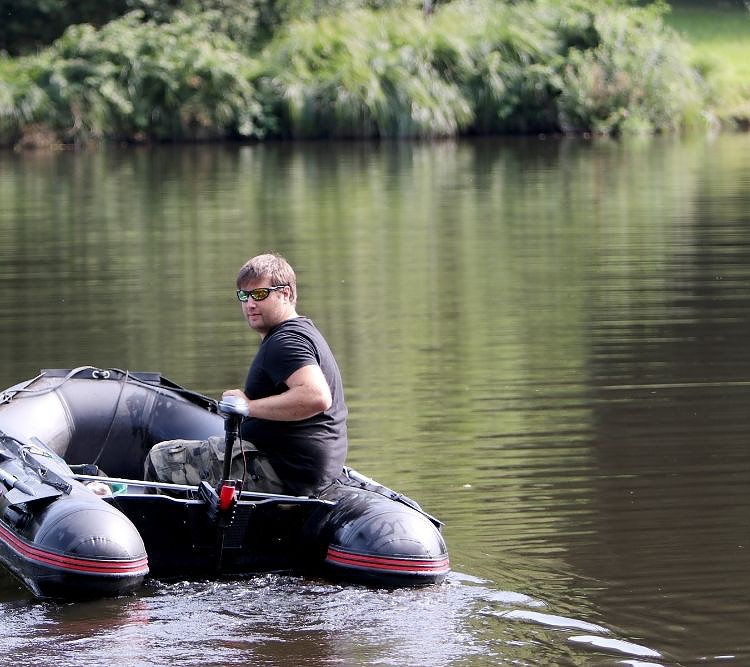 The same is largely true for Jon boats and inflatable boats. In general, these types of boats are more well-suited for use with a trolling motor and may have a larger available space for you to mount the motor.
You may be able to use a larger trolling motor with a Jon or inflatable boat than you could with a kayak or canoe. Larger motors are likely to be more powerful and have longer-lasting batteries, which in turn will make it easier and more efficient to get up the river.
Again, make sure you're aware of the water level and current before using any trolling motor in a river.
Also keep in mind that you will need a bigger, heavier motor to handle heavier currents, but your boat may not be able to handle a bigger motor. Always make an effort to choose the right size motor for your boat. For going upstream, you'll want the maximum size your boat can handle.
How About Larger Boats?
Larger boats will, naturally, need larger trolling motors.
The most important thing to consider before taking a larger boat upstream is whether or not the river is large enough for the boat.
Obstacles in the water may prove a bigger issue with large boats, especially if the river isn't wide enough to allow for proper clearance. In addition, larger boats will sit lower in the water than kayaks or Jon boats, so you'll want to ensure that the river is deep enough.
What are the Best Trolling Motors for Going Upstream?
So you want to give this trolling motor thing a try, but there's just one little problem.
You don't have a trolling motor.
With so many different trolling motors on the market, how do you know which one to buy?
Which one is going to work best for your boat?
As mentioned earlier, it will depend somewhat on the type of boat you have. Luckily, there are different types and sizes of trolling motors, some of which are made for specific types of boats.
Let's take a look at some of the best trolling motors for going upstream based on the type of boat each motor works best for.
Best trolling motor for kayaks and canoes
Newport Vessels Kayak Series Transom Mount Trolling Motor. This Newport Vessels trolling motor is made specifically for use with smaller boats such as kayaks and canoes.
Last update on 2023-12-05 at 08:17 / Affiliate links / Images from Amazon Product Advertising API
It comes in 36- and 55-pound sizes, has a 24-foot shaft that can be adjusted for different depths, and boasts longer-than-average battery cables so you can set the battery in another part of the boat–great for balancing the weight distribution.
If you plan to use this motor to push your kayak upstream, it would be best to go with the 55-pound option.
Best trolling motor for Jon boats
Minn Kota Endura Max Transom Mount Trolling Motor. Minn Kota is a well-known brand for producing trolling motors. This motor will work for boats up to 17 feet long.
Endura Max 55 lb. / Hand - 36"
Lever Lock Bracket: This solid 10-position bracket features a quick-release lever lock and reinforced composite material that resists flexing, warping, and UV damage.
Telescoping Tiller: Get easy, comfortable, intuitive operation of your trolling motor with the six-inch telescoping tiller including finite adjustment of forward and reverse speed settings.
Last update on 2023-12-05 at 16:47 / Affiliate links / Images from Amazon Product Advertising API
The best thing about this trolling motor is its digital maximizer, which holds a charge as much as 5 times longer than other trolling motors. This means the battery will last longer than average, even when powering your boat upstream.
This is a well-made trolling motor that can handle a decent current and will not die at the first test of power.
Best trolling motor for inflatable boats
NOPTEG Electric Trolling Motor. While the Minn Kota mentioned above will work well for inflatable boats, this trolling motor is made specifically with inflatable boats in mind.
Last update on 2023-12-05 at 16:47 / Affiliate links / Images from Amazon Product Advertising API
This trolling motor boasts several features over the Minn Kota. First, it is a little less expensive. Second, it provides several different thrust levels to choose from, including a powerful 65-pound option.
For powering your large inflatable boat upstream, this powerful trolling motor may be just what you're looking for.
Best motor for larger boats
Newport Vessels L-Series Transom Mount Trolling Motor. For larger boats, you're going to need greater thrust. This trolling motor offers an impressive 86 pounds of thrust, making the task of pushing upriver seem easy.
Sale
Last update on 2023-12-05 at 16:47 / Affiliate links / Images from Amazon Product Advertising API
In addition to the power capabilities, this motor runs efficiently to help the batteries last longer. It requires the use of two deep-cycle batteries (not included). Its top speed may reach 4.5 mph, depending on the type and size of the boat you're using it with.
Conclusion
So there you have it!
Using a trolling motor is a viable way to power your boat upstream, as long as the current isn't too strong and you're using the appropriate type of trolling motor.
You'll also want to make sure you use the highest quality powerful batteries to ensure that your trolling motor doesn't die in the middle of the day.
Next time you find yourself boating upstream, why not give a trolling motor a try?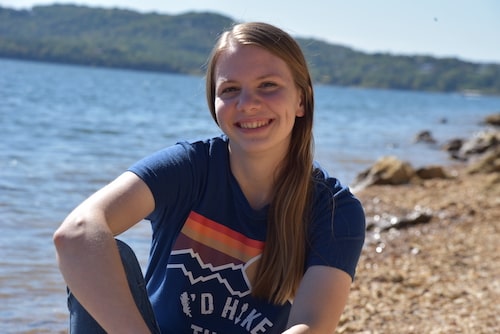 Sarah Hood has been writing for Anchor Travel since 2021. When she's not writing, she enjoys cooking, singing, and spending time in the great outdoors.