So you just bought a new boat, only to discover that your trolling motor is too long or short to use with the boat.
What do you do?
Of course, you could just spend the money to buy a new trolling motor. But before you do that, you may be wondering if there's a way to adjust the trolling motor you already have.
Can you change the shaft length on a trolling motor?
Specifically, how about a Minn Kota trolling motor?
And how do you determine the correct trolling motor shaft length for your boat?
Keep reading to find answers to all of these questions.
How Do You Adjust the Shaft Length on a Trolling Motor?
First of all, it's important to understand that not all trolling motor shafts can be adjusted.
For example, if you need a longer shaft than the one you have, your best bet is to either buy a new shaft or simply buy a new trolling motor. You can't make a short trolling motor shaft longer because you can't extend the wires that run up the inside of the shaft.
That said, some trolling motors are made to be adjustable. If you have one of these, simply follow the instructions in your trolling motor owner's manual to lengthen or shorten the shaft.
If your trolling motor isn't adjustable and you want to shorten it, you may be able to do so if you are careful not to damage the cords inside.
To shorten the shaft length, you'll need to carefully disconnect the motor head, the propellers, and any other attachments to the shaft. Remove the cords if it's possible to do so without damaging them.
Once you have the shaft isolated, you can cut a section off the end of the shaft. Before doing this, you'll need to know the exact length you want the shaft to be so that you cut off the correct amount. You can use this tool below for cutting the shaft.
Last update on 2023-09-27 at 00:26 / Affiliate links / Images from Amazon Product Advertising API
After cutting off the end, you may need to redrill a couple of screw holes to be able to put the motor back together. Carefully feed the wires back through, reattach the motor head and propellers, and you're good to go.
Again, this method may not work for all trolling motors, and you'll want to be sure you know what you're doing before attempting to do it yourself. It is very easy to damage the trolling motor beyond repair, in which case you'll just have to buy a new motor.
Before attempting to shorten your trolling motor shaft, it may be a good idea to watch a couple of tutorial videos like the ones below.
How To Shorten A Trolling Motor Shaft (EASY METHOD)!!!
DIY Shortened and Modified Trolling Motor Shaft for Kayak
Can You Adjust the Shaft Length on a Minn Kota Trolling Motor?
So what about Minn Kota trolling motors?
If you have a trolling motor from this brand, you probably know that it's one of the more well-known trolling motor producers.
Minn Kota trolling motors are often a bit more expensive than those made by other brands, so you may be a little more reluctant to cut and weld your Minn Kota. With good reason.
While it is possible to shorten a Minn Kota shaft on some models, it is best to let a professional do the work. This is especially true if your Minn Kota is still under warranty.
Minn Kota has repair shops located throughout the United States. If you need your shaft adjusted or replaced, simply locate the shop closest to you and set up an appointment.
How Do You Know What Size Trolling Motor Shaft You Need?
Regardless of the boat or trolling motor type, the motor head should be submerged about 12 inches under the water. Much deeper, and it may scrape the bottom; any shallower, it may come up out of the water during choppy boating conditions.
The shaft length, therefore, will very much depend on the height of your boat, as well as whether it's a bow or transom mount trolling motor.
Transom mount motors tend to sit lower in the water, whereas bow mount motors may bob up and down, making them more likely to bob right through the water's surface.
So how do you know the right shaft length for your boat and trolling motor?
All you have to do is measure from the desired mounting surface on the boat to the waterline, then add 20 inches to account for the mounting gear and motor head.
The resulting sum will give you a good starting point for the proper shaft size, as it will place your motor head at the desired depth of about 12 inches.
If you frequently go boating in rough waters, it's recommended that you add five inches to the above sum. So if you determine you need a shaft length of at least 30 inches, it would be better to go with a 35 inch shaft for use in choppy waters.
If your trolling motor is meant to be controlled from a standing position, add 12 inches to the shaft length. In that case, for shaft lengths of at least 30 inches, you'll instead want to make sure the shaft is at least 42 inches to account for the extra length above the water.
If you plan to shorten your trolling motor shaft, be sure you know how long it needs to be before starting. You don't want it to be too long, but it would be better to have it slightly longer than necessary rather than making it too short.
Conclusion
So there you have it!
If you're going to try and shorten your trolling motor shaft, be as careful as possible. Read your owner's manual and watch a few tutorial videos before starting. And understand that it is easy to damage your motor so you may have to buy a new one anyway.
And, whether shortening your current trolling motor or buying a new one, it's extremely important to measure your boat so that you know what size trolling motor you need.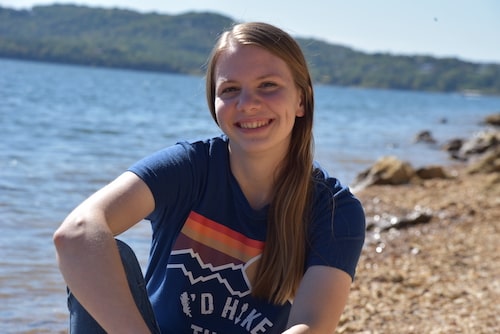 Sarah Hood has been writing for Anchor Travel since 2021. When she's not writing, she enjoys cooking, singing, and spending time in the great outdoors.