For some, there's nothing better than a day out on the water.
Maybe you take your inflatable boat out to your local lake on a regular basis, and you're wanting to try something a little different now.
What would it be like to go out on a wide river, a great lake or a sea? Or maybe even the ocean?
Can an inflatable boat handle the rough conditions it would encounter in these new environments?
How far out could you take an inflatable boat?
It will largely depend on the type of inflatable boat you have, but other factors may also affect the distance you can travel on a larger body of water.
Want to find out more?
Keep reading! In this article, we'll discuss the different types of inflatable boats, how far out you can go in each one, and the factors that may contribute to a shorter or longer traveling distance.
How Far Out Can You Go in a Rigid Inflatable Boat?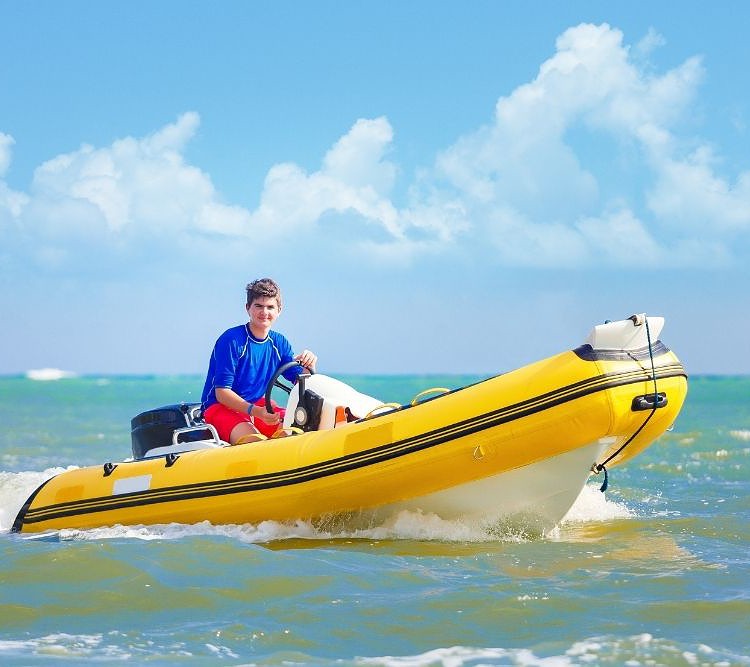 Rigid inflatable boats are generally the most well-built and sturdy inflatables you can find, but they are not all made the same. As the name suggests, they have a rigid floor which is usually made of aluminum, fiberglass, or marine plywood.
They may also have a fiberglass hull for better maneuverability, as well as a rigid transom for mounting trolling motors, fish finders, and other tools.
The best rigid inflatable boats will have several inflatable chambers. That way, if one of the chambers becomes damaged, the boat will still float. That said, rigid inflatable boats are typically made of heavy-duty, multi-layer PVC, so they aren't easily damaged.
As you might imagine, these boats have a bit more weight to them than other types of inflatables. The larger the boat, the more weight it will have, the more weight it will be able to hold, and the farther it will be able to travel.
Generally, it's safe to take a rigid inflatable boat at least a mile or two off-shore in the ocean, depending on other factors such as weather conditions and your own level of experience.
That said, it is best to plan for the worst. Know exactly how far you can get on your trolling motor battery or fuel; otherwise, you may find yourself stranded.
Also, never take your rigid inflatable out further than you're able and willing to swim back. Though it takes a lot to damage this type of inflatable boat, the ocean can be unpredictable and may prove a bigger challenge than you expected.
How Far Out Can You Go in an Air Floor Inflatable Boat?
Air floor inflatable boats vary widely. Some are little more than glorified pool floats, while others are large enough to seat several adults comfortably and may even have trolling motor mounts.
In general, air floor inflatable boats have floors that are completely inflatable. Some may be designated as "semi-rigid," which simply means the inflatable floor is topped with less flexible floor boards to give the floor a bit more stability.
These types of boats may or may not have multiple inflatable chambers. If they don't, they may be more easily damaged and prone to capsizing.
Air floor inflatable boats are generally less expensive than rigid inflatable boats. They are also generally less durable. Some may be made of PVC or vinyl, but very few are made to handle the choppy waters and unpredictability of large lakes or oceans.
Inflatable Sport Boats Dolphin 8.8' Air Floor with EVA Foam Teak decking - Premium Heat Welded...
The sleek white contoured design was created by nautical engineers for rear buoyancy and faster planing at takeoff. "Easy Planing" extended rear pontoons and transom area allows for more maximum...
Inflatable drop stitch high pressure air deck floor. Thick PVC designed to hold 8 PSI and gets rock hard providing a stable boat floor. The thick .9 mm, 1100 denier reinforced PVC material is UV, oil...
Last update on 2023-12-05 at 17:36 / Affiliate links / Images from Amazon Product Advertising API
It would be unwise to take even a well-built air floor inflatable more than a mile off-shore. Though some may be able to support a small trolling motor, the boat will simply be too lightweight and prone to damage.
Again, this advice holds true: don't take it any further out in the ocean than you're willing to swim back.
How Far Out Can You Go in an Inflatable Kayak or Pontoon?
Most inflatable kayaks are a specialized type of air floor inflatable boat. Well-made inflatable kayaks are often exceptionally buoyant and made for handling the rough conditions of river rapids.
For this reason, they may handle ocean conditions slightly better than other air-floor inflatable boats. That said, it will be a bumpy ride. Inflatable kayaks are extremely lightweight and will probably get tossed around if the waves are too tall.
It is best to keep your inflatable kayak within a mile of the shoreline, though depending on your experience, the water conditions, and the sturdiness of the kayak, you may be able to go out a bit farther.
Inflatable pontoons, on the other hand, are not made for rough conditions. They are often very small and lightweight, and their shape makes them likely to tip over in rough waters.
Again, though, not all pontoon boats are made exactly the same, and some may be a bit more sturdy than others. A well-built pontoon boat can go out in the ocean on a calm day, but it's best to keep it close to the shoreline to avoid running into harsher conditions.
Again, with both inflatable pontoons and kayaks, don't go any further out than you can swim back, and take the water conditions into consideration when making this determination.
What Factors Affect Traveling Distance of an Inflatable Boat?
Of course, the numbers given above are simply ranges of what is likely safe in most circumstances. But there are several factors that may affect just how far you should, or shouldn't, take your inflatable boat on any given day?
What are those factors? Glad you asked! Let's take a look below.
1. Weather conditions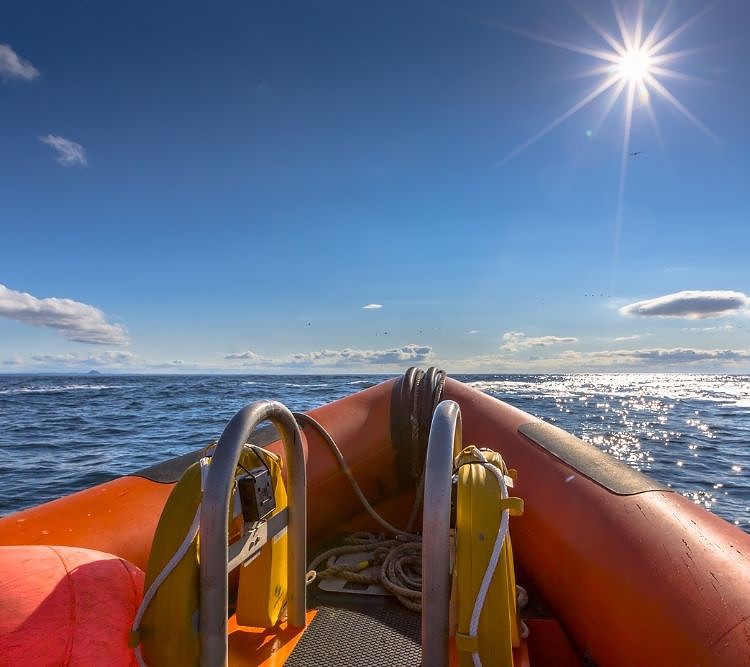 Of course, the weather affects a number of things, such as how choppy the water is and whether you're able to use your equipment.
The weather can change quickly on the oceans and great lakes, so it's important to check the forecast before going out on the water and monitor it closely while you're out in the ocean.
2. Water conditions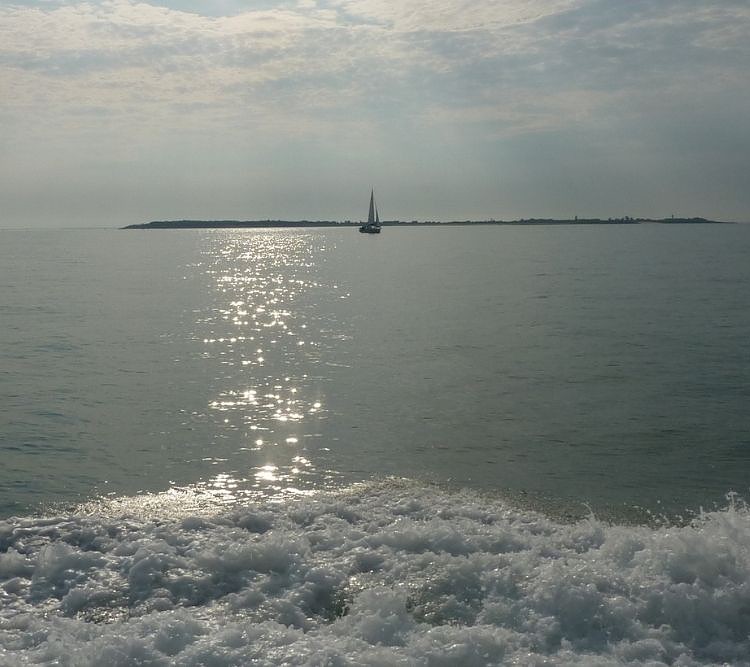 The water may be choppy even if there isn't any bad weather in the area. This is especially true the further out you travel.
Pay attention to the wave period for the area you plan to be in. This will give you both wave size and spacing.
For example, a wave size of 3 feet with a 4-second wave period means choppy waters, while three-foot waves with a 10-second wave period are fairly calm.
With any inflatable boat, you'll want to take it out when the waters are at their calmest.
3. Fuel or battery range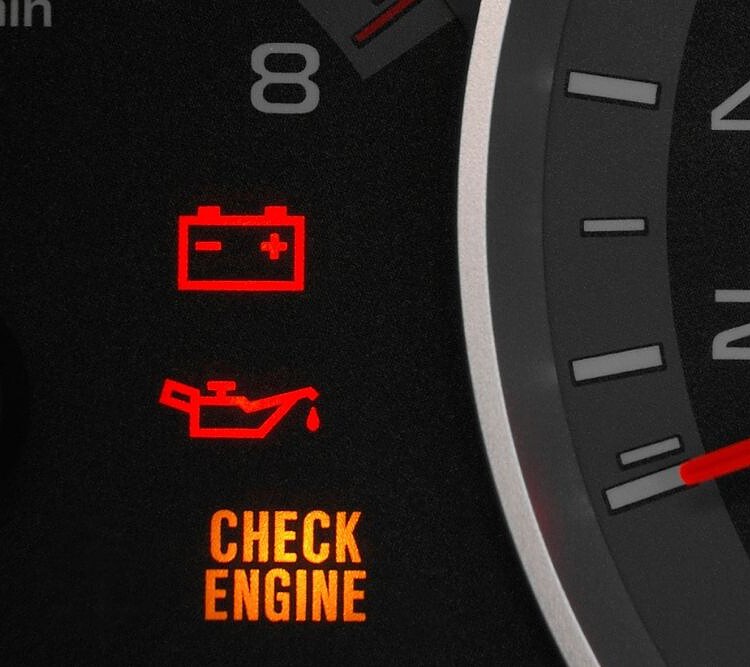 If you're using a trolling motor, the last thing you want to do is exhaust your battery or use up your fuel. Understand that choppy waters may stress the motor, shortening its lifespan and putting you at risk of getting stranded.
Always keep a spare set of oars with you in case your motor does die. But to avoid exhausting the motor in the first place, you should have a good working knowledge of just how far you can get with your specific motor.
You can calculate your fuel or battery range using the methods described in this article.
4. Your experience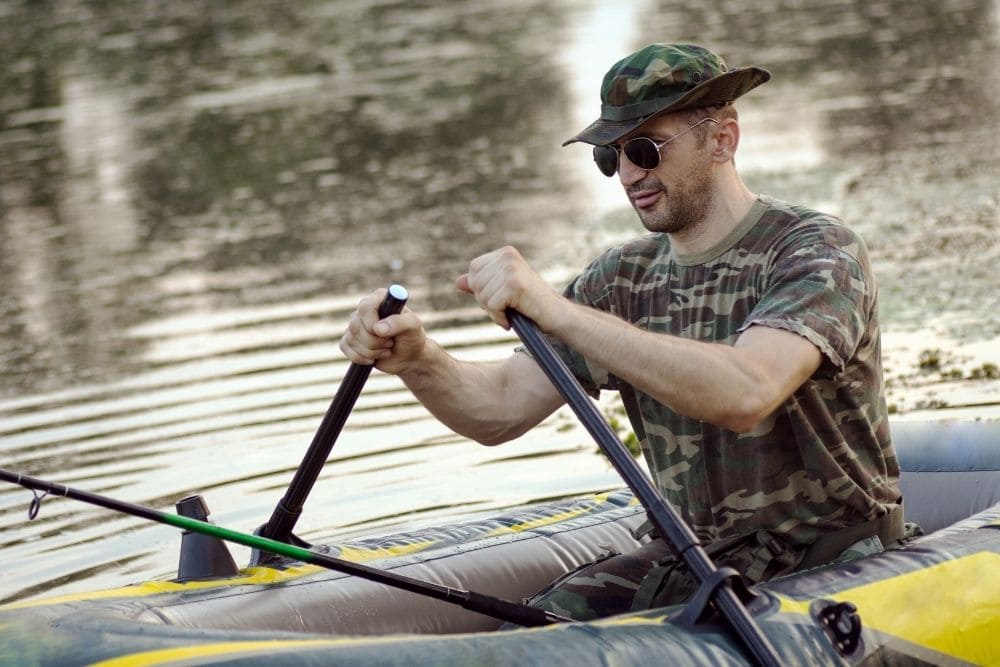 If you're brand new to taking your inflatable out on ocean waters, then caution should be your top priority. You may not know just how much your boat can handle, and you may be uncertain of how you'll respond if conditions change quickly.
More experienced boaters may be able to take bigger risks and travel further out simply because they know what both they and their boat are capable of. They've experienced rough conditions in the past and have learned how to handle them.
Don't put yourself at risk as a newbie. It's best to start slow and gain experience gradually as you try new challenges.
Conclusion
Inflatable boats are generally made for the calmer waters of small lakes and streams. It is usually safe to take more heavy-duty inflatable boats a short distance off-shore, as long as the weather conditions are stable and you are comfortable doing so.
Whether going out on an ocean, great lake or sea, or even a rough river, always remember to take your safety gear with you, and be prepared to swim back should your boat become damaged and capsize.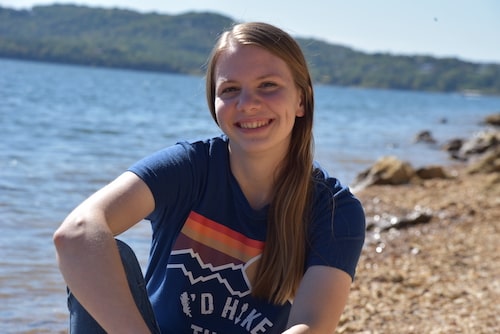 Sarah Hood has been writing for Anchor Travel since 2021. When she's not writing, she enjoys cooking, singing, and spending time in the great outdoors.