Rigid inflatable boats, or RIBs, are becoming more and more popular, and there's no doubt why. These boats have so many advantages! They are:
Cheaper than traditional boats
Easier to store
Capable of being used in many different ways
Durable
Great out on the water
And more!
If you're interested in rigid inflatable boats, here are the best brands on the market. Whether you're looking to buy or you're just interested, here's the information you've been looking for.
Zodiac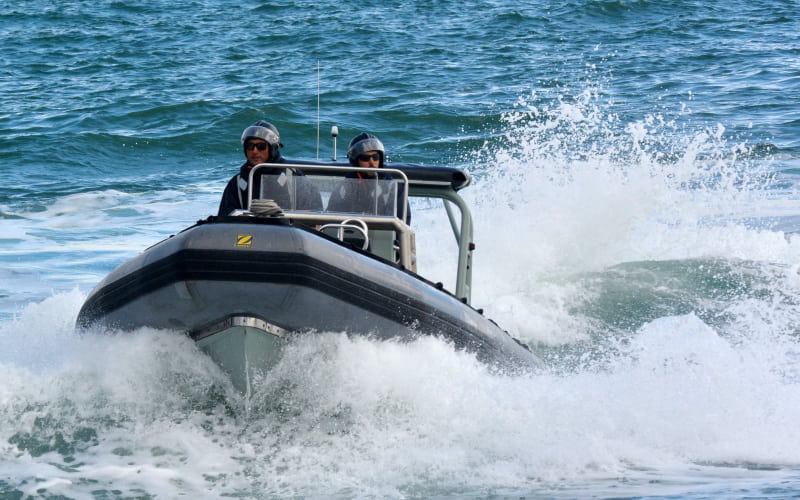 Zodiac has been making boats since 1896. They offer solid boats at reasonable prices with a focus on quality. They started out making boats for the military but, since then, have branched out and now make boats for every need.
Most Zodiac RIBs have a deep center of gravity and a deep, V-shaped hull, both of which give you a better ride when you're out on the water. They also feature removable tubes that make transporting, storing, or repairing the boat easier than ever.
There is a Zodiac RIB for every boater. They offer everything from small fishing boats to luxury cabin cruisers and all of their boats can take a beating. When you want a boat that you can use over many years, think Zodiac.
Every Zodiac tube features three-part construction and rot-resistant polyester so they are made to be durable. Whether you choose a boat made of PVC or Hypalon, you can always rely on Zodiac to produce a quality watercraft.
Zodiac Cadet Aluminum Series with Casey from Inflatable Boat Specialists
What we like
Zodiac offers a wide variety of boats so there is something for every boater.
Zodiac boats have a reputation for lasting a long time, so you may never need to buy another boat.
Zodiac is a brand that people have trusted throughout the last 100 years of boating.
What we don't like
While Zodiac offers luxury options, many of their boats are simple and straightforward without a lot of extra features.
Zar Formenti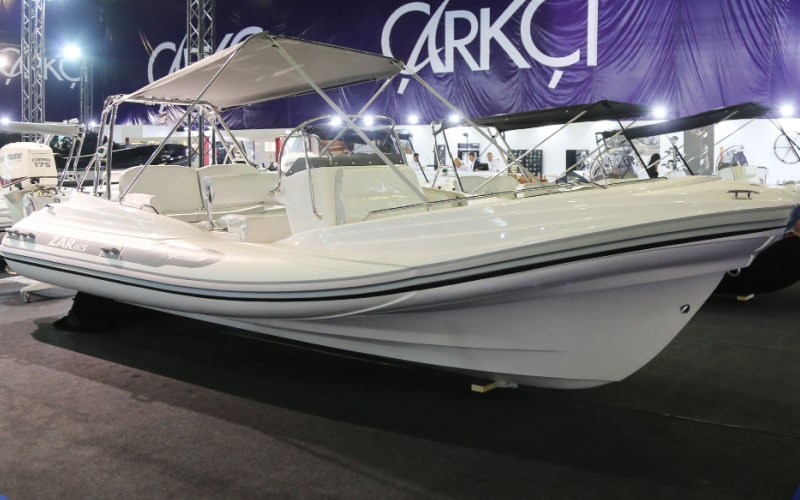 Zar Formenti has been known in Europe for over 40 years, but they only came to the United States in 2009. Every RIB they make features their patented fiberglass hull, which is considered a performance vessel.
Zar Formenti features luxury boats, though you can technically use their boats for many purposes. Each one is made with patented computer technology that ensures precision in every step.
Most Zar Formenti RIBs also feature a transom that extends further back than most RIBs. These make the boats ride smoother than most and allow them to easily cut through even rough waters.
Finally, Zar Formenti uses a high tenacity ORCA rubber tubing system for its inflatables. These are long-lasting tubes and they connect to the boat with an overlapping system featuring double junctions, to ensure water tightness.
Zar 95SL Rib Boat with Cabin !
What we like
Zar Formenti RIBs are known as some of the most comfortable ones on the market.
When you're looking for the extra features that make a boat special, Zar Formenti comes through every time.
Zar Formenti RIBs will last. When you want a boat you can pass on to your kids, this one will come through for you.
What we don't like
The pricetag on Zar Formenti RIBs might be prohibitive for many boaters.
Ribcraft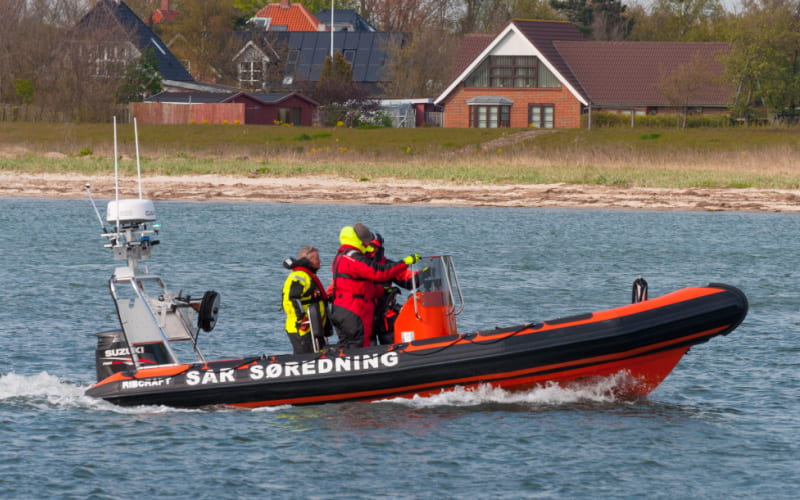 Ribcraft makes tough boats that are specifically designed for particular purposes. They originally made boats for commercial purposes, but now have branched out to make vessels for fishing, emergency use, law enforcement, yachting, cruising, and more.
Ribcraft offers boats of all sizes, from 15' to 41'. Their latest models all feature a large center console and more creature comforts than the company has been known for before.
RIBCRAFT 9.0 PRO Rigid Inflatable Boat
When it comes to durability and stability, Ribcraft can't be beaten. These boats are designed in Marblehead, MA, and tested in rough New England waters. If they don't struggle there, rest assure that you can use them anywhere without worry about how the boat will work.
When you have a very specific purpose in mind for your boat, look to Ribcraft to build an option with everything you need. Whether you want to cruise, tow wakeboards, or go fishing, Ribcraft has the perfect boat for you.
What we like
If you need a vessel for a very specific purpose, Ribcraft has one with everything you've been looking for.
Ribcraft boats handle rough water and other extreme circumstances with aplomb.
Many professionals who spend their days out on the water choose Ribcraft.
What we don't like
The specificity of a Ribcraft boat might make it hard to buy a multipurpose vessel from this company.
BRIG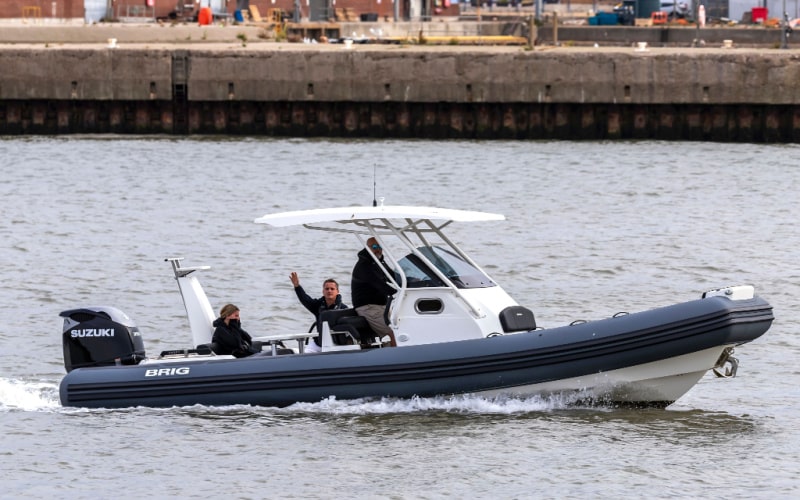 BRIG is a company from Australia and we all know how much Australians love to be out on the water! If this is a brand they trust, then it's one we will love here in America, too.
In fact, BRIG has been the number one best-selling boat in the United Kingdom, Sweden, Holland, and Australia. They make everything from tiny tenders to a 33' boat that you can even cook or sleep on.
BRIG boats are great for everyday use and for taking friends out on the water. They have large amounts of storage space for their size and they have comfortable seating. Other features, like enclosed bathrooms, swim showers, and transom ladders make them great all-purpose boats.
If you're looking for a useful, comfortable, fun boat for use with family and friends and you're worried about breaking the bank, look no further than BRIG. You'll get an affordable, durable boat that will be up for every adventure you want to go on!
BRIG Eagle 6.7 Overview Film
What we like
The massive amount of storage the BRIG offers allows for maximum comfort all day long.
Extra seating means that you can bring more of your friends and family with you out on the water.
Use one BRIG boat for many purposes, from diving to towing wakeboards to fishing and more.
What we don't like
If you're looking for a boat tailored for specific needs, BRIG may not be the best option for you.
Walker Bay
Walker Bay targets specific boating needs and focuses on people who want smaller boats. They also tailor each boat to a specific buyer's profile. If you happen to be looking for what they make, their boats are of excellent quality, comfort, and durability.
Walker Bay focuses on everything from tenders to independent boats with a generous center console. As long as you aren't looking for a large boat, you can use their vessels for fishing, cruising, and more.
This company focuses specifically on innovating based on feedback from actual boaters. They value the experiences that people have when out on the water in their boats and they want to optimize that experience based on real-life feedback.
Walker Bay Generation 525 Boat Review
If you're looking for special features, Walker Bay offers a number of them. You can choose to add gear lockers to your boat or even a cooler locker if you're going to spend a long day out on the water. They offer teak finishes and roto-molded hulls on many of their boats, too.
What we like
There's no better small RIB out there than the ones made by Walker Bay.
You can get a Walker Bay RIB tailored to your specific purpose, as long as you don't need it to be large.
Walker Bay's features can make any boat feel like a luxury option.
What we don't like
Walker Bay focuses on smaller boats, so they will not be able to meet the needs of customers looking for larger craft.
Technohull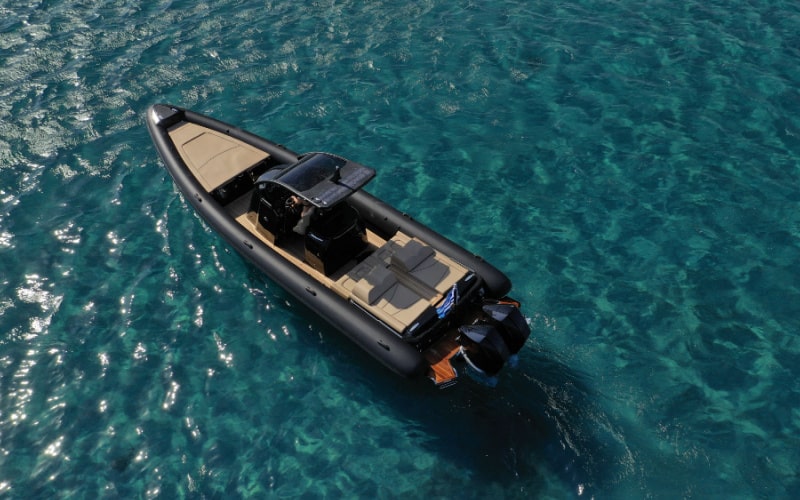 Based on the Mediterranean, Technohull makes boats for people who crave speed and maneuverability. These are performance boats made for people who want to go fast and feel the power of their boat under their feet.
Technohull has created a fabric-zip cabin, which covers an enclosed bathroom and a place to sleep. They offer full cabin options, too, and these are more spacious than the fabric versions. However, the fabric allows for a cabin on a boat that would otherwise not have one.
Technohull RIBs offer a sporty appearance so they look as fast as they actually are. The majority of their boats are black with contrasting upholstery in an automotive style. Some of them also include options for luxury additions like teak flooring.
These boats feature center consoles with options like touchscreen electric controls. Most of their boats also have the option to install shockproof help seats and extra storage. No matter what features you want on your boat, Technohull can provide them.
What we like
These boats look and feel luxurious, from the minute you see them until the minute you step off at the end of the day.
The fabric-zipped cabin is innovative and useful and adds shelter on boats that wouldn't otherwise have it.
If you want a fast RIB, look no farther than Technohull.
What we don't like
Many boaters do not want or need a luxury boat, and so Technohull's options will not appeal to them.
Airship
Airship RIBs are made in the United States by a company with a racing history. It was created by three experienced catamaran racers. They saw how popular RIBs were in Europe and decided to bring the same ideas to the U.S.A.
Airship makes its home along Lake Erie, where their boats can be tested on waters that are sometimes rough…just like the ocean. Airship features several boating options, all of which feature durability, comfort, and, sometimes, luxury.
These RIBs have a moisture-resistant foam core under the hull and the deck, making them lighter than some of the other options listed here. However, their lightness belies a strong, rigid structure that can take anything the sea can throw at it.
Add features to an Airship RIB, like a transom shower, a swim platform that can be configured for several options, and the ability to comfortably seat and carry 12 or more people. Lounges and electric bolster seats add to the comfort you can attain on an Airship.
Airship Ribs 2020 Yachts Miami Boat Show
What we like
Airship's options will cover all of your needs, whether you want to fish, cruise, dive, or more.
A single Airship is made to be used in a variety of circumstances, so you never have to buy another boat.
The options on an Airship can help you configure a boat that will work for you, no matter what you're looking for.
What we don't like
If you're looking for a boat tailored to a specific purpose, you'll want to search elsewhere.
Williams Tender
Williams Tender makes jet-powered RIBs that have stormed through the tender market in recent years. These boats are made specifically to tender and they specialize in features that people buying in this market are looking for.
Williams TurboJet Walkthrough - Williams Jet Tenders
If you need a lightweight tender that is designed for easy storage, take a look at Williams Tender boats today. These small boats are also low-profile and range from tiny to something that can be used as an independent boat under certain circumstances.
Williams tender categorizes its boats by the size of yacht they are suited to work with. Many of their boats offer luxury features, though you can also get simple or stripped-down versions if you're buying a backup tender or not looking for anything special.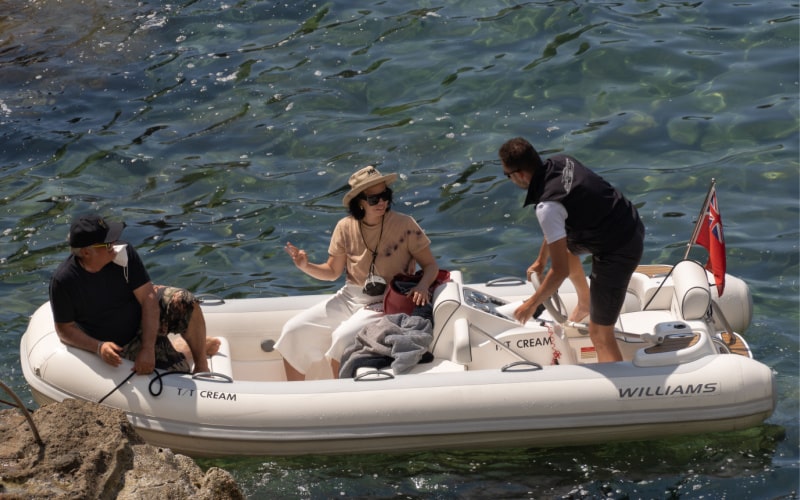 Features offered on Williams Tender boats include diesel engines (if you don't want to carry gasoline on your yacht), high capacities (up to 13 passengers), a swim platform complete with a ladder, space to walk around, and even a built-in cooler for long days on the water.
What we like
There's no better tender on the market than the RIBs made by Williams Tender.
Get a tender suited to your yacht's size for storage and towing purposes.
Find a tender you'll want to stay out on all day with the luxury features Williams Tender offers.
What we don't like
If you're looking for something other than a tender, you'll want to look somewhere else.
Conclusion
While you can't go wrong with any of the brands mentioned here, we recommend you look at Zodiac first. Their wide variety of options, history of making durable and stable boats, and reasonable prices make them our top choice if you're buying a RIB.
If you're looking specifically for a tender, we recommend going with Williams Tender. After all, they specialize in this market.
No matter where you buy your next RIB, rest assured that you're getting a great boat that should last for many years! Enjoy yourself out on the water soon.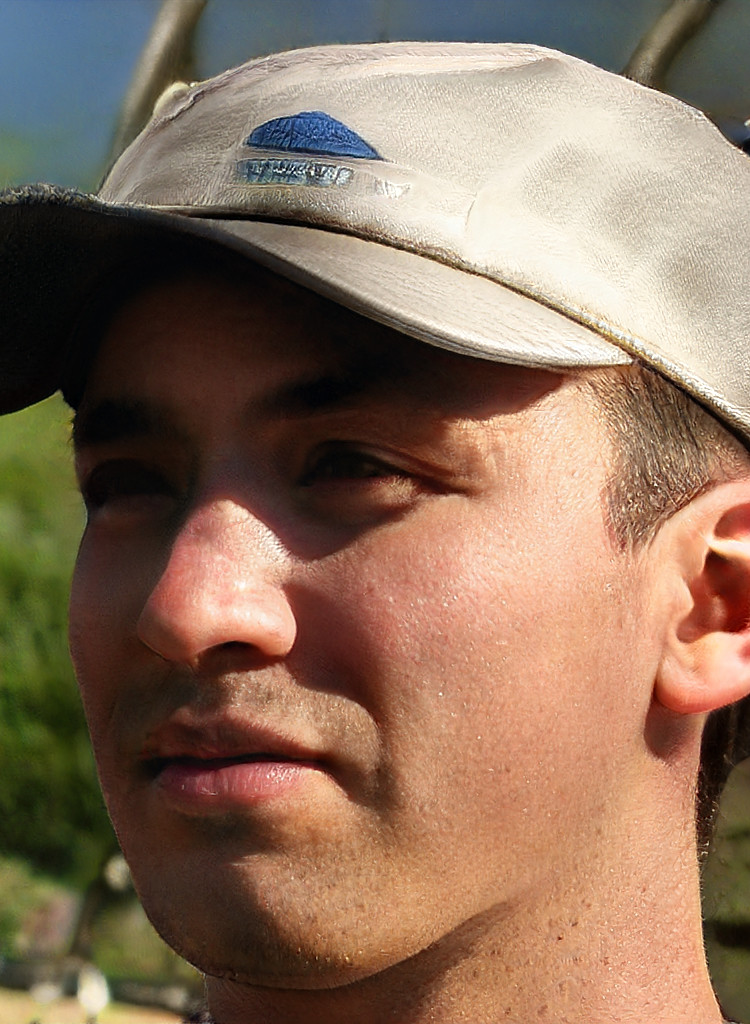 I created this site to help people – to help you – with your boat problems. Instead of helping one person at a time, I want this website to be the "one-stop-shop" for everyone's boating concerns. Read more.