In many situations, you can charge your trolling motor batteries while the boat is moving.
However, there's usually more to the process than just hooking up the batteries and setting things in motion. You will need to make sure that the setup is correct and optimized for both using the battery and charging it.
Here's what you need to know if you want to charge your trolling motor batteries while your boat is running.
Do Boat Motors Charge Batteries While Running?
Most boat motors will charge the batteries attached to them whenever the boat is running. This is similar to the way that a car charges your battery while you are driving, or even when the vehicle is idling.
The only exception to this rule is with older motors. If your motor is more than 20 years old, you may need to test it to see if the battery is getting charged.
Use a voltmeter or a multimeter for the test. You can purchase these at automotive or boating stores.
Sale
AstroAI Digital Multimeter, Voltmeter 1.5v/9v/12v Battery Voltage Tester Auto-Ranging/Ohmmeter/DMM...
VERSATILE SETTINGS: The AstroAI Digital Multimeter accurately measures AC/DC Voltage, AC/DC Current, Resistance, Continuity, Capacitance, and Tests Diodes and Batteries (1.5, 9, 12V Battery Settings)
NON-CONTACT SAFETY: This DMM is designed with safety in mind. The NCV Function minimizes exposure to live wires; the probe works for outlets, sockets, terminals, and more
Last update on 2023-12-05 at 18:16 / Affiliate links / Images from Amazon Product Advertising API
Following the instructions for your particular unit, test the battery's power. Turn the boat on and use it for a while. Then test the battery again.
If the battery is maintaining or gaining charge, then your motor is charging it. If it is not holding or gaining charge, your motor is not charging it.
It is possible to upgrade most older systems so that they will charge your battery. If you have an outboard motor, keep reading to find out how to do that.
If you have a more complex motor, the job should be performed by a professional. Otherwise, you could end up damaging both the motor and the battery in the process.
How to Charge a Trolling Motor Battery from the Outboard Motor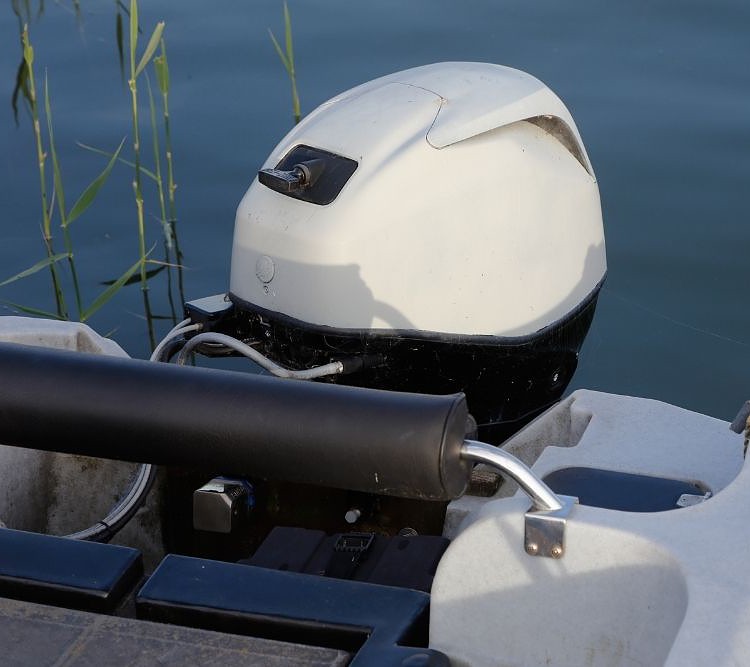 If your electric start outboard motor was built within the last 20 years, it should have either a starter or an alternator. These facilitate charging the battery whenever the motor is running.
Many non-electric start outboard motors now charge batteries, too.
All you need to do to get this process to work is connect your battery to the motor. If you are successful and the motor will turn on and run, it should also be charging your battery. There's nothing extra that you have to do.
If your outboard motor is not already set up to charge your battery, you can convert it so that it will do so. All you need to do is install a regulator/rectifier and possibly a lightning coil.
Last update on 2023-12-05 at 18:16 / Affiliate links / Images from Amazon Product Advertising API
Make sure you get parts that are compatible with your particular outboard motor, then follow the instructions below. It won't be long before your outboard motor is charging your battery every time it runs.
Charging a battery from an outboard
Start by checking to see if your boat has a lightening coil already installed. Some motors may show two green wires coming out from under the flywheel.
Your regulator/rectifier should have four wires: a black wire, a red wire, and two other-colored wires. They may both be green, both be yellow, or be some combination of yellow, green, and blue.
These other-colored wires are the AC-in wires. The red and black wires are the DC-out wires. The red is positive and the black is negative.
If your engine has a pull starter, disconnect the two wires that come from the flywheel and connect them to the two other-colored wires on your regulator/rectifier. Connect the black wire on from the regulator/rectifier to the negative pole of your batter and the red one to the positive pole.
If the boat does have a starter motor, run your negative wire to the ground on the engine block. The positive wires would run to the place where the battery power comes into the starter solenoid.
This reduces the number of wires and the amount of wiring that you have to run, but achieves the same results.
If you need to install a lightning coil, too, purchase one that fits your boat's motor. Then remove your flywheel and screw the lightning coil into place, like in the beginning of the video below. Make sure the screw holes line up and your bolts are locked into place.
DIY How to add a battery charging coil to a Mercury outboard, install a charging coil to an outboard
Note that smaller outboard motors produce less charge than larger ones do. However, larger motors also need larger batteries if you are going to get optimal efficiency and runtime from them. This means that the battery will require more charge.
If your outboard motor cannot keep up with the energy your battery expends, you will need to charge it between uses, as well. This ensures that you start each day on your boat with a fully charged battery.
Can You Solar Charge a Battery While Using It?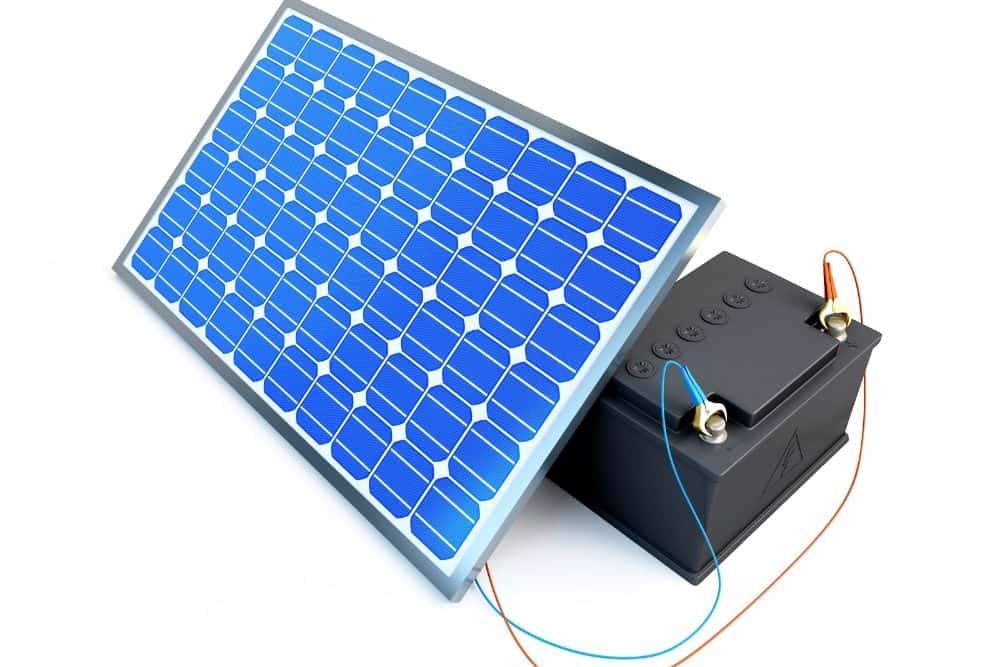 The answer to this question is complex and depends on how you use your boat's battery.
If you have a solar panel that charges your boat battery, you can use it to charge the battery while it is on your boat. However, it will not charge while the battery is expending power.
Most anglers do not do things that draw power from the battery all the time. When you're not using the battery, the solar panels will keep charging it.
If you run your trolling motor constantly, though, or you have lights, GPS, and other systems hooked up to it, your solar panels may not have a chance to recharge it.
Also, while solar panels can help replace some of the energy that leaves your battery, you may not be able to replace all of it with solar energy while the boat is moving. It takes a significant solar array to replace as much electric energy as a battery can discharge.
Most anglers do not have boats that are large enough to support these arrays. The arrays are also expensive, so it may not be worth your money to buy them.
There are a few newer solar options that may have more power and provide more power for the battery. These are quite expensive and may not work with all batteries, so check your system before you install one.
Most solar panels made for recharging boat batteries are intended to be used when the boat is not in motion. They can recharge your battery when the boat is on its trailer or in your garage, so the boat is ready to go again when you need it.
No matter which type of solar charger you choose, make sure it is connected properly before you use it. That will keep your battery safe and ensure optimal charging.
Solar Power Battery Charger for Boat
Other Onboard Battery Chargers
If your motor is not producing sufficient charge for your battery or you don't want to invest in a solar charging system, there are other onboard battery charging options.
These will need to be wired into your boat's electrical system by a certified electrician. They are not solar-powered but will, instead, get power from your boat's motor as it is running.
This may seem like an extra and unnecessary step, but these chargers can often charge your battery more efficiently than connecting it directly to the motor.
Once installed, these chargers can help you charge your boat battery both while the boat is running and after it has stopped. You can purchase setups for one battery or for charging multiple batteries at once.
Should You Disconnect Boat Batteries When Charging?
Different people have different thoughts about this question.
If you are actively using your boat, you should not disconnect the battery. It should charge off the motor, so it needs to stay connected to recharge.
If you are not actively using your boat but the boat is stored in the water, do not disconnect your battery. If you need to disconnect it to recharge it, make sure you connect a different battery.
You'll want to do this in case your bilge levels rise beyond what is safe. As long as there is a battery connected, the bilge pumps will turn on. Without a battery, you risk massive damage to your boat.
If you are not actively using your boat, the safest option for charging is to disconnect your boat's batteries before you connect them to a charger. This does a couple of things.
First of all, this can help you save battery power. There may be things on the boat that draw on its power even when the boat is turned off. While this draw is minuscule, it will add up over time and drain the battery.
Secondly, detaching your boat's battery to charge it helps you avoid damage to the battery and the boat.
It is possible to charge your boat's battery without disconnecting it. You will want to make sure that your charger will stop charging the battery when it reaches optimal capacity.
You will also want to make sure that your charger has been built within the last 5 years. Before that, some chargers were still unreliable. Technological advances have allowed modern chargers to charge precisely and accurately every single time.
Look for a multistage charger to handle all of your battery recharging needs. Then, you may not need to unhook your battery ever again.
Sale
Last update on 2023-12-05 at 18:16 / Affiliate links / Images from Amazon Product Advertising API
How to Disconnect a Boat Battery
If you do need to disconnect your boat battery for any reason, here's what you need to do.
Open the battery compartment and check for leaks, oxidation, or corrosion. Gently clean up any problems that you find.
Remove the negative cable from the battery.
Remove the positive cable from the battery. Do not let these cables touch each other.
Remove the battery from the battery compartment.
Place the battery somewhere safe and dry, and where the temperature is neutral.
How to Disconnect a Boat Battery
Can You Overcharge a Trolling Motor Battery?
Yes, you can overcharge a trolling motor battery. Some chargers frequently overcharge just slightly, because they assume that you will not immediately be using the battery and they want you to have a full charge when you do.
However, overcharging your battery even a little bit can damage it. Overcharging it makes the acid inside of it boil. Over time, this can cause the battery to crack. At that point, it will not function for you anymore and you will need to replace it.
Can You Undercharge a Trolling Motor Battery?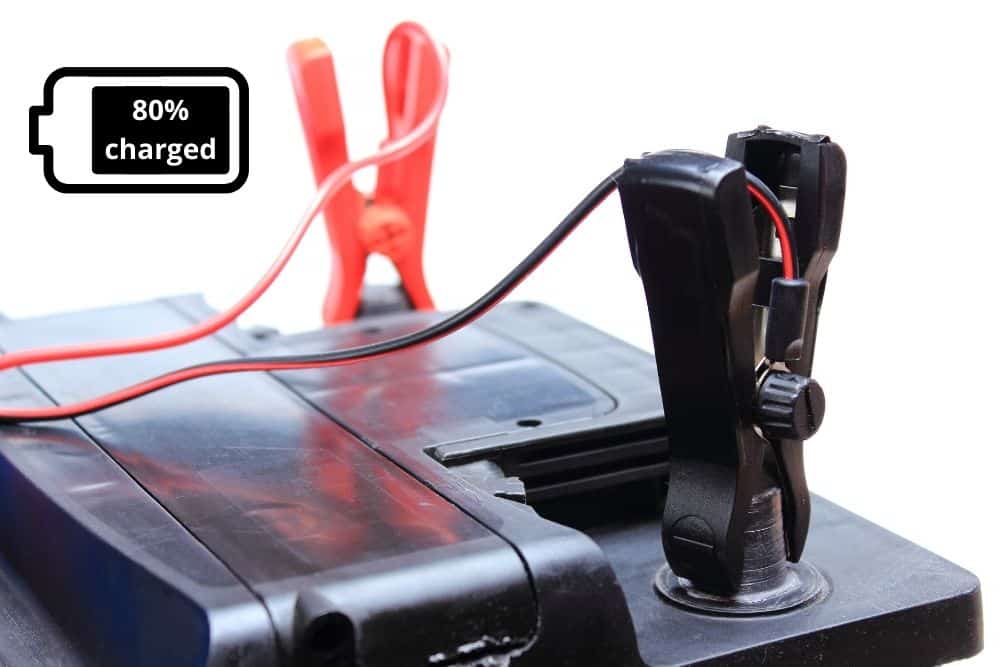 You can also undercharge a trolling motor battery. Over time, this leads to a process called sulfation, where sulfate crystals form on the negatively charged plates inside the battery.
It takes a while for these crystals to develop, so you may not notice a difference in performance right away. However, the overall life of your battery will be less than it otherwise would have been.
How Do I Get the Right Charge for My Trolling Motor Battery?
Buy a boat battery charger that automatically detects the type of battery that you have and its ideal charging settings.
The NOCO Genius Gen5X2 is a great option. It optimizes your charging to make sure that the battery never gets overcharged.
Sale
Last update on 2023-12-05 at 07:36 / Affiliate links / Images from Amazon Product Advertising API
It also optimizes charging based on the outdoor temperature. This is one more step to ensure that the battery does not get over-or undercharged.
The ProMariner ProSport HD is another great option. It only works for one battery at a time but offers faster charging while still avoiding overcharging and extending the battery's life.
Sale
Last update on 2023-12-05 at 18:16 / Affiliate links / Images from Amazon Product Advertising API
Conclusion
Now you know how to make sure you get the most out of your boat battery. You can use the outboard motor to charge it while the boat is running.
Once you're done with your fishing trip, you can connect the battery to a solar charger or another battery charger. Just make sure that your battery gets its optimum charge.
As long as you don't consistently over-or undercharge your boat battery, it should last for a long time!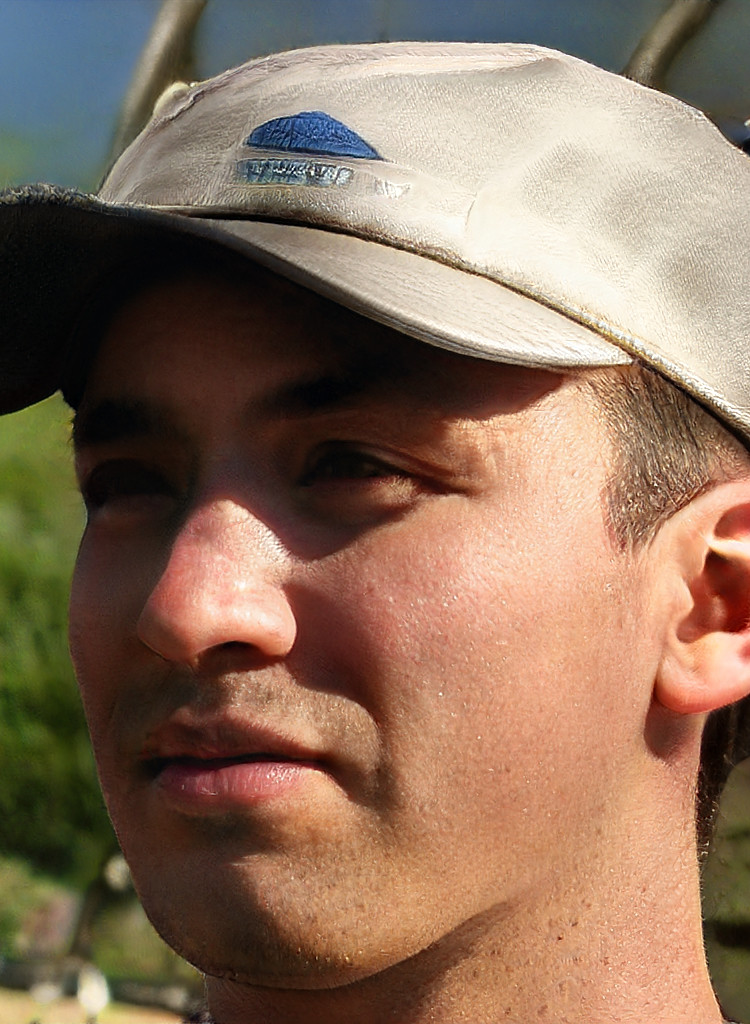 I created this site to help people – to help you – with your boat problems. Instead of helping one person at a time, I want this website to be the "one-stop-shop" for everyone's boating concerns. Read more.