We all know kayaks are pretty small-looking, lightweight boats.
Is there any chance they're stronger than they look?
Maybe someone in your circle is planning a kayak trip, and you want to go, but you're wondering if one of those little boats can hold your weight.
Or maybe you're a parent wanting to introduce your kids to kayaking, but you're afraid their added weight in your kayak might sink the boat.
Whatever the reason, you need to know: do kayaks have weight limits?
Keep reading.
In this article, we'll discuss this question in detail.
We'll also look at the risks involved with exceeding a kayak's weight limit and talk about some good-quality kayaks with higher weight allowances.
Let's get started!
Does Kayaking Have a Weight Limit?
The short answer is yes.
All kayaks have a recommended weight limit, but not all kayaks have the same weight limit.
In general, most kayaks can hold anywhere from 250 to 400 pounds. Some heavy-duty and tandem kayaks can hold significantly more, up to 700 pounds or more.
Keep in mind, the total weight allowance is for you plus whatever gear you're carrying.
Recreational and touring-type kayaks generally have the smallest load capacity. These are the types of kayaks you're probably most familiar with.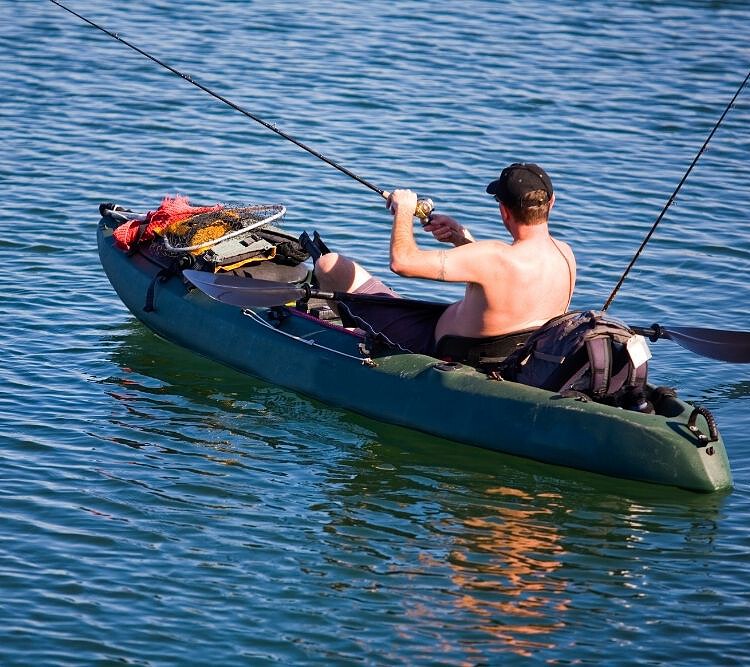 A fishing kayak with a boatload of fishing gear
But there are also other types of kayaks. Fishing kayaks, for example, may have a higher weight capacity because they're designed to carry a boatload of fishing gear.
Tandem kayaks usually have the highest weight capacity because they're made to carry two or more people.
Some kayaks are simply built larger and better than others and may have a higher weight limit as a result.
While the above numbers give you a general idea, remember that each kayak is going to have its own weight limit.
It's also worth noting that the kayak's weight limit is given as the maximum weight capacity, not as the ideal capacity. Any load approaching this weight limit will still put the kayak under stress and may reduce its efficiency in the water.
It is recommended that the total weight in the kayak should be 25-30% less than the given weight limit.
If you're worried that your weight, combined with your children or any supplies you plan to take, may max out your kayak, always double-check the weight limit of the boat you plan to use.
If you're still not sure at that point, it's best to err on the side of caution: buy or rent a kayak with a higher capacity.
What Happens If You Exceed the Weight Limit on a Kayak?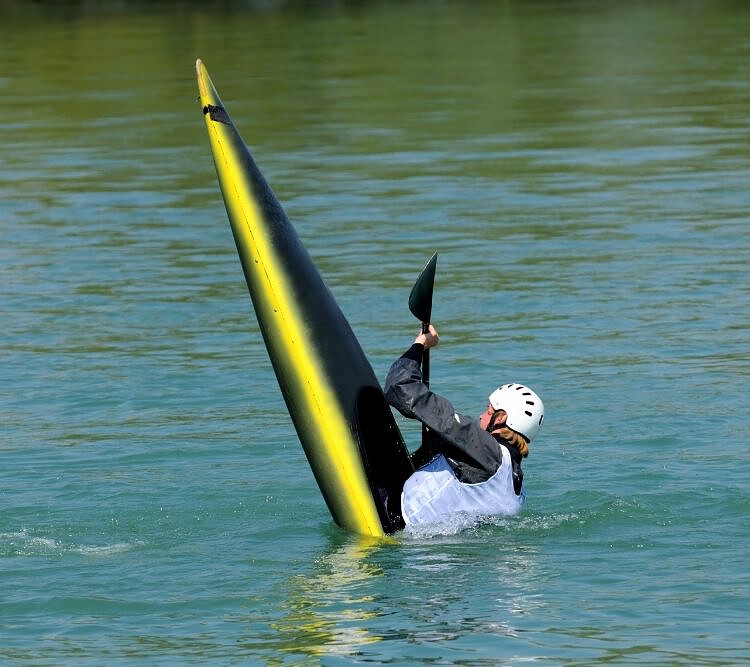 Overloading a kayak can have several negative effects.
If you get too close or go over the weight limit, the boat will sit lower down in the water, and you'll probably get wet during the course of your kayak trip.
You'll have a harder time paddling the boat, both because you're sitting so low in the water and because the boat will be more sluggish from the extra weight.
The boat will move much more slowly than it should and will be more prone to tipping over.
And of course, exceeding the weight capacity puts you at risk of sinking below the water line.
With that in mind, you should never exceed the manufacturer's weight limit for any kayak.
And, for best results, you should try to stay at least 25-30% below the given weight limit. The kayak will perform best if it is well within its abilities and not pushed to its limits.
Can someone who weighs 300 pounds go kayaking?
Yes, it is possible for someone who weighs 300 pounds to go kayaking, provided they are well within the limits of their boat's capacity.
Say, for example, the boat has a maximum weight limit of 400 pounds. Technically, a 300-pound person is within the limit and can use that kayak.
However, if you subtract 25-30% of 400, you find that the ideal weight for this particular kayak is 280-300 pounds. A 300-pound person can still use this kayak, but any gear they take could put the kayak under stress.
Ideally, the best kayaks for people who weigh 300 pounds would have a maximum weight capacity of 450 pounds or more.
What is the Best Kayak for an Overweight Person?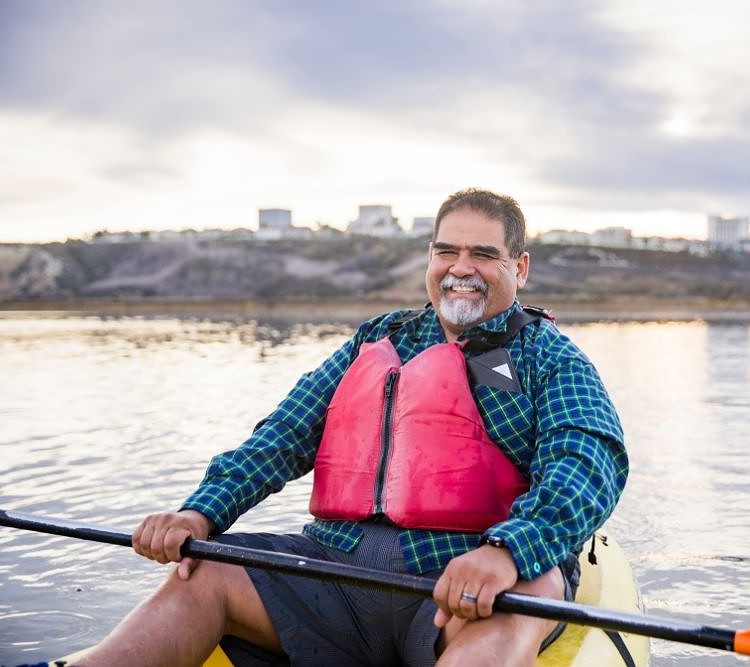 Again, it all goes back to determining the maximum capacity and the ideal capacity of a specific kayak.
It will also depend on the weight of the person using the kayak.
In a general sense, the best kayaks for overweight people are fishing kayaks, tandem kayaks, and inflatable kayaks.
Fishing kayaks, as mentioned earlier, hold more weight because they're designed for hauling a bunch of fishing gear.
Tandem kayaks, while made for holding two people, can be used by just one, and they often have maximum capacities up to 600 or 700 pounds.
Good-quality inflatable kayaks generally have higher weight capacities than comparable hard kayaks. Many of them have maximum capacities of 500 pounds or more.
Always remember to check the specific weight limit of the specific kayak before buying or using it.
What is the Best Kayak for Multiple People?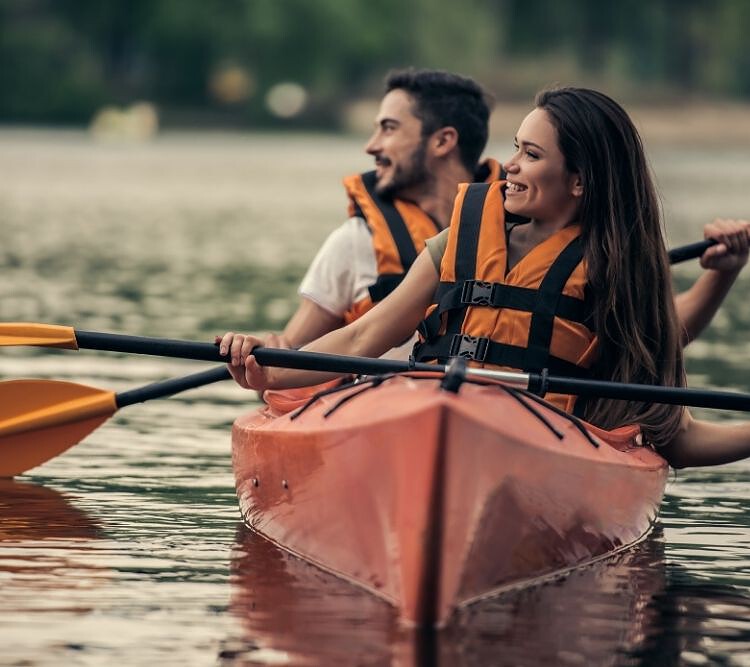 This will depend on the collective weight of the people involved, any gear they plan to take, and whether or not they are children who have never been kayaking before.
Generally, tandem kayaks are the best for multiple people, but inflatable and even fishing kayaks may also be useful.
Tandem kayaks like the two below are best for two people and usually have the weight capacity to support two full-grown adults. They are also a good choice for a parent taking one child out on the water, especially if the child already has kayaking experience.
Sale
Last update on 2023-12-05 at 09:37 / Affiliate links / Images from Amazon Product Advertising API
Last update on 2023-12-05 at 09:37 / Affiliate links / Images from Amazon Product Advertising API
Inflatable kayaks may allow for an adult and two or three children, depending on the weight limit. Using an inflatable kayak is a good way to introduce children to kayaking and for taking multiple children out on the water at once.
Sale
Last update on 2023-12-05 at 09:37 / Affiliate links / Images from Amazon Product Advertising API
Fishing kayaks may also support a parent and multiple children, provided the boat isn't also loaded up with gear and supplies.
Again, checking the specific weight capacity before using a specific boat is extremely important.
Conclusion
And there you have it.
It's always a good idea to know your kayak's weight limit and ideal capacity before hitting the water. Weighing the boat down too much can cause it to take on water, move sluggishly, and even capsize.
And that would be a frustrating end to a perfectly good day on the water. Wouldn't you agree?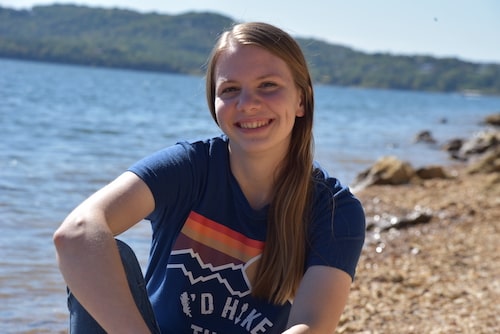 Sarah Hood has been writing for Anchor Travel since 2021. When she's not writing, she enjoys cooking, singing, and spending time in the great outdoors.