If you're someone who loves to go kayaking or cruise around in your inflatable boat and you have a dog, it's only natural that you'll want to bring your dog with you.
So the question is, can dogs go on inflatable boats or kayaks?
The answer is yes.
Most kayaks are built quite tough and can support the weight and the claws without any trouble.
However, there are safety precautions that you should consider to ensure your dog is safe, and you'll also want to know whether your dog likes to be around water or not.
In this article, we'll cover:
What it takes to let your dog get on the inflatable or kayak with you
How to customize your inflatable boat for your dog
What should you carry onboard when taking your dog with you
Safety precautions to follow to keep your dog safe
Three best inflatable boats for your dog
Let's get started!
Can You Put a Dog in an Inflatable Kayak?
Yes, inflatable kayaks are much sturdier than they used to be. Most inflatables have a PVC or Hypalon fabric that is puncture and tear-resistant, meaning that they can withstand your pet's claws.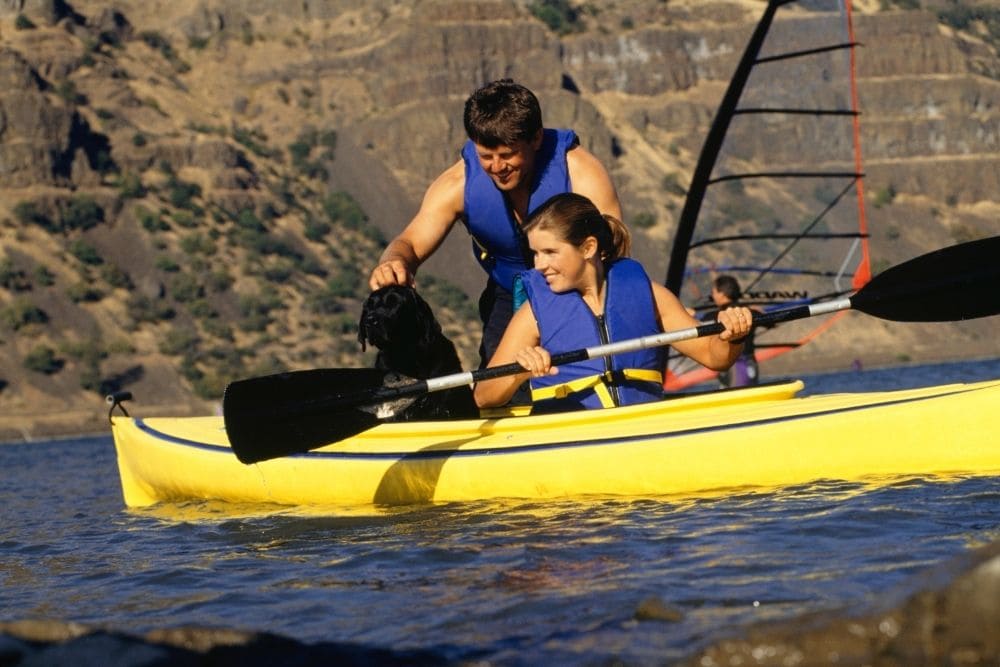 These dinghies have a multilayer construction that prevents even sharp rocks from puncturing through them.
In addition, the kayaks are very stable and have rigid floors to ensure your dog feels safe while boating.
To be safe, you can always go through your kayak's product manual to ensure that it is pet-friendly.
How to Customize Your Inflatable Boat for Your Dog?
There are a few things you can do to optimize your inflatable to bring your dog on board.
First, you may want to install vinyl flooring or carpeting on your boat's floor.
Although an air floor PVC material is designed to be puncture-resistant and strong, it still can be punctured with the right amount of force applied. It's quite unlikely that it'll happen, but it's better to air on the side of caution.
In addition, you'll want to have a kayak or boat that has higher sides than normal to help contain your pet and keep them dry.
Your boat should also have enough space to fit your dog, your gear, and you inside with room to space. A spacious boat allows your dog to move around or switch sides of the boat without feeling constrained.
If you have a large dog, you should get a boat designed to occupy two people. When boating, make sure to sit on the back of the boat when paddling so that you can watch your pet at all times.
What Should You Carry Onboard When Taking Your Dog With You?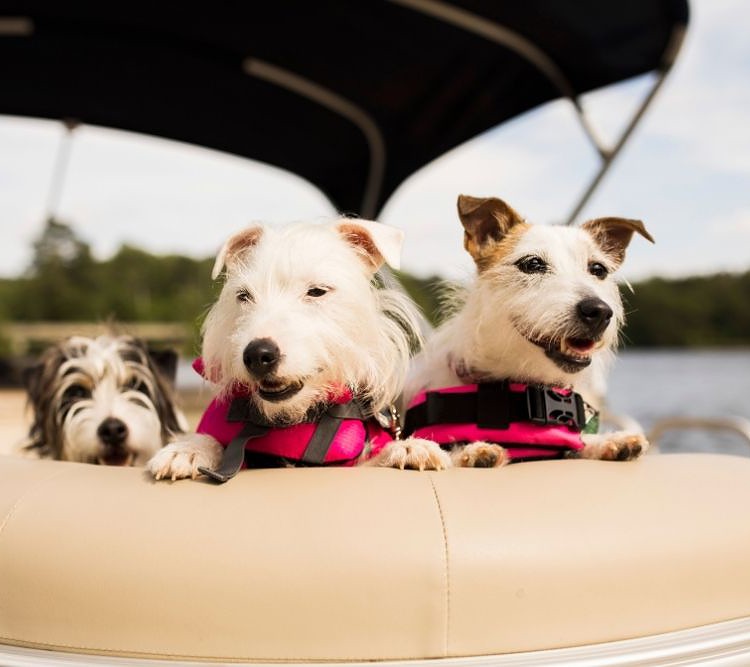 When taking your dog on long boating trips, there are a few items that you should always bring with you to keep your dog safe and comfortable:
Some treats to help your dog stay calm
Poop bags in case your dog needs to relieve themselves
Life jacket in the event the boat capsizes, or they jump off
Carry water and some food to quench their thirst and hunger
A waterproof sleeping pad to keep them comfortable
A leash in case you need to keep them still
Dog sunscreen for their ears and nose
AMOFY Pet Mats, 43"X26", Exceptionally Hygienic, Non-Slip, Water Resistant, Comfortable and...
Epi-Pet K-9 Care Sunscreen, Paws to Tail Protection, Prevents Sunburns on Dogs and Horses, Sun...
AMOFY Pet Mats, 43"X26", Exceptionally Hygienic, Non-Slip, Water Resistant, Comfortable and...
Epi-Pet K-9 Care Sunscreen, Paws to Tail Protection, Prevents Sunburns on Dogs and Horses, Sun...
Last update on 2023-12-05 at 15:37 / Affiliate links / Images from Amazon Product Advertising API
Safety Precautions to Follow
Even if you've trained your dog to remain calm in the boat, you'll still want to carry around a life jacket specifically designed for dogs.
These life jackets vary in size, so make sure you find one that fits your pet. Some dogs will get overly excited by seeing other animals or dogs and may have an impulse to jump off the boat.
In case they do jump, they won't drown, and you'll be able to rescue them quickly. With a doggy life jacket or PFD, your dog may get swept up in a current, hit its head, or get a cramp from the cold waters.
Even though you can bring your dog onto your inflatable, that doesn't mean you should. Make you train your pup to get comfortable inside of the boat and not leave the boat until you tell them to.
Some dogs will catch on quicker than others. You'll want to practice onshore first until they get the hang of it. Then you can practice in shallow waters while you are staying stationary.
Also, make sure your dog listens to your commands so that even when they get distracted, you'll be able to keep their attention on you.
3 Best Inflatable Boats for Dogs
After researching dozens of inflatables, we've narrowed our list to what we believe are the top three inflatable boats in the market.
1. Intex Excursion Inflatable Boat Series
When it comes to keeping your dog safe, the Intex Excursion checks all of the boxes. This boat has an open structure design so that your dog can freely move from one side to another without feeling restricted.
It is also roomy enough to fit five passengers, so you'll be able to invite your family members or friends as well.
Due to the open space design of the interior, this watercraft is best suited for lakes and mild rivers.
Passengers can also enjoy a comfortable backrest to prevent back pain from long periods of sitting.
The Excursion used an I-Beam floor for stability and rigidity. In addition, it includes three air chambers inside the main hull to add more buoyancy to prevent the likelihood of capsizing.
The boat is made from a puncture-resistance PVC vinyl material to prevent your pet's claws from scratching or tearing the inflatable.
It also includes fittings for a motor mount so that users can easily add a trolling motor to their boat. This means they can operate hands-free or navigate without having to paddle.
Pros:
It fits up to five passengers, which is more than enough space for you and your dog
Sides are high to prevent splashing and keep your dog dry
Made of heavy-duty puncture-resistant vinyl
Uses an I-Beam floor construction for rigidity and stability in the waters
Gear pouch to store your doggy accessories
Cons:
The boat may feel heavy to carry around due to its durable construction
2. Sea Eagle SE370 Inflatable Kayak
There are a few advantages to going with an inflatable kayak. Kayaks are much easier to navigate than a standard inflatable boat and are also more portable since they are lighter.
The Sea Eagle SE370 carries up to three people, giving you more than enough space to transport you and your pooch.
In addition, it has a whopping max capacity of 650 pounds, meaning it is a great fit for large dogs.
Something that makes the SE370 stand out is its adjustability and generous cargo space.
The seats can be adjusted or removed, giving you the option for more space. Its built-in storage space lets you carry all of the essential dog gear that you'll need.
Also, we like that the SE370 is self-bailing, meaning that it has a one-way valve to drain any water that gets onto your inflatable. This helps to ensure that your dog stays dry throughout the ride.
Another unique aspect it's its two rear skegs that provide better speed and tracking. The skegs are made of molded plastics meaning they won't be damaged by hitting rocks.
These skegs help to move your inflatable kayak faster while paddling less. This allows you to pay more attention to your dog while you're riding.
For those who want better navigation and better portability, we recommend the Sea Eagle SE370.
Pros:
Features two molded skegs on the bottom to go faster with less paddling
Very lightweight and portable
Offers back support to keep you comfortable on long boating trips
Can cruise through class III white waters while still maintaining stability
Narrow design allows it to navigate in narrow streams
Cons:
Floor air chambers don't have a pressure gauge
3. Intex Mariner Inflatable Boat Set
The Intex Mariner is one of the most durable and well-constructed inflatables in the market. It uses three different layers of rugged PVC for high strength and protection.
There's an inner layer of polyester mesh to add more reinforcement along with two outer layers of heavy-gauge PVC. It also comes with a keel rock guard on the boat's exterior to prevent sharp rocks from puncturing the boat.
In addition, it has an extruded plastic flooring and three separate tubings on the inside to keep your pet secure from rocking back and forth.
The boat can suit up to four people, so there's plenty of space for you, your furry friend, and other passengers.
With the four Boston valves, the setup is incredibly quick. These valves let you inflate and deflate the boat in minutes.
Since the Mariner has quite a wide and big frame, it's easy to add a trolling motor on top, so you can move without needing to paddle.
Pros:
Made of three layers to prevent your dog from puncturing the inflatable
It fits up to four people
Includes four Boston valves for quick inflation and deflation
Heavy-duty plastic flooring ensures stability and allows you to stand on top
It offers two grab handles for safety
Cons:
The boat weighs 91 pounds which is about four times more than the Sea Eagle SE370
Conclusion
Taking your dog out with you on your boating trips can be incredibly fun. Dogs hate to be alone, so why not take them along?
Just make sure you get the right inflatable boat with lots of space and durable construction. And get yourself a doggy life jacket to keep them afloat in the event of capsizing.
Now that you know the basics of taking your dog on your inflatables, it's time to get in the waters with your favorite furry friend!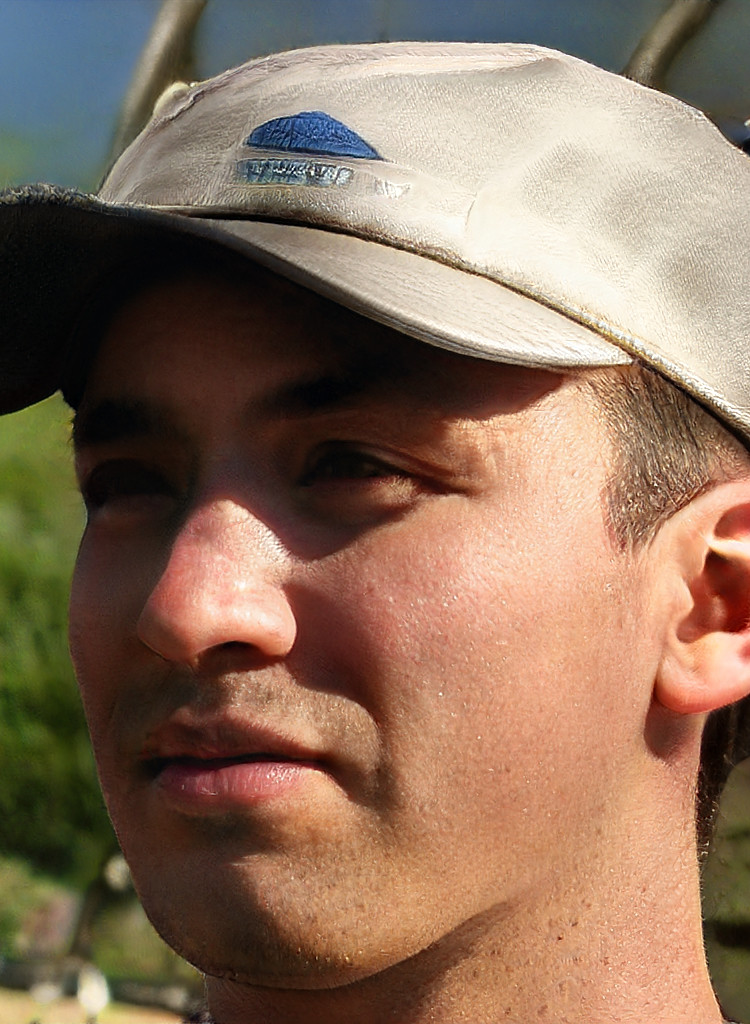 I created this site to help people – to help you – with your boat problems. Instead of helping one person at a time, I want this website to be the "one-stop-shop" for everyone's boating concerns. Read more.