Many boaters prefer bow mount trolling motors because they are more efficient and often have more control options than transom mount motors.
The nice thing about transom mount motors is they can often just be clamped onto the transom, or onto a mounting rack attached to the transom.
With bow mount motors, the process is often a little more involved. You may have to screw a mounting plate down onto the bow of your boat, which may require drilling some screw holes.
But what if your boat is made of fiberglass?
Can you put a bow mount trolling motor on a fiberglass boat?
And if so, how do you install it, and what are the benefits of using a bow mount motor?
Keep reading.
In this article, we'll answer all of these questions.
Can You Install Trolling Motors on Fiberglass Boats?
If you're thinking about mounting a trolling motor on your boat's bow, you may be worried about cracking or damaging the fiberglass.
Is there a way to prevent damage to your bow?
Is it possible to use a bow mounted motor with your fiberglass boat?
Yes, it is possible, and there are several ways to do it without causing harm to your boat. The exact method you use will depend on the type and size of boat as well as the type of trolling motor.
In many cases, the trolling motor you choose will come with brackets or bolts to be used for the installation. These are specially-made parts intended to protect your boat from damage caused by vibrations or bumping.
Before buying a trolling motor, check the specifications to see if it is rated for fiberglass boats. If it doesn't say on the label, you may still be able to use it, but it's best to select one that you know was made with fiberglass boats in mind.
If you already have a trolling motor and you're not sure how it will work on your fiberglass boat, do a quick internet search for the brand and model number and see if anyone else has successfully mounted the same type of trolling motor on a fiberglass boat.
You may also be able to use a toggle bolt system to secure the motor in place, but again, this will depend on the size of the bow and the type of trolling motor.
Another good option, particularly if you're using a Minn Kota trolling motor, is to purchase the company's installation hardware kit. This includes all the necessary parts to effectively mount a Minn Kota motor on any boat that it's rated for. Get yours here.
How do You Install a Bow Mount Trolling Motor on a Fiberglass Boat?
Most bow mounted motors are attached to a plate that is screwed down onto the bow. For mounting any specific trolling motor, follow the instructions included with the owner's manual.
General instructions for mounting a trolling motor are as follows:
Decide where you want the motor to go. Depending on the boat and motor size, you may want to mount it directly in the middle of the bow to prevent a weight imbalance. Other times, you may prefer to mount it slightly to port or starboard.
Mark the holes to be drilled. Using the mounting plate as a guide, mark the spots where you'll need to drill the screw holes.
Drill the holes. You'll want to use a high-speed steel drill bit or other sharp bit rated for fiberglass use. Drill down about ¼ of an inch. You'll need to countersink the holes so the screws will sit flush against the surface.
Place the hardware. Using whatever parts are included with the motor or installation hardware kit, place the bolts or screws through the holes in the mounting plate, and set the washers in place.
Set the bolts in the screw holes. When you do this, make sure the mounting plate sits flat against the bow. If it doesn't, you may need to add more washers onto some of the bolts until the plate is level.
Tighten everything in place. Tighten nuts onto the bolts to secure the base to the bow.
Attach the shaft to the base. Different trolling motors may attach differently, so be sure to follow the specific instructions. The motor head and controls should already be attached to the shaft.
Before starting, it might be helpful to watch a tutorial video like the below so you can visualize the process ahead of time.
How to Perform Bow Mount Trolling Motor Installation - Minn Kota Terrova, Ulterra, Ultrex
What are the Benefits of Bow Mount Trolling Motors for Fiberglass Boats?
So now that you know it's possible to install a bow mount trolling motor on your fiberglass boat, you may be wondering:
Are there any benefits of using a bow mounted motor over a transom mount?
Which one is better for a fiberglass boat?
There are no specific advantages to using a bow mounted motor over a transom mounted motor on a fiberglass boat. That said, there are some advantages to using a bow mounted motor in general.
As noted above, bow mount trolling motors generally have a wider variety of controls. You may be able to operate them standing or sitting, using either your hands or your feet. They may be able to go at several different speeds.
Bow mounted motors also work more efficiently than most transom mounted motors. Because they're mounted on the front of the boat, they pull it forward through the water, which may require less power than the pushing action used by transom motors.
In addition, because of the multiple control settings, you can use only as much power as you need for any given water conditions, which in turn will help conserve the battery.
Conclusion
And that's all there is to it!
Mounting a trolling motor on the bow of your fiberglass boat is perfectly fine as long as you're using the right kind of motor and, especially, the right kinds of hardware.
If you follow the instructions in this guide as well as those included with your trolling motor, you should have no problem installing a bow mount trolling motor without damaging your boat.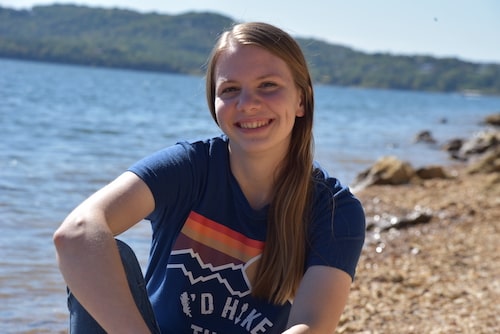 Sarah Hood has been writing for Anchor Travel since 2021. When she's not writing, she enjoys cooking, singing, and spending time in the great outdoors.