A GPS system is of great value to the modern fisherman. It puts you in charge of your motor's performance.
Minn Kota and MotorGuide both offer top-notch GPS systems, but which one is the best?
Let's compare and see.
Important Factors To Consider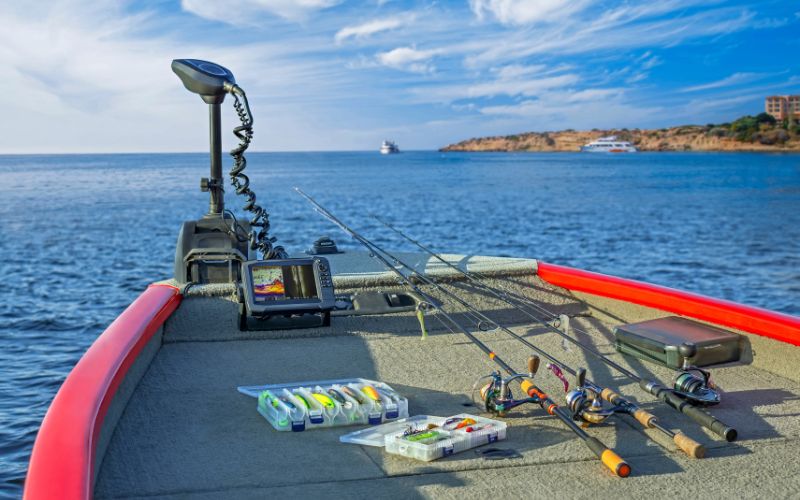 There are important factors to consider when comparing GPS systems. According to boatsafe.com, these features include maps, tools, portability, power, and whether they are waterproof.
You need to know if the maps come pre-installed on the device or if they are uploaded. Do the maps cover freshwater and what countries do they cover?
Many units include fish-finding tools. And find out if the device that you are considering has a way to help you in an emergency.
Can you get weather updates? Does the unit include a compass and a barometer?
Also, look for a unit that is portable. Portability is most important if you fish from more than one boat.
You also want to consider the battery life. There are two popular system types: units with their own batteries and units that depend on the boat's battery. Battery life typically ranges from three to twenty hours.
Finally, be aware that there are different degrees of waterproof. Units can range from not being waterproof at all, to being waterproof in depths of over three feet.
Next, check out the device interface. Does it have a touch screen or a keypad? Keypads are the better choice because they work better when exposed to water.
How Minn Kota i-Pilot Works
The Minn Kota iPilot offers some amazing features to put you in full command of your motor and your cruise. Using the app, you decide speed and direction.
Let's say you want to secure a spot that your fisherman's sense tells you is loaded with fish. The Spot-Lock allows you to secure that spot and even drift five feet in any direction.
If you want to keep moving, circle mode is your best choice. Imagine circling around a hot spot that is loaded with fish and preparing to make your strike.
Using built-in charts and maps, iPilot automatically navigates while you concentrate on the water and the treasure waiting below. It keeps the odds of success in your favor.
Found a great spot and want to save it? You can save your successful path and spot with the i-tracks feature. That takes the guesswork out of remembering the best spots.
Maybe you want to alter the location to test the waters. The offset feature allows you to do just that. That way you can cast from up close or even from a distance.
Think that you may have ventured a little too far? No problem, the backtrack feature lets you retrace your path. It even lets you break down the path into 0.1 mile increments.
Experiment. Combine your spot locks and waypoints to produce a unique path. Then just use your Go-To feature, and you will return to your selected spot automatically.
Want to automatically adjust for the wind and current? Push the button on the Advanced Auto Pilot and it's a snap. Just point your motor in the direction you want and the system does the rest.
With the remote, you can turn the props on and off automatically. Take any position on the boat and cast your line. That's the beauty of the Copilot feature.
And controlling the speed is easy with the Cruise Control feature. Slow down or speed up to change the way that your bait seduces your prey.
All of this, and Minn Kota even teams up with Hummingbird. They call it the "One Boat Network". And they are constantly working to produce more features.
So the iPilot is a GPS-integrated system that gives you all levels of control. From your first trip planning to alter your path and the way you attract the fish during your trip, to documenting and retracing your path. The Minn Kota iPilot gives you the features to put you in complete control.
All of this with, plus you get a two-year warranty and a friendly return policy. Minn Kota stands behind its iPilot so you can relax and concentrate on finding the fish.
How MotorGuide Pinpoint Works
MotorGuide offers a high-quality GPS system of its own with its Pinpoint system. You can store locations and control your trolling directions. It offers navigation and speed control features, as well.
If you like to record routes for return trips, the Pinpoint system includes an eight-trip capacity. And in anchor mode, you can move in five-foot increments in whatever direction you like.
The Pinpoint system is lightweight and easy to install. Using the remote, you are in command of an upper and lower GPS compass. The receiver yields precise and accurate measurements.
The system is compatible with Xi5 motors. Have an older model Xi5? No problem, the Pinpoint is compatible with those as well. It uses plug-and-play connectors and easily installs in less than fifteen minutes.
Or, if you have a Xi3 motor, you can install it to your anchor lock without the need for extra equipment. And if you don't have a fish finder, no problem!
A fish finder is not necessary for the Pinpoint system to work.
If you're heading out in windy conditions, you don't need to make any special arrangements. You will find that your boat will not meander and you will have an easy time keeping control.
Do you like to fish along shorelines? Just set the speed on the heading and you will be all set.
Need step-by-step installation instructions? For your convenience, the following video is available to guide you through. And the Pinpoint is available as an integrated system or as a simple upgrade.
Motorguide Xi5 Unboxing, Pinpoint Module Installation and Testing
The Pinpoint comes with four distinct features.
The anchor feature allows you to maintain specific coordinates.
The Heading lock allows you to keep up with exact compass readings.
The route feature records and plays back particular paths.
And the cruise control maintains your speed.
While the Pinpoint makes your motor run like new, MotorGuide even provides clues on when it is time to replace your system. An early clue comes when you are not maintaining the place you have anchored. Also, you may notice that your motor is not maintaining its course in a straight direction. Or, the motor is not picking up the GPS signal.
Other factors to watch out for are steering difficulty and a remote that is not reacting to your command. So MotorGuide does not just sell you the Pinpoint and then forget you. Instead, they are with you when it is time for replacement, as well.
According to thehulltruth.com, MotorGuide offered a better GPS algorithm feature and that is when sales took off. Instantly, the MotorGuide anchor and autopilot features improved dramatically. Motorguide capitalized on mathematical formulas known to enhance motor efficiency.
Algorithms Used To Improve Efficiency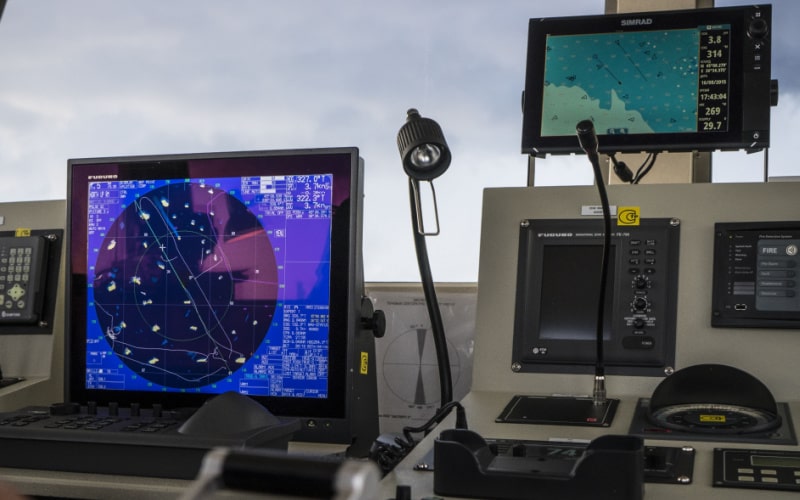 And there lies the secret of how Gps works. Algorithms have long been used to improve the efficiency of all types of motors, and boat motors are no exception. Minn Kota and MotorGuide are constantly looking at algorithms.
Basically, three types of algorithms help to improve motor control. These include Trapezoidal control, Sinusoidal control, and Field-oriented control, according to controleng.com.
In the Trapezoidal control method, the motor drive creates a path between two windings. But motor performance is limited because of resulting vibration, mechanical wear, and noise.
In the Sinusoidal, or voltage over frequency control algorithm method, a controller pushes motor windings with currents. The advantage of the Sinusoidal method over the Trapezoidal is that there are no torque ripple issues, so the motor has smoother rotation. Although the Sinusoidal method typically results in better motor control, the algorithm does not consider phase interactions, so you will find that when you are at higher speeds the motor performance suffers.
The best algorithm used to promote motor performance is the Field-Oriented Control, commonly known as the FOC. When you are at high speeds you can expect better performance. It yields the best torque per watt and the best speed control.
Basically, the advantage of the FOC algorithm is that you get direct control of the torque. Using mathematical formulas, the motor rotation is controlled, resulting in the best performance.
And improving motor efficiency results in savings too. If you run a 500-horsepower motor for 8,000 hours in a year, you would save more than $12,000 in energy costs. Energy costs typically far outweigh hardware costs when it comes to motor expenses.
But Minn Kota met the MotorGuide challenge and struck back with its auto stow and deploy feature. This made it easier to fish in rough waters and windy conditions. It was no longer necessary to lean over the bow to raise the motor.
Minn Kota offers jogging feature. This allows you to change your boat's place without resetting the spot-lock.
The Minn Kota remote is rated as better than The MotorGuide remote by the hulltruth.com.
The iPilot also offers a handy display with lots of great information. You can read motor status, battery charge and differential settings.
Also, the spot lock function on the previous generation i-pilot would not hold your boat in as small of a radius as the MotorGuide Pinpoint.
Side By Side Comparison Chart
With a comparison chart, you can observe the similarities of the Minn Kota i-Pilot and the MotorGuide Pinpoint.
Minn Kota i-Pilot
MotorGuide Pinpoint
How to use
Press LCD button to activate
Press heading button upper left corner
How it works

Press anchor button to activate to maintain your position
Press N button to pick a heading
Press max speed button on bottomright to increase speed
Press min button on bottomleft to decrease speed
Press remote buttons to select features
Press and hold LCD button for three seconds to turn off

Press anchor button to maintain your position
Press heading lock button to drive
Press cruise control button right corner
Press dot to record and playback button on right to playback

Affordability
Rated as affordable
Rated as more affordable
Safety
Press anchor to keep on course safely and fish instead of drive
Press anchor button on left to keep on course and fish instead of drive
Conclusion
Returning to our list of important factors, you will find that both the Minn Kota iPilot and the MotorGuide Pinpoint have maps, compasses, barometers, touchscreens, and keypads. Both are portable with six hours or more of battery life. Users report that Minn Kota may be more tolerant of water.
The MotorGuide GPS system is typically a little more economical than the iPilot, and it will communicate with the Lowrance HDS. But, according to colorodofisherman.com, Minn Kota has better link features.
The Minn Kota and Hummingbird combination is used to map a contour. The MotorGuide and Lowrance combination only gives a track to reach a certain point, not a contour.
So, in this analysis, Minn Kota iPilot rates better than the MotorGuide Pinpoint Gps system.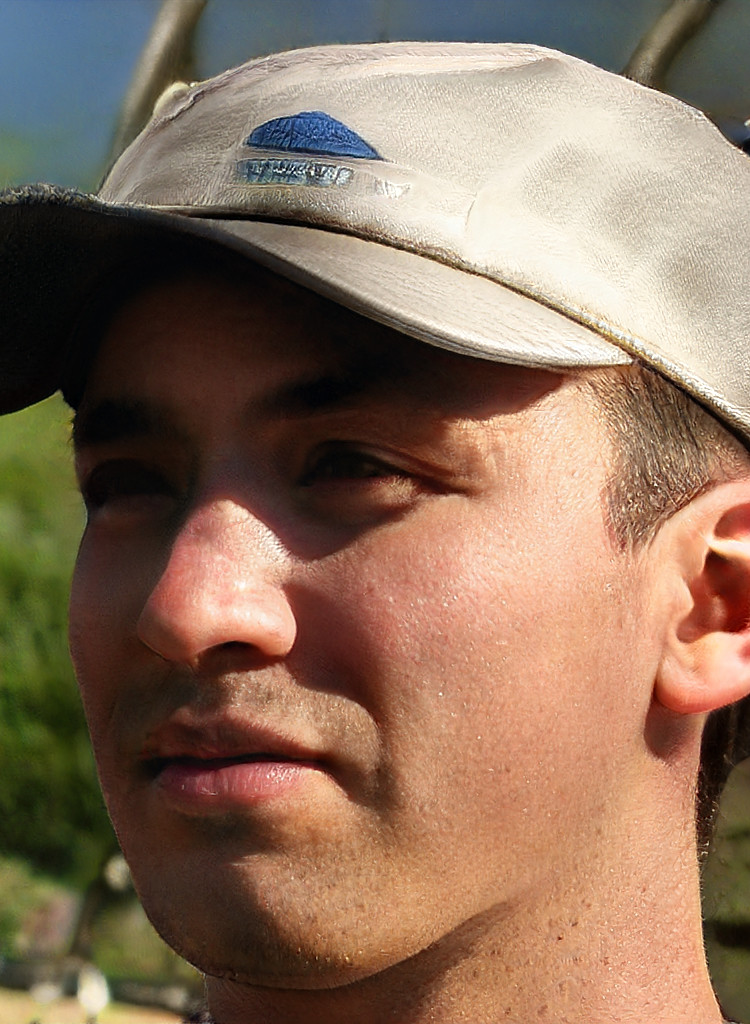 I created this site to help people – to help you – with your boat problems. Instead of helping one person at a time, I want this website to be the "one-stop-shop" for everyone's boating concerns. Read more.