For boaters of all sorts, the question of where to mount a transducer has likely come up.
Whether you are considering buying one or you have already made your purchase, mounting the transducer on the trolling motor vs the transom is likely your biggest question.
Is one better than the other?
Great news for you!
We have just the answer to that question and any other questions you may have about transducer mounting.
| | |
| --- | --- |
| Mount Your Transducer on a Transom Mount | Mount Your Transducer On a Trolling Mount |
| If you want a rear-mounted transducer. | If you want the option of a front or rear mount. |
| If you have a smaller boat. | If you are using larger or multi-purpose boats. |
| If you wish the transducer to be in the water at all times. | If you don't mind having the transducer out of the water when the trolling mount is not being used. |
What Is A Transducer?
A transducer is the main component of a fishfinder system, as it changes electrical pulses into sound waves before changing it back. By sending the sound waves and receiving the echoes sent back, the transducer can then use the results to determine what is in the water below.
Through this, transducers are perfect for spotting large schools of fish that would probably have been unnoticed by the naked eye.
What Is A Trolling Motor?
A trolling motor is an electric motor featuring attached propellers and controls. It is attachable to either the bow or stern of a boat, where it assists the primary motor by adding propulsion without creating additional drag.
Unless it is purposed as a primary motor, then the trolling motor will not be spending all of its time in the water, unlike the transom. For that reason, this may not be the best choice if you would like the transducer to be in the water permanently.
What Is A Transom?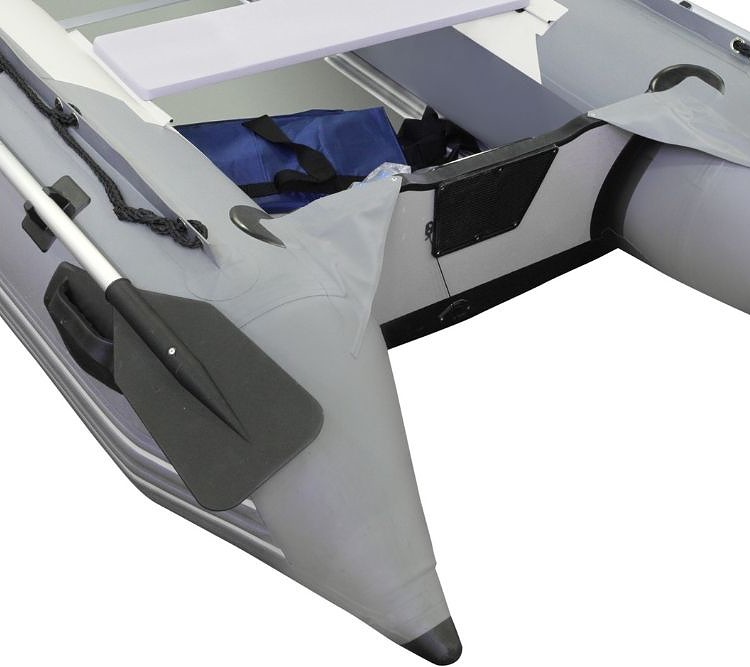 A transom is a vertical section near the rear end of a boat. The transom acts as a housing for either single or multiple outboard motors. Because of this, the transom will be down near the water at all times, making it a more consistent mounting location for transducers.
Is There a Difference Between Mounting the Transducer on the Front or the Back?
The first thing to consider is the possible difference in depth of water between the front and back of the boat. Another consideration is whether or not what you want to see is under the front of the boat or the back.
Once you determine which end of the boat is better for your transducer's bottoming out distance, that should be the side you go with to produce more accurate readings, unless you explicitly want to mount it on the other side.
On top of that, specific models of transducers may be more effective on certain ends of the boat. A prime example of this is how most boaters tend to mount a 93dv transducer on the front while having the 93sv transducer on the back.
Should I Mount My Transducer on a Trolling Motor or a Transom?
There are several advantages and disadvantages to mounting a transducer on a trolling motor versus a transom. We will explore the main differences between these two methods and how much of an impact these decisions can have on the results of your transducer's success.
For those who would like the quick answer, where you should mount the transducer is heavily based on preference, the size and shape of your vessel, and your boating area. The best option is for you to find out where your transducer best fits on your boat, whether it be near the front or back. This way, you will get the most effective results from using it.
Quantity of Transducers
A factor to keep in mind is the number of transducers you will be mounting on your boat. Depending on your boat's size, it may be wise to mount more than one transducer. However, when you are only using one mounted transducer, it may be better to mount it on the Transom rather than the trolling motor.
This is because, in most cases, the trolling motor won't be spending all of its time in the water, which is where the transducer needs to be to work correctly. If that is the case, then mounting it on the Transom where the transducer will always be in the water will be the best option.
For those only looking to purchase one transducer, it is essential to consider your boat's specifications and the terrain of the water that you will be traveling on.
Location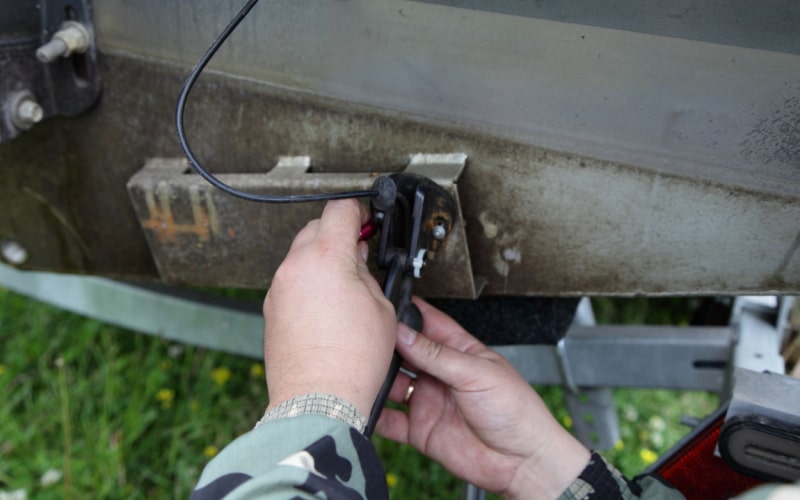 One of the most glaring differences between trolling motor-mounted versus transom-mounted is the location of where the transducer is set up. Having a front-end transducer means that any fish picked up is below the boat, while back-end transducers only pick up things that are already behind.
Depending on the type of fishing you are doing, you should decide where to have the transducer mounted. For example, it may be more beneficial to have a front-mounted transducer when live fishing, while having it mounted in the back may be better for trolling.
Spacing
The size of your boat may determine where the transducer is mounted. For example, you may want a trolling motor mount, but a transom mount may be the better choice if you have a smaller boat, as it may not be able to support the trolling motor mount.
Pricing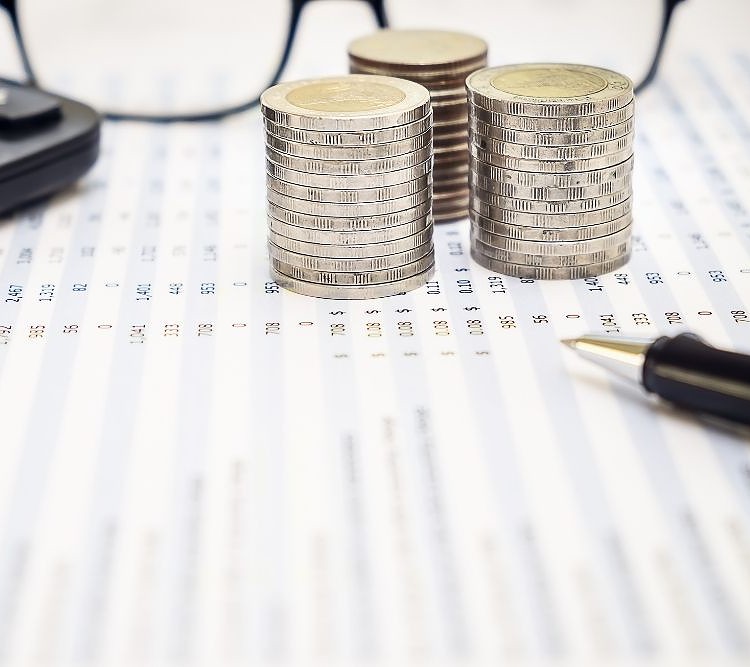 Pricing is another factor to consider when looking into transducers to purchase. Transom mount transducers tend to be more affordable than most on the market. There are hybrid transducers that are compatible with both transom and trolling mounts, but for a slightly higher price range.
However, the transducer price correlates to the features that it offers. While you might not mind paying for and using the bare minimum, increasing your budget slightly may significantly improve the quality of life with the added features that may be included as a result.
Types of Transducer Mounts
Let's explore these two types of transducer mounts: transom and trolling.
Transom Mounts
Transom mounts are a better option for smaller boats and one-transducer setups. They are easier to install than other transducers, in most cases simply requiring to be clamped onto the boat.
They also contain fewer external components and are easier to operate. Due to these features listed above, they are much more affordable than other transducers.
Due to their more straightforward design, however, transom mounts have fewer options and features than their more expensive counterparts. Another thing to consider is that Transom mounts may not be as effective on larger boats.
No products found.
Pros:
Better for smaller boats
Easy to install
More affordable
Cons:
It may be less effective on larger boats
Fewer features
Transducers read the water near the end of the boat, meaning you could pass by potential fish before there is a chance to cast (Circumstantial Con)
Support: Installing a Transom Mount Transducer
Trolling Engine Mount Motor
Another location where the transducer can be mounted is on the actual trolling engine itself rather than on the bow. Like Transom mounts, the transducer will be mounted near the back of the boat.
These mounts are better for multi-purpose boats or boats too small to support the bow trolling motor. On top of that, it is considerably smaller than its bow-mounted counterpart.
While the Trolling Engine Motor is smaller and more convenient, it lacks features while challenging to grasp its controls. On top of that, it retains its expensive price range despite the rather significant differences between itself and the bow-mounted motor.
Last update on 2023-09-26 at 23:17 / Affiliate links / Images from Amazon Product Advertising API
Pros:
More convenient and flexible for smaller boats
Smaller than bow-mounted motor
Cons:
Rear-mounted Transducer (Circumstantial Con)
Fewer features
High price range
Garmin GT52HW-TM Transducer Installation - Trolling Motor Mount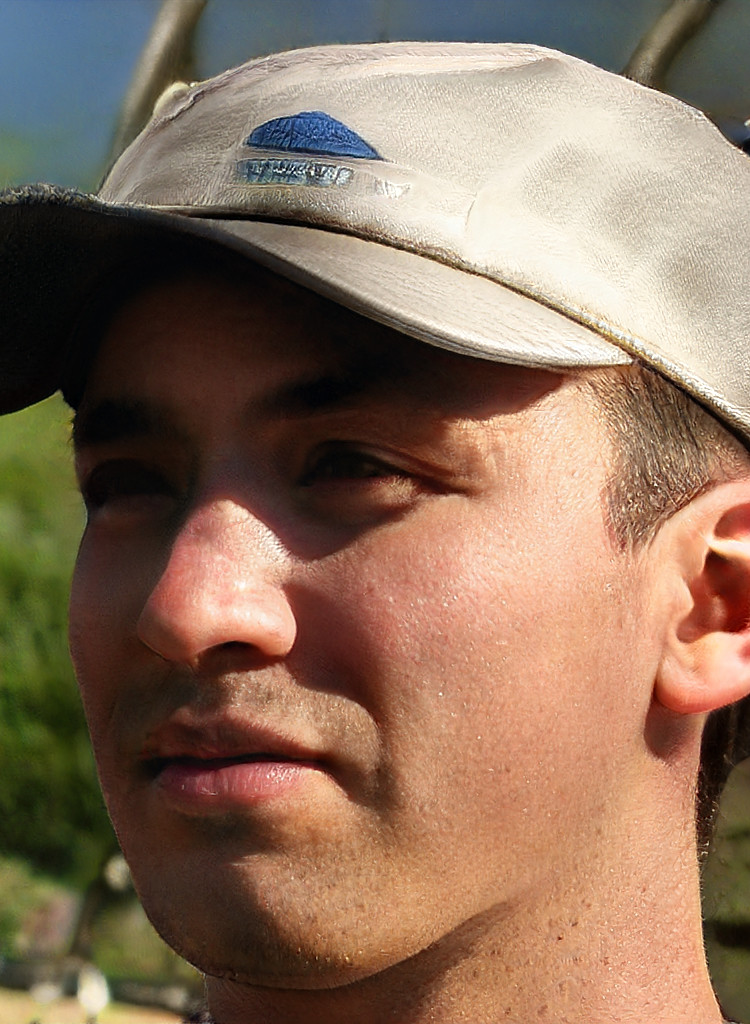 I created this site to help people – to help you – with your boat problems. Instead of helping one person at a time, I want this website to be the "one-stop-shop" for everyone's boating concerns. Read more.