Every inflatable boat advertises itself as "perfect for fishing."
Take a closer look though, you'll realize that not all of them are.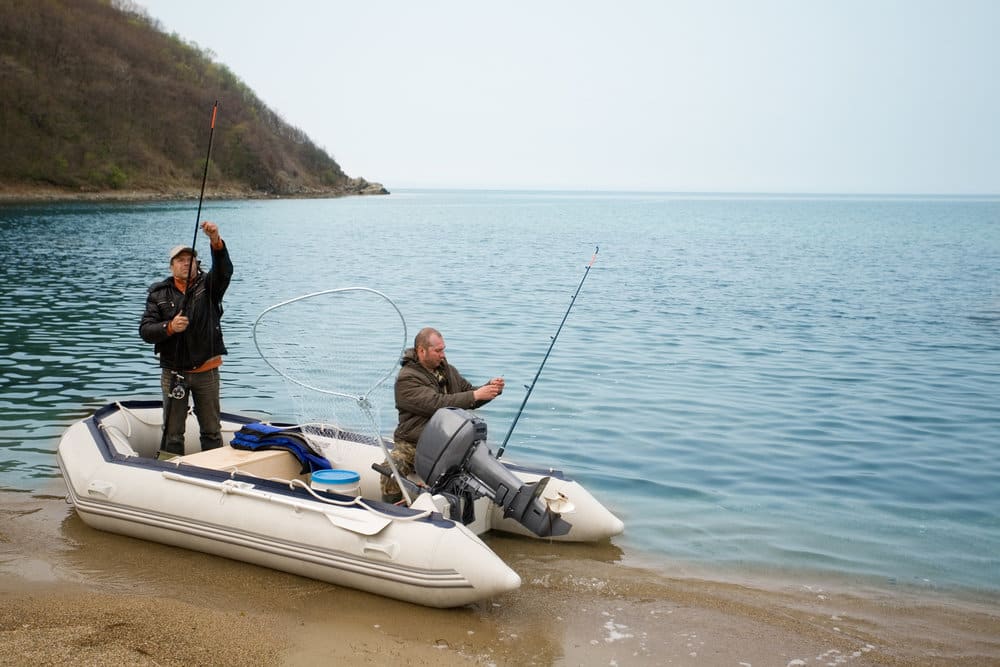 Dozens of inflatable "fishing" boats have ZERO features for fishermen.
It's a marketing label that manufacturers slap onto their boats to get more sales.
This begs the question…
Which inflatable fishing boats are actually inflatable fishing boats?
How can you tell an authentic one from a fake label?
Great question.
Today, I'm going to give you my top 6 REAL inflatable fishing boats.
This will not only show you which the bests in the market are, but you'll also learn what to look for in a genuine inflatable fishing boat.
Plus, I'll throw in a comparison chart so you can easily decide which one suits YOU best.
Ready?
Let's go.
Top 3 Fishing Boats
The Top 6 Inflatable Boats for Fishing
Whether you're a newbie fisherman or a professional, here are the top 6 inflatable boats for fishing.
1. Intex Excursion 5
| | |
| --- | --- |
| Material: | Vinyl |
| Size: | 12' x 5'6" |
| Weight: | 50.8lbs |
| Capacity: | 5 people (1,320 lbs) |
It wouldn't be a "best inflatable boat list" without the Intex Excursion 5.
This boat is so popular, I've never seen it excluded in anyone's list.
And no wonder!
The Intex Excursion 5 is the epitome of inflatable boats.
It's lightweight, convenient, and comes at a remarkably low price tag – everything inflatable boats are famous for.
And for beginner fishermen, this boat is a godsend.
Not only is its price tag super attractive, but it comes with a bunch of features for fishing as well.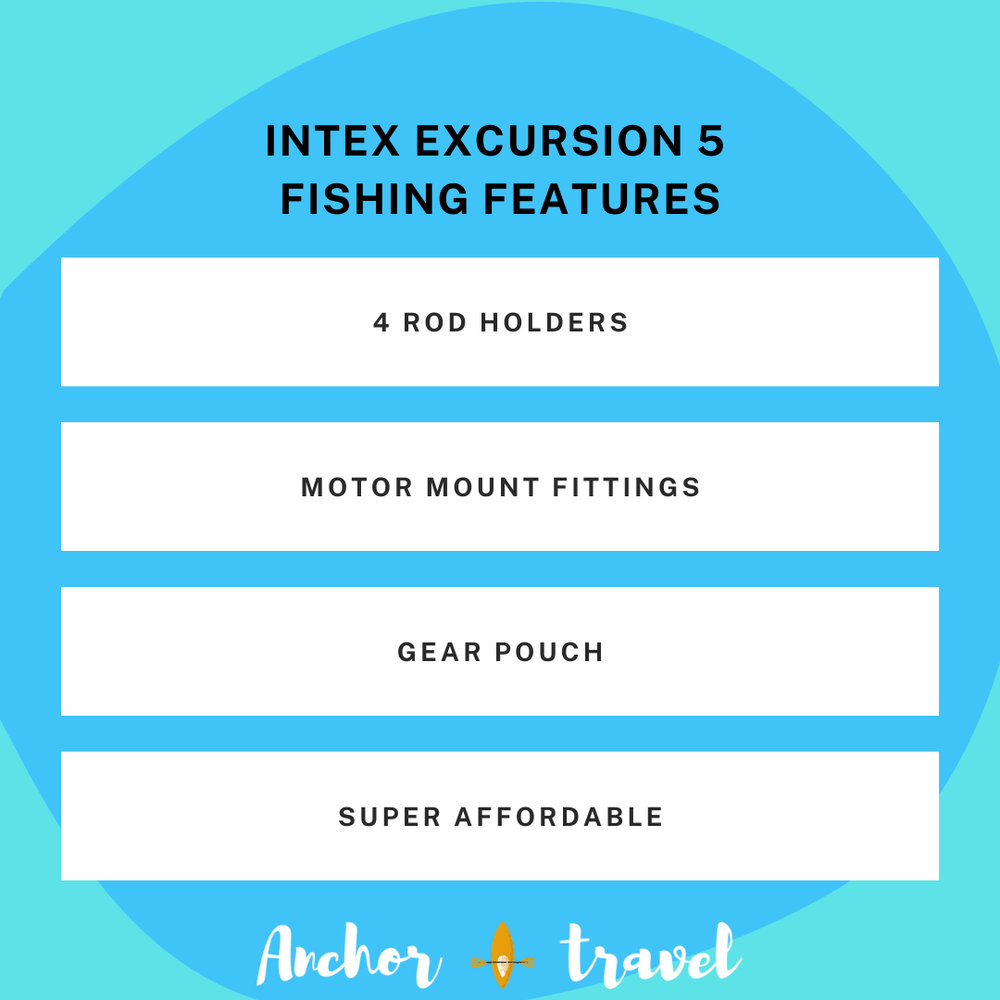 For one, this boat comes with rod holders.
These allow you to put your rod down and free your hands for other work. You don't have to find a way to squeeze it in with your other gear anymore.
Now get this… the Excursion 5 doesn't come with two rod holders, it comes with FOUR.
This boat was made for fishing with your buddies. With a holder on every corner, everyone gets to put their rods down.
What's more, you get motor mount fittings.
This is NOT a motor mount itself. You'll have to buy that separately.
But these fittings make installing a motor mount super easy. You don't have to be a handyman to get it done.
There's also a handy gear pouch.
This gear pouch makes bringing bait and tackle along super easy. It's the ideal place to store these as you row to your destination.
All these make the Excursion great for fishers. However, it's not something that a professional fisherman would go for.
This boat lacks a few important things:
The Excursion 5 does NOT have a solid floor.
It has a standard air floor that sinks when you step on it. With this, you can't stand up straight while fishing.
Comfortable seats are also missing. Yes, you get some free inflatable seats, but these are awful. All they do is take up space since they're very uncomfortable.
The best way to combat both these problems is to build a hard floor and chair. If you're a handyman, check out this video on how it's done:
If not, you can still enjoy your Excursion without the floor or seats.
Finally, this boat isn't too strong. It's built from vinyl, which is a step behind PVC in strength. It can handle calm lakes, but do NOT take it to rough waters.
But all things considered, you won't find a better deal for an inflatable fishing boat. This boat is ridiculously cheap. Everyone can afford it.
2. Newport Vessels Dana
| | |
| --- | --- |
| Material: | PVC |
| Size: | 8'10" x 5' |
| Weight: | 107lbs |
| Capacity: | 3 people (1,067lbs) |
If the Excursion is for beginners, Newport Vessels' Dana is on the opposite end of the scale.
This is an extremely reliable fishing boat.
Built from 1,100-denier PVC, this boat is thick, strong, and won't ever let you down. Plus, its seams are heat-welded for even more strength.
With these, punctures and leaks are the last things you have to worry about.
It's capable of carrying heavier motors and has a V-shaped air keel underneath. This allows you to zip through the water like a speedboat.
The Dana is an extremely high-quality boat, and we haven't gotten to its fishing features yet!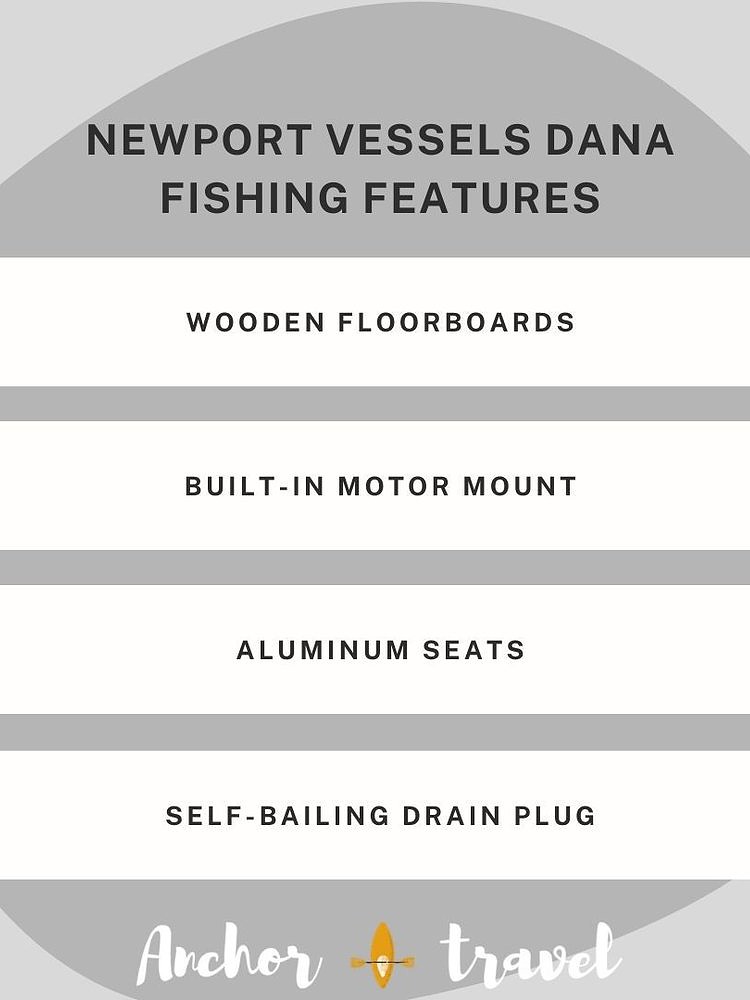 Anyone who's gone fishing knows that standing up is the ideal position.
With the Dana's wooden floorboards, you'll have a solid floor to plant your feet on. You can fish and fish without ever worrying you'll fall over.
Not fond of standing?
Sit down in the Dana's aluminum bench. Unlike the Excursions free seats, this bench is solid and comfortable. You can sit for hours without having to change your position.
Dana is a zodiac-style boat. This means that it is U-shaped instead of O-shaped (rafts are O-shaped).
This makes it super easy to install a trolling motor or outboard motor. At the bottom of the U (or should I say, top) there is a hard, flat board.
This serves as a built-in motor mount. You don't have to buy a motor mount anymore, because the Dana has one ready for you.
The Dana also has a self-bailing drain plug.
If you're fishing on rough seas, water is bound to spill in. A poor boat collects this water until it forms a pool on your floor.
Good fishing boats, like the Dana, don't.
The self-bailing drain plug removes any water that gets in. This way, you never have to worry about your boat flooding.
Yes, this boat might be pricey.
But when you look at what you'll get, you'll realize that it's well worth its price tag. No wonder professional fishermen love it.
3. ALEKO Pro Fishing Boat
| | |
| --- | --- |
| Material: | PVC |
| Size: | 8'6″ x 4'6″ |
| Weight: | 109 lbs |
| Capacity: | 3 people (770 lbs) |
Speaking of professional fishing boats, ALEKO has what is perhaps the most complete inflatable fishing boat ever.
Their Pro Fishing Boat line-up is something every fisherman dreams of.
By themselves, these boats are already excellent.
Made from 1.2mm polyester-reinforced PVC, these boats are strong and durable. Anything you throw at them, they'll take it like a champ.
They're also built with a thick rubber rock guard all around. Crashing into rocks won't puncture your boat thanks to these.
Sound awesome?
Well, wait 'til we get to the fishing features.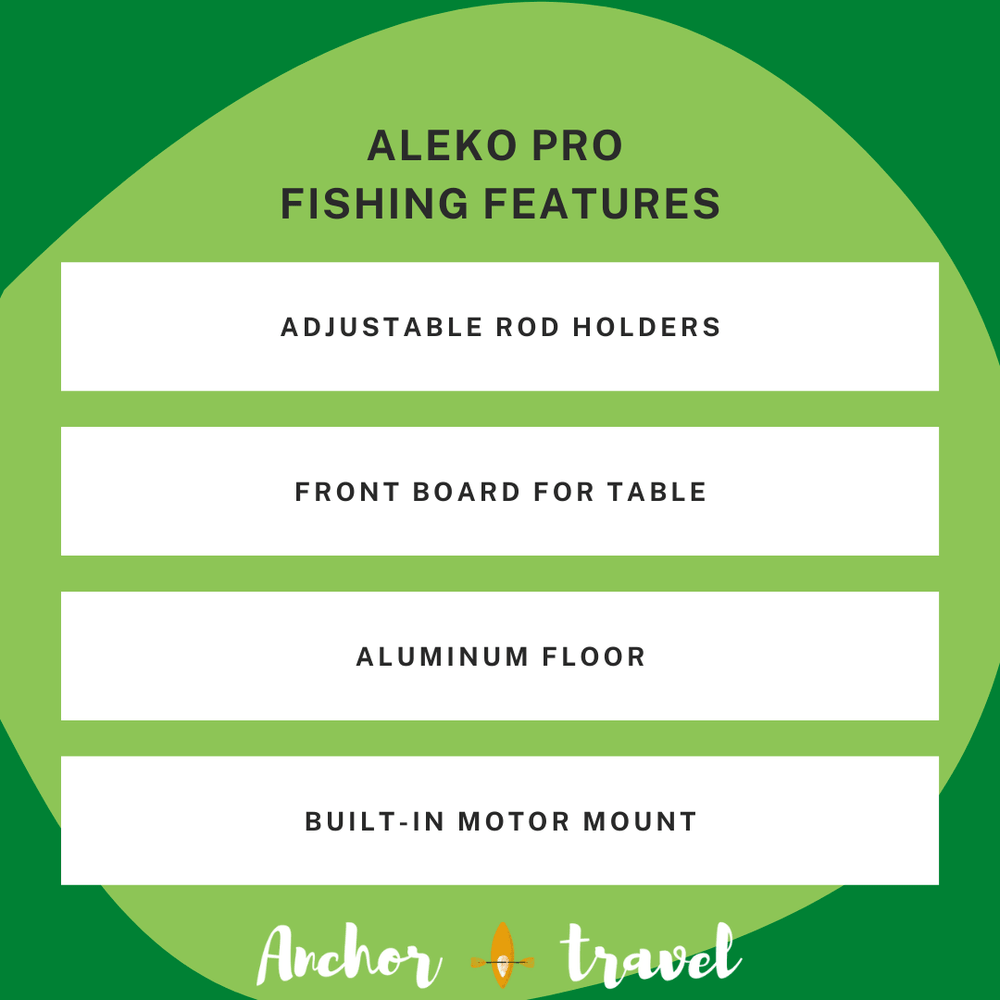 ALEKO doesn't only have rod holders, they have adjustable rod holders.
These aren't simple plastic pieces that don't do anything except hold your rod – you can move ALEKO's rod holders around!
You can point your rod holders upwards, to the side, or even downwards. Want to turn it? It can spin 360 as well.
With this, both of your hands will be free while you're fishing. Talk about convenience.
And that's not all.
ALEKO Pros are some of the only boats that have front boards.
You can use these boards as a table.
Here, you can prepare your bait, clean your catch, or do any number of important tasks. The possibilities are endless when you have a table on your boat.
What's more, you get ALEKO's famous aluminum floor.
This gives you stability like no other.
Yes, Dana's wooden floorboards are solid – but not as solid as ALEKO's aluminum flooring. When you stand on these, you'll feel like you're back on land.
Here's how to set it up:
ALEKO also has aluminum benches – so you can sit comfortably when you're tired of standing.
Like the Dana, ALEKO is a zodiac-style boat with a built-in motor mount. If you have a battery box, there's a tie-down strap ready to hold it in place.
You don't have to worry about water getting in either. With the one-way drain valve, any water that splashes over is automatically removed.
Yes, this boat is expensive – very expensive. If you're looking for the best pro inflatable fishing boat though, I challenge you to find a better one.
4. Intex Mariner 4
| | |
| --- | --- |
| Material: | PVC |
| Size: | 10'9" x 4'9" |
| Weight: | 91 lbs |
| Capacity: | 4 people (1,100 lbs) |
Not every fisherman can afford the Dana or ALEKO Pro.
However, any serious fisherman can afford the Intex Mariner 4.
No, it's not cheap. But it doesn't have an outrageous price tag either.
And it comes with a bunch of fishing features too. That's why I've dubbed it the "cheapest 'professional' inflatable boat."
This boat is a tough one. Made from triple-layered PVC, you won't have to worry about punctures.
Rocky waters aren't a problem for this boat at all. Like the ALEKO Pro, the Mariner 4 comes with rock guards around and underneath.
It can go fast with an inflatable keel, and it has 19-inch tall tubes so no water splashes in.
As for fishing, this boat has a lot to offer.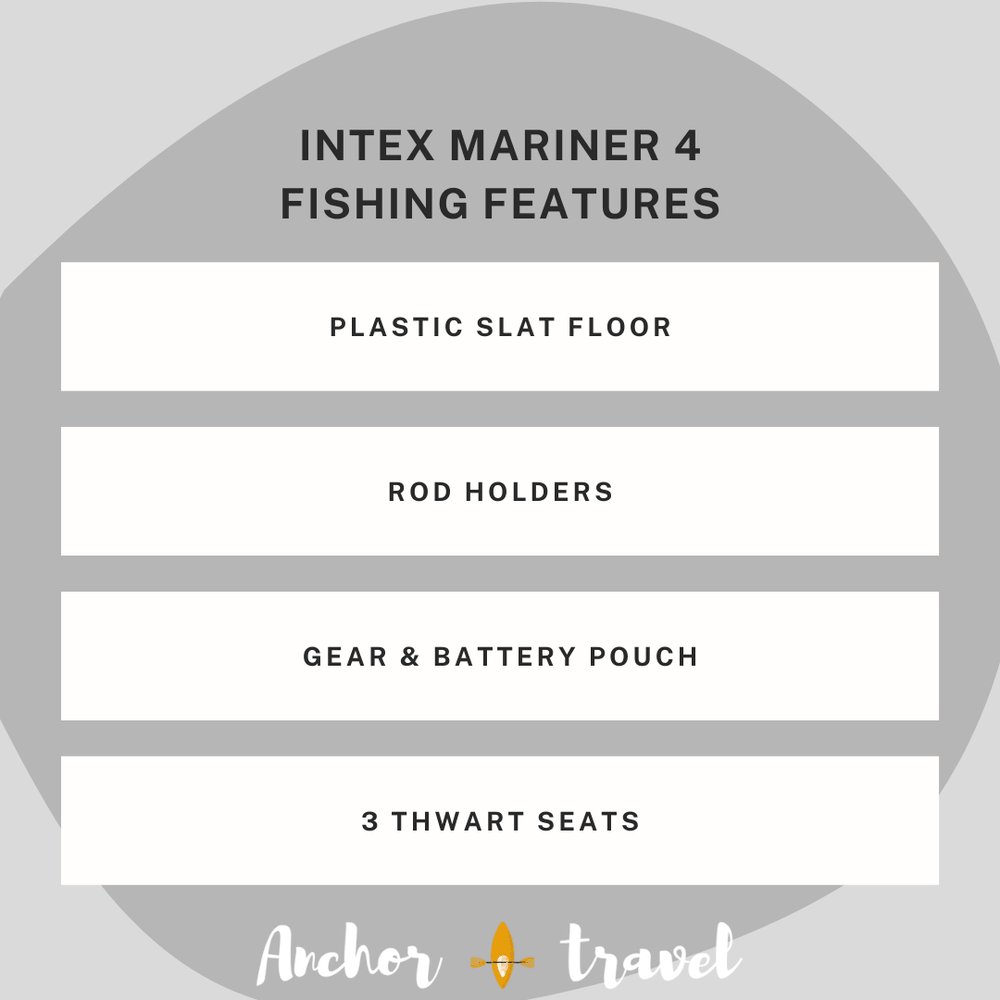 Plastic slat floors might not be the most sturdy, but they're super convenient compared to wood or aluminum.
All you have to do is roll them out and you're good to go. No need to spend five minutes setting up any more. Plus, they're super lightweight, you won't have any problems bringing them along.
The Mariner comes with two rod holders on either side. These aren't the fancy adjustable rod holders of ALEKO. But they give you the perfect place to rest your fishing rods.
Speaking of perfect places, you also get a gear and battery pouch. Bait, tackle, and any other equipment go into the gear pouch. While your marine battery goes into the nice, safe, dry place designed for it.
The Mariner doesn't have aluminum benches. Instead, it has inflatable thwart seats.
No, these aren't the common free seats you get with cheap boats. These are actually comfortable. They fit snugly on the boat and don't take up too much space.
Not bad for an inflatable seat.
Despite being a raft-shape boat (O-shape), it's still easy to install a trolling motor mount on the Mariner.
This is thanks to the motor mount fittings it has on the stern. With these, all you need is a good motor mount and attaching will be a breeze.
If you were to compare the Mariner side-by-side with the Dana or ALEKO, you'd find that it doesn't quite match up.
However, when you take a look at its price point, it all makes sense. The Mariner 4 is super cheap for a "professional" inflatable fishing boat.
5. Sea Eagle SE9
| | |
| --- | --- |
| Material: | PVC |
| Size: | 11′ x 4'8″ |
| Weight: | 55 lbs |
| Capacity: | 5 people (1,200 lbs) |
Another boat I'd put in the "not quite professional" category is the Sea Eagle SE9.
If you're looking for a good brand, few are as trusted as Sea Eagle.
Their products are American made, and famous for their strength and durability.
Sea Eagle SE9 is no exception.
With its five separate air chambers, you can take on Class III rapids without fear. That's how strong this boat is.
Cool, rapids… but what about fishing?
I'm glad you asked.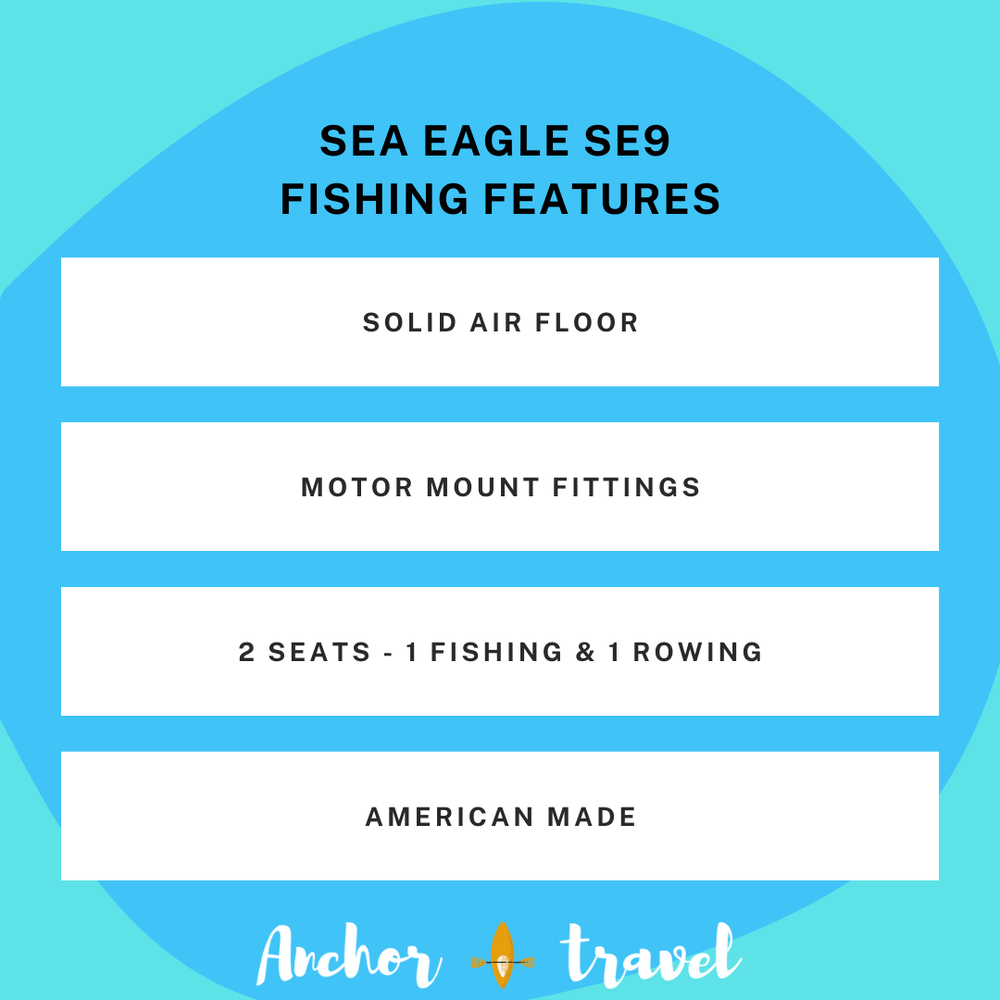 Like every good fishing boat, the SE9 comes with a hard floor.
Unlike the others though, this is an air floor.
No, not an ordinary air floor. It's a solid and flat air floor.
Sea Eagle took a bunch of floor tubes, bunched them together, then wrapped them with nylon fabric.
This created a floor that isn't as stable as ALEKO's aluminum or NV's wood. But certainly not as weak as common air floors.
It's solid enough to stand up, yet still super easy to pack up when you're done. This makes it both sturdy AND convenient.
The seats of the Sea Eagle SE9 are also unique.
Instead of an aluminum bench or useless free inflatables, the SE9 comes with two types of seats.
One is made for rowing, while the other is made for fishing.
The 4-inch rowing seat puts you at the perfect level for rowing efficiently. While the 13-inch fishing seat puts you at the perfect level for – you guessed it – fishing.
You'll have a vantage point. From up high, you can see the fish beneath the surface. So when you're tired of standing, take a seat on this comfortable fishing chair.
The SE9 is also trolling motor mount ready. Once you get a mount, fitting it into the stern of your boat will be super easy thanks to the fittings.
Compared to the Mariner, the SE9 is slightly more expensive. And it's missing rod holders.
However, when you compare brand quality, Sea Eagle takes the cake. They always produce the finest products – something that can't be said for Intex (they're known for cheap boats).
Something to consider if you're choosing between these two models.
6. Classic Accessories Colorado
| | |
| --- | --- |
| Material: | PVC & Nylon |
| Size: | 9′ x 4'8″ |
| Weight: | 71.5 lbs |
| Capacity: | 1 person (400 lbs) |
I don't always mention pontoons.
But when fishing is the topic, these boats HAVE to come out.
Say what you want about them, pontoons are one of – if not the BEST boats for solo-fishing.
Speaking of "best", the Colorado by Classic Accessories is one of the best pontoons in the market today.
It's complete with everything you want from a pontoon and more.
It has one of the most comfortable seats in this entire list. The Colorado's chair is not only padded, but it's adjustable as well.
You also get an adjustable footrest and cup holders. So you can sit back, relax, and take sips of your favorite beverage.
With these, you'll have a chill time out fishing.
Which brings us to fishing features.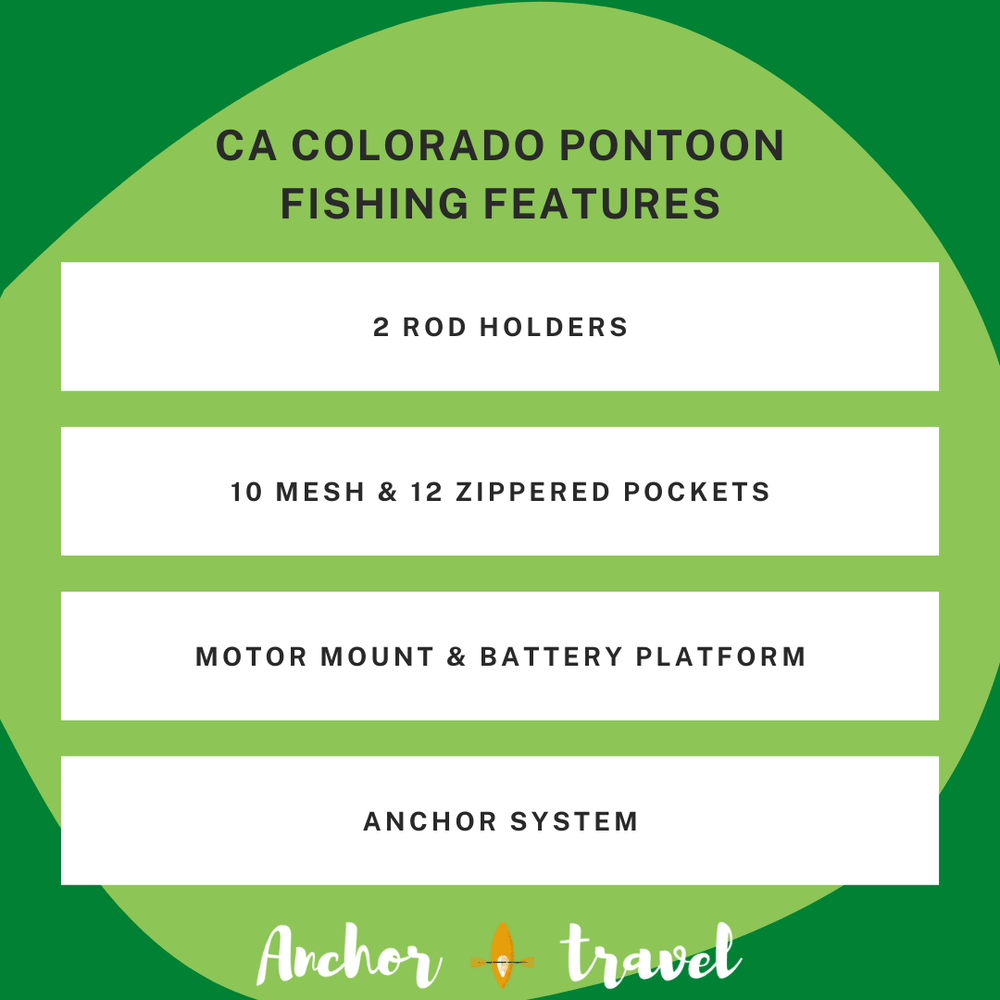 The Colorado's rod holders are ordinary. But with no place to put your rod down on a pontoon, these holders are necessary. It's the only way you can free up your hands.
Now, there might no space for rods, but there is plenty of it for gear and equipment. There are a total of 22 pockets all over this pontoon – 10 mesh and 12 zippered.
These keep everything you need at your fingertips. All you have to do is reach out when you need something.
There's only one seat, but there's a perfect place for everything – including a trolling motor and its battery.
The Colorado has a built-in motor mount and battery platform ready. You won't have to struggle to find a way to install both of these on your pontoon.
Finally, this is the ONLY boat on this list with an anchor system.
When fishing, staying in one spot is very important. It's why high-tech trolling motors invented anchoring technology.
The Colorado's anchoring system isn't quite high-tech, but boy is it effective. It's a simple mesh bag that you fill up (with stones maybe?) and throw down. This will keep your pontoon put as you fish freely.
You probably weren't expecting to see a pontoon on this list. But when it comes to solo-fishing, nothing does it better than these boats.
And when it comes to inflatable pontoons, few can match the Classic Accessories Colorado.
Comparison Chart: Which Inflatable Fishing Boat Should You Get?
Those are the 6 best inflatable fishing boats in the market.
Now that you know that, the next question is:
Which one is best for YOU?
Unfortunately, you're the only one that can answer that.
To help you out, here's a chart comparing these six fishing boats:
With that, you should get a better picture of which one you're looking for.
Keep in mind that these are only fishing features. Looking for the best inflatable boats in general? Check out my top 10 inflatable boats.
Conclusion
Every single inflatable boat advertises itself as perfect for fishing.
In reality, only a handful of them are.
But now that you know the 6 best inflatable fishing boats, you'll never be deceived.
So what will it be?
Excursion 5?
ALEKO Pro?
CA Colorado pontoon?
Whatever you choose, you're bound to have a grand time fishing!
Have a question or concern? Leave a comment and I'll get to you!