Looking for a good inflatable boat?
If so, you'll surely come across the Sea Eagle SE9.
Sea Eagle is famous for its world-class inflatable kayaks, but that's not all they make.
Their SE9 inflatable boat is also incredibly popular in the inflatable community.
However, when you see the price tag, you'll surely wonder…
"Is it worth it?"
Today, I'm going to answer that question for you.
We're taking an in-depth look at the Sea Eagle 9. We'll take a look at:
Who this boat is made for

What you get with the SE9

All the features this boat has
This will help you decide whether or not this boat is for YOU.
Plus, I'll also throw in a few alternatives you have. This way, you can be sure you'll end up with the perfect boat.
Ready?
Let's go.
Who is the Sea Eagle SE9 For?
| | |
| --- | --- |
| Material: | PVC |
| Size: | 11" x 4' 8" |
| Weight: | 35 lbs |
| Capacity: | 4 people (1,200 lbs) |
The SE9 is NOT for cheap people.
No, it's price tag will scare them away.
However, this boat isn't exactly a professional boat either.
It lacks the strength and speed you need for serious fishing trips and rescue missions.
So who was this boat made for?
The Sea Eagle SE9 was made for everybody in between. It's made for amateur fishermen looking for a reliable dinghy, and professionals looking for a handy back-up. It's also great for families looking for a solid boat.
Why so?
Well, for one, the SE9 comes with a solid air floor.
No, it doesn't use their famous drop-stitch technology. Instead, it has nine air chambers lined up and wrapped together in a nylon cover.
This gives you rigidity and allows you to stand up straight while fishing – something you can never do on a cheap boat. With it, you don't have to build your own hard floor anymore.
What's more, this boat is also strong enough to handle Class III rapids.
If you're going down a flowing river, there's nothing to fear. As long as the water isn't ferocious and there aren't many sharp rocks around, you shouldn't run into any problems.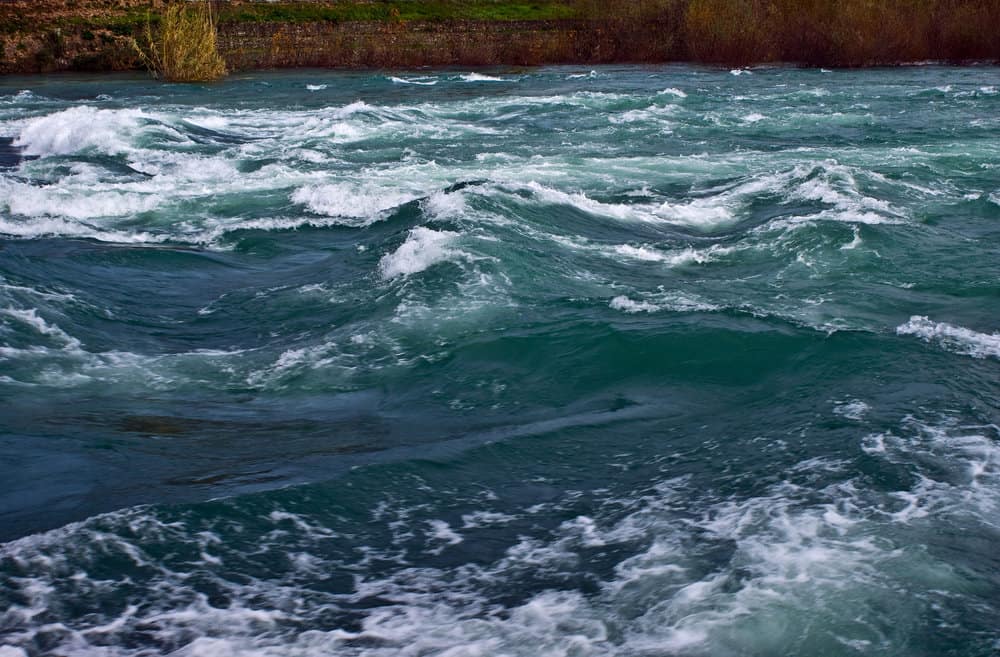 As long as the water isn't ferocious or packed with sharp rocks, the SE9 can handle it.
For families, the SE9 is all you need for the perfect day out at the lake.
The SE9 is designed with its main tubes on the outside of the floor. This makes it a lot more spacious than other boats and allows up to four adults to fit in.
As for professionals?
The SE9 is a great back-up. A lot of people keep one ready in their yachts and rigid boats. If anything goes wrong, or if they want to get closer to the water, all they have to do is pump up their SE9.
What's in the Box?
Like every good inflatable boat, the SE9 comes with a bunch of freebies.
Foot pump

2 Inflatable seats

Carry bag

2 Oars

Repair kit
The foot pump allows you to inflate your boat without any worries. Not only is it fast and easy to use, you literally can't overinflate. Once the tubes reach the perfect PSI, you won't be able to push the pump down anymore.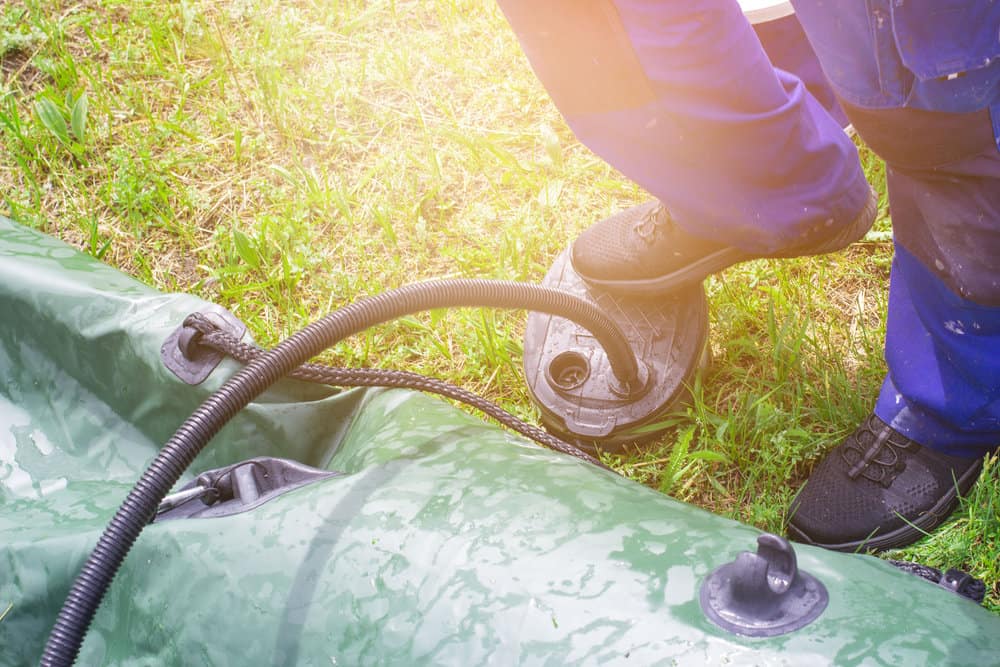 Manual foot pumps prevent you from overinflating your boat
I usually hate the free inflatable seats that come with boats. Most of them have horrible quality and aren't comfortable at all.
However, the Sea Eagle 9's free seats are an exception.
You get two different kinds of seats: a 13-inch fishing seat and a 4-inch rowing seat.
The 13-inch fishing seat gives you a vantage point of the water. This lets you see any fish swimming beneath the surface.
The 4-inch rowing seat, on the other hand, puts you at the perfect level for rowing. This way, every stroke of your oars will be efficient.
The SE9 also comes with a very handy carry bag. It's small, compact, and has a sling. This gives you the option of carrying it over your shoulder.
And when you're not in the water, this carry bag is the perfect place to store your boat.
You get a set of oars as well. Not the best oars, but they get the job done.
Finally, you get a repair kit. If you need to apply an emergency patch, this kit is all you need.
Nothing is lacking. Together, these five freebies give you everything you need to hit the water right away.
Sea Eagle SE9 Features
Now for the boat itself.
At first glance, the SE9 looks like any other inflatable boat.
When you take a closer look though, you'll find that it is stacked with features.
Watch how to set up your SE9 here:
SE9 Instructions Video - Now with removable rigid inflatable floor!
Features such as:
4 air chambers

Inflation meter

Motor mount

fittings

4 molded oarlocks

Oar holders

2 drain valves

Grab line

Grab handles
Now that's a lot.
Let's take a look at them one by one.
The four air chambers – the main tubes, back-up chamber, air-floor, and mount chamber – ensure you never sink. If one gets punctured, the other three will hold your boat afloat.
This gives you all the time you need to get to shore and patch up. Or, it can get you home to work on a permanent fix.
Three of the four air chambers also have an inflation meter. With it, you can easily tell whenever your tubes need more air.
Remember, temperature affects PSI. So check these meters whenever your boat hits cold water or basks in the sun.
Are you planning to get a trolling motor? With the SE9's motor mount fittings, installing a trolling motor mount is super easy.
Or perhaps you prefer rowing… with a partner. If so, the four (not only two!) molded oarlocks will make your adventure much easier. And when you're done rowing, you can easily stow your oars in the oar holders.
If you're going down class III rapids, you can expect water to get in your boat. But thanks to the two drain valves, this is not a problem at all.
No matter how much water gets in, it will flow right out. Flooding your boat is the last thing you have to worry about.
Finally, this boat also comes with an all-around grab line (for holding on and getting in while swimming), and grab handles (making it super easy to drag or carry).
Is the Sea Eagle SE9 Worth It?
With all that in mind, let's get to the big question…
Is the Sea Eagle 9 worth its price?
That all depends on you.
But if you ask me, I'd say yes.
Yes, it is well worth the extra dollars.
If you're looking for the best recreational inflatable boat, I'm not sure you'll find anything better than the SE9.
It is extremely well-made. It has that touch of quality you only get from American-made products.
However, if you're someone who just wants to enjoy calm lakes, you don't need the SE9.
If you only boat once or twice a year, save some money and get something like the Excursion…
Sale
Last update on 2023-03-31 at 23:47 / Affiliate links / Images from Amazon Product Advertising API
…or Seahawk…
Last update on 2023-03-31 at 23:47 / Affiliate links / Images from Amazon Product Advertising API
…instead. They get the job done while costing far less than the SE9.
Plus, both of these have fishing rod holders – something that is missing in the SE9.
Also, if you're someone who needs the strongest, fastest, most stable, most durable boat – look elsewhere.
Yes, the SE9 has incredible quality. But it just wasn't built to be abused.
Perhaps you're looking for something like ALEKO or BRIS instead?
Last update on 2023-03-31 at 18:06 / Affiliate links / Images from Amazon Product Advertising API
Conclusion
Should you get that SE9?
As always, you're the only one who can answer that question.
But if you're looking for a simple but great inflatable boat, you won't find anything better than the Sea Eagle SE9.
Have a question? Leave a comment down below!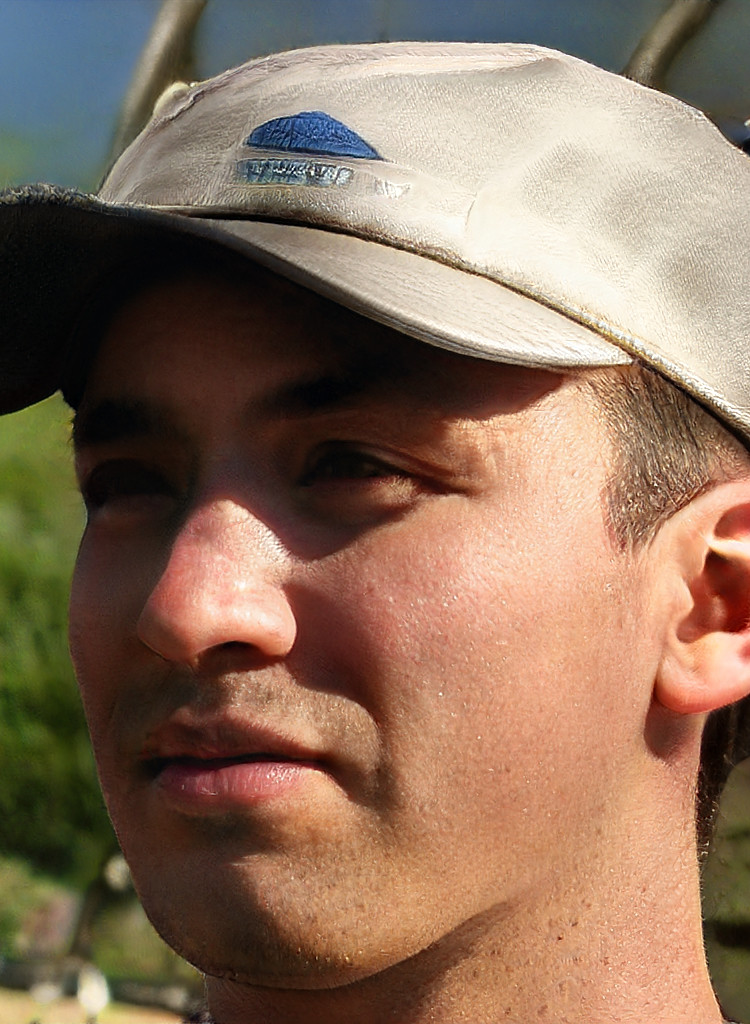 I created this site to help people – to help you – with your boat problems. Instead of helping one person at a time, I want this website to be the "one-stop-shop" for everyone's boating concerns. Read more.